Melania Trump announces 'Be Best' initiative to prevent cyberbullying and opioid abuse
Critics point to the president's Twitter account as a form of cyberbullying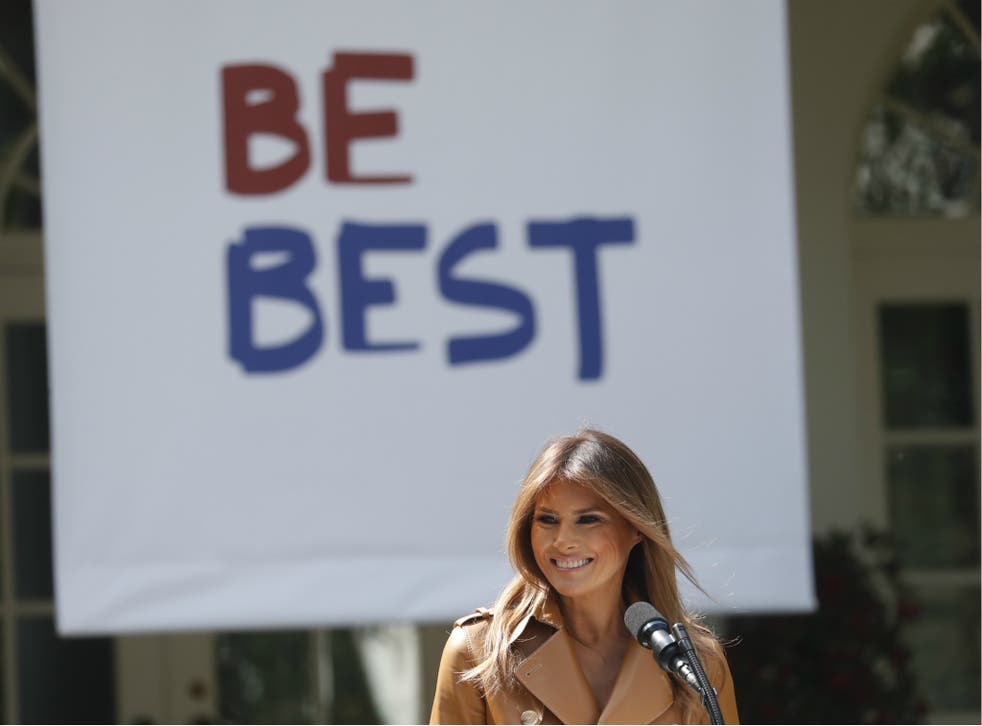 Melania Trump announced her "Be Best" platform to target cyberbullying, emotional health, and opioid abuse, particularly helping children with these issues.
Ms Trump has been visiting children's hospitals, schools, health centres for babies born addicted opioids, and hosted talks at the White House about cyberbullying often encouraging students to be understanding of others and be confident in themselves. The initiative is an extension of her work the last year and a half President Donald Trump has been in office, she said today during a speech in the Rose Garden of the White House.
The president joined her to sign a proclamation declaring 7 May as "Be Best Day" as critics have been quick to point out the irony of the first lady's message when Mr Trump frequently hits out at not just political opposition, but members of his own administration with negative language and insults on a regular basis.
Ms Trump said that social media is too often used in negative ways and that it is important for children to learn positive online behaviours at a young age. "I do believe that children should be both seen and heard, and it is our responsibility as adults to educate and remind them that when they are using their voices — whether verbally or online — they must choose their words wisely and speak with respect and compassion," the first lady noted.
Just hours before, Mr Trump had tweeted negatively about Democrats, former Secretary of State John Kerry, and FBI agents investigating alleged collusion between his 2016 campaign team and Russian officials.
Ms Trump, who has a 57 per cent favourability rating according to the latest CNN poll - far higher than her husband's, said during the prepared remarks that "as a mother and as first lady, it concerns me that in today's fast-paced and ever-connected world, children can be less prepared to express or manage their emotions and often times turn to forms of destructive or addictive behaviour such as bullying, drug addiction or even suicide".
Influencer Chessie King reveals extent of online trolling to raise awareness of cyberbullying
"As adults, we can and should 'be best' at educating our children" about how to express their emotions in positive ways and lead healthy lives, the first lady noted.
The "Be Best" follows the minimalist mottos of previous first ladies. Ms Trump's predecessor Michelle Obama's "Let's Move" campaign focused on getting children to exercise more to combat childhood obesity, a growing concern in the US that often leads to severe health problems as adults.
World news in pictures

Show all 50
"If we truly listen to what our kids have to say, whether it be their concerns or ideas, adults can provide them the support and tools they need to grow up to be happy and productive adults who contribute positively to society and their global communities," Ms Trump said as she introduced a few children who had implemented programmes promoting kindness at their school or made the public aware of cyberbulling issues in their community.
The announcement comes on the heels of an ever-increasing public image for the first lady, who had until about a month ago not been seen as much. She has since hosted the Japanese Prime Minister and French President's wives as well as attending the funeral of another former first lady Barbara Bush.
Her appearances have gotten more attention given the legal troubles of the president with Stormy Daniels, an adult film star who has claimed she had an affair with Mr Trump just one year into his marriage to his third wife. He is facing scrutiny over a $130,000 payment made to Ms Daniels by the president's personal attorney Michael Cohen.
Agencies contributed to this report.
Join our new commenting forum
Join thought-provoking conversations, follow other Independent readers and see their replies