Melania Trump's office slams media for mocking her stilettos during visit to Harvey-hit Texas
The First Lady later changed into tennis shoes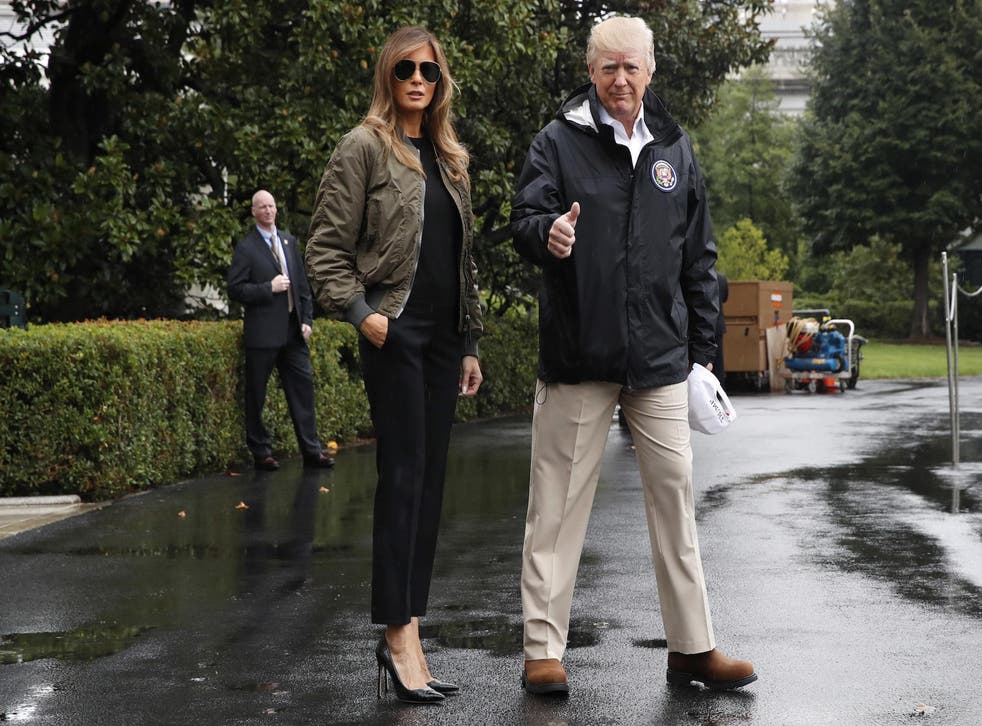 Melania Trump's office has blasted reporters for criticising the First Lady's footwear as she headed to Texas to show support for those reeling from the effects of Hurricane Harvey.
After Ms Trump emerged from the White House on Tuesday morning wearing black stilettos, black capris, a green jacket and aviator sunglasses, reports emerged mocking the First Lady's attire.
The Mirror called her outfit "the most inappropriate clothes imaginable" in a headline, while the Daily Beast suggested that she had "waterproofed" the shoes before heading off to Corpus Christi with her husband Donald Trump.
In a statement released to CNN, Ms Trump's communications director criticised members of the media for being "worried about her shoes" during an "active and ongoing natural disaster".
Harvey, which was downgraded from a hurricane to a tropical storm over the weekend, has brought unprecedented and catastrophic flooding to the southeastern region of Texas.
"To be fair, they are very good shoes. But are high stilettos really the best footwear for visiting an area that is experiencing massive flooding?" The Daily Beast asked in its article.
Sometime soonafter, while on Air Force One, Ms Trump changed into attire that the public is likely to deem more appropriate for her short Texas visit.
When the President and First Lady departed the plane after landing in Corpus Christi, the former supermodel was donning a black baseball cap that read "FLOTUS", a white shirt, black pants and white tennis shoes.
Donald Trump's international Presidential trips

Show all 22
After leaving the coastal city in South Texas, the Trumps are scheduled to head to Austin, the state's capital, where they will participate in a tour of the Emergency Operations Center and will receive a Hurricane Harvey briefing with state leadership.
"The president wants to be very cautious about making sure that any activity doesn't disrupt any of the recovery efforts that are still ongoing, which is the reason for the locations we are going here today," White House Press Secretary Sarah Huckabee Sanders told reporters.
"As of right now, I don't know that we will be able to get to some of the really damaged areas," she added.
Register for free to continue reading
Registration is a free and easy way to support our truly independent journalism
By registering, you will also enjoy limited access to Premium articles, exclusive newsletters, commenting, and virtual events with our leading journalists
Already have an account? sign in
Register for free to continue reading
Registration is a free and easy way to support our truly independent journalism
By registering, you will also enjoy limited access to Premium articles, exclusive newsletters, commenting, and virtual events with our leading journalists
Already have an account? sign in
Join our new commenting forum
Join thought-provoking conversations, follow other Independent readers and see their replies