Angela Merkel attacks Donald Trump's foreign policy stance ahead of G20 showdown
The German Chancellor and the US President are expected to clash over climate change and trade issues at the G20 summit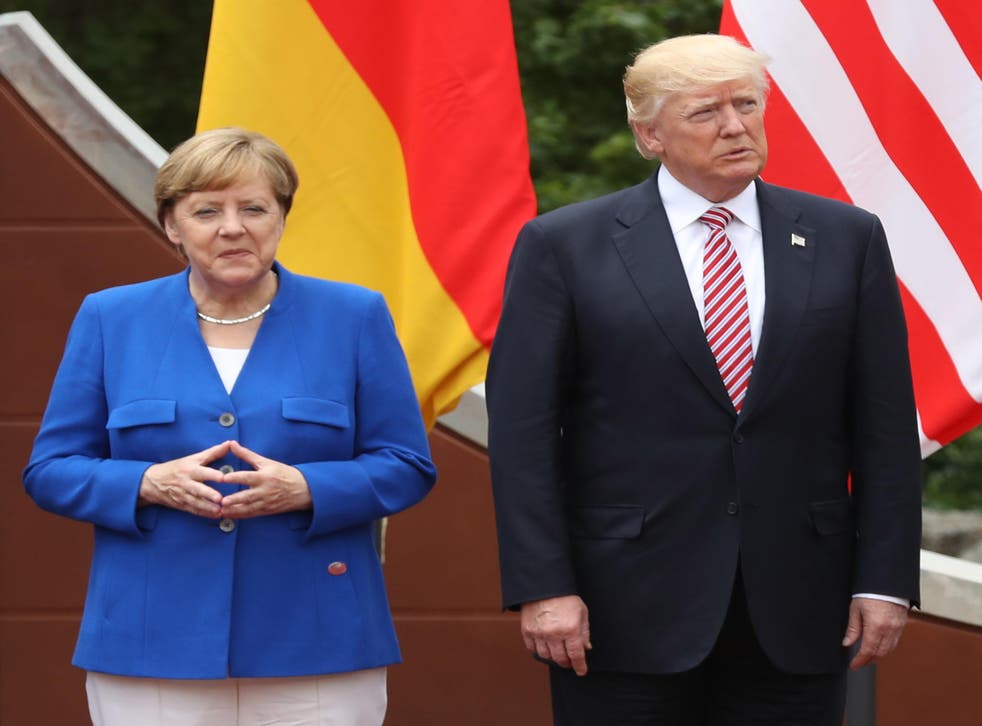 German Chancellor Angela Merkel has condemned Donald Trump's approach to foreign policy, criticising his administration for adapting a "winners and losers" view of the world rather than focusing on cooperation.
Ms Merkel – who no longer considers the US a friend based on her political party's campaign material – is set to meet with Mr Trump later this week at a summit in Germany with 20 global leaders. But in the days ahead of their trip to Hamburg, the German Chancellor has set herself up for potential clashes with the US President over climate change and free trade.
Mr Trump has been widely criticised for his anti-globalisation policies that are focused on cementing his "America First" doctrine, such as his withdrawal of the US from the Paris climate change agreement. Meanwhile, his supporters have praised what they see as his commitment to protecting US jobs.
"As G20 president, it is my job to work on possibilities for agreement and not to contribute to a situation where a lack of communication prevails," Ms Merkel told Die Zeit weekly.
However, she added that differences should not be pushed under the table.
"While we are looking at the possibilities of cooperation to benefit everyone, globalisation is seen by the American administration more as a process that is not about a win-win situation but about winners and losers," she said.
She added that comments from one of Mr Trump's security advisers about how the world is an arena, not a global community, contradicted her views.
Germany wants everyone to benefit from economic progress rather than only a few, she said.
Europe must pool its energy, she said, adding that ideas of an economic government for the euro zone and of a European finance minister, put forward by new French President Emmanuel Macron, were "two important thoughts".
The controversial orders Donald Trump has already issued

Show all 9
Ms Merkel previously said the US "could no longer be relied upon" after Mr Trump's withdrawal of the country from the Paris accord, and has predicted "very difficult" talks about climate change and trade at the G20 summit. Critics of Mr Trump's decision on the climate agreement have said that the US is forsaking its role as a global leader on one of the most important issues affecting the planet.
"Whoever believes the problems of this world can be solved by isolationism and protectionism is making a tremendous error," Ms Merkel said last week.
Meanwhile, tens of thousands of protesters are anticipated to march in Hamburg this week against globalisation and what they claim is corporate greed and a failure to tackle climate change. German authorities believe that around 8,000 demonstrators are prepared to use violence, the country's interior minister has said.
Ms Merkel said that while she respects peaceful demonstrators, "anyone who gets violent spurns democracy".
German police have already used a water cannon to disperse about 500 anti-capitalist protesters in the city before the two-day summit.
Agencies contributed to this report
Register for free to continue reading
Registration is a free and easy way to support our truly independent journalism
By registering, you will also enjoy limited access to Premium articles, exclusive newsletters, commenting, and virtual events with our leading journalists
Already have an account? sign in
Register for free to continue reading
Registration is a free and easy way to support our truly independent journalism
By registering, you will also enjoy limited access to Premium articles, exclusive newsletters, commenting, and virtual events with our leading journalists
Already have an account? sign in
Join our new commenting forum
Join thought-provoking conversations, follow other Independent readers and see their replies