Mexico senator proposes taking back land from the US if Donald Trump becomes president
The proposal has been made by a left-wing senator who wants to protect Mexican interests 
Andrew Buncombe
New York
Tuesday 06 September 2016 16:05 Comments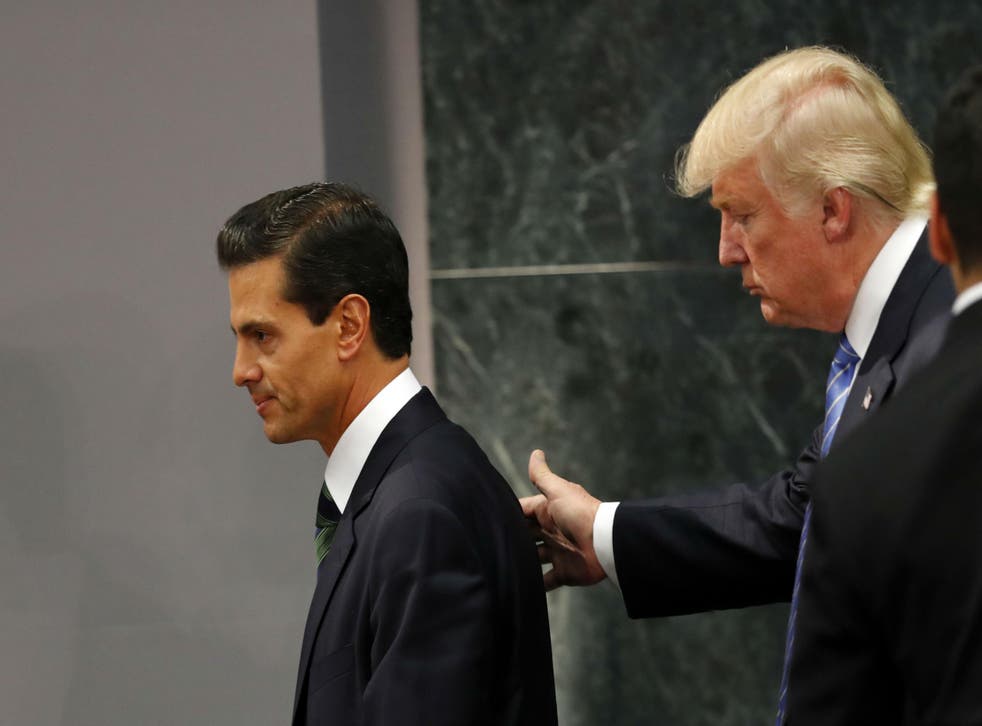 You could call it tit-for-tat with a dash of Mexican drama.
Mexico is to consider a proposal to revoke its treaties with the US, including the 1848 agreement that transferred half its territory to Washington if Donald Trump is elected and tries to make the US's southern neighbour pay for a border wall.
A Mexican senator is due on Tuesday to propose legislation that would empower the government to retaliate of Mr Trump inflicts expropriations or economic losses on his country to make it pay for a wall along the 2,000 mile border.
Reuters said that Armando Rios Piter, an opposition senator for the centre-left Party of the Democratic Revolution (PRD), hoped his initiative would protect Mexicans, and highlight the risks of targeting them economically.
"In cases where the property/assets of (our) fellow citizens or companies are affected by a foreign government, as Donald Trump has threatened, the Mexican government should proportionally expropriate assets and properties of foreigners from that country on our territory," says his proposal.
Trump Meets with Mexican President Nieto in Mexico
Total remittances to Mexico from abroad – most of which come from the United States – were worth nearly $25bn (£18.6bn) last year, according to the central bank. Bilateral trade between the two nations is worth about half a trillion dollars a year.
People who will flee America if Donald Trump wins

Show all 8
Mr Trump stormed to victory in the Republican primary with strident and frequently offensive comments about migrants from Mexico and other Central American countries. He vowed to build a wall, force Mexico to pay for it, and deport up to 11 million undocumented migrants.
Last week, Trump surprised political observers by accepting an invitation from Mexican President Enrique Pena Nieto, to discuss the issue of immigration. In language that appeared conciliatory in its tone, he raised the issue of a wall, but not who would pay for it. (Mr Pena Nieto later tweeted that he told Mr Trump Mexico would not pay.)
The same day, Mr Trump spoke in Phoenix and again vowed that Mexico would pay for the wall, saying: "They don't know it yet, but they're going to pay for it."
Mr Rios Piter said his aim was to counter threats by Mr Trump to target Mexicans in the US and to stress that the economic welfare of both nations is at stake. His initiative also seeks to protect Mexico against unilateral changes to the 1994 North American Free Trade Agreement (NAFTA), which Mr Trump has threatened to ditch.
The Treaty of Guadalupe Hidalgo was signed by the US and Mexico in 1848 to end a two-year war between the two countries, a conflict that Mexico lost. As part of the deal, Mexico handed to the US, what is now New Mexico, California, Arizona, Utah, Nevada and parts of Wyoming and Colorado. Mr Rios Piter has suggested the treaty could be scrapped if Mr Trump makes it to the White House.
"At a time like this, it's vital for us to understand why this relationship benefits both. We're neighbours, we're friends, we're partners," he said. "He's putting that at risk."
Register for free to continue reading
Registration is a free and easy way to support our truly independent journalism
By registering, you will also enjoy limited access to Premium articles, exclusive newsletters, commenting, and virtual events with our leading journalists
Already have an account? sign in
Join our new commenting forum
Join thought-provoking conversations, follow other Independent readers and see their replies