Stormy Daniels' lawyer Michael Avenatti suggests he could run against Trump in 2020
'I love this country, our values and our people too much to sit by while they are destroyed'
Andrew Buncombe
New York
Wednesday 04 July 2018 20:22 Comments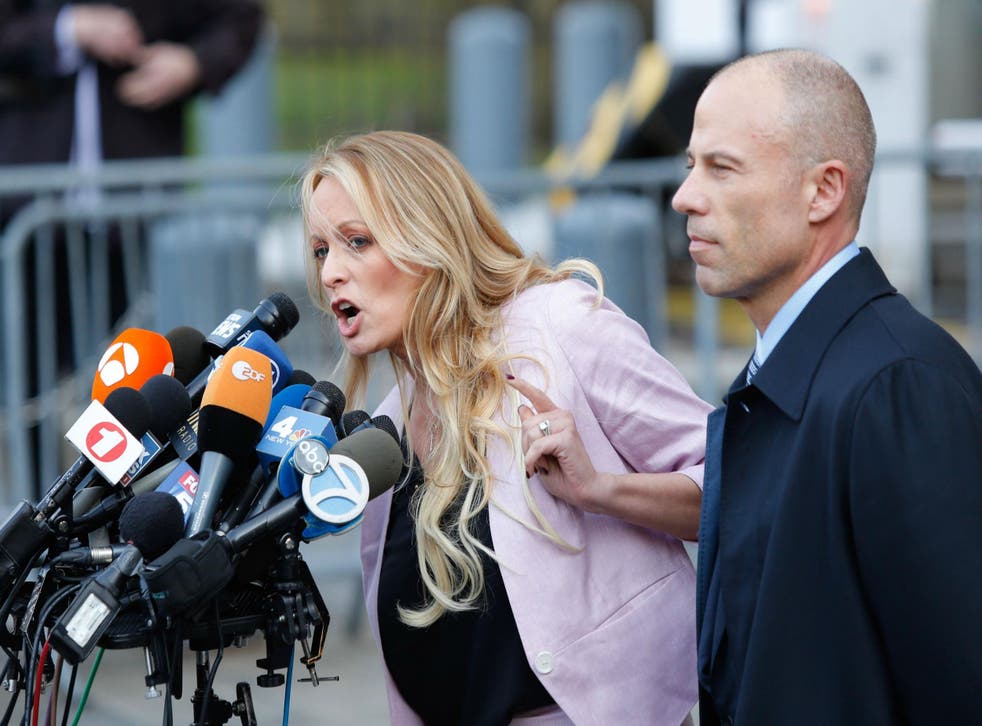 The lawyer representing adult actress Stormy Daniels in a lawsuit against Donald Trump, has said he will run against the president if he seeks reelection in 2020.
Michael Avenatti, whose ability to grab headlines almost matches that of the president, said he will run for the White House if there is no other candidate in the race he believes can defeat Mr Trump.
"IF (big) he seeks re-election, I will run, but only if I think that there is no other candidate in the race that has a REAL chance at beating him," said Mr Avenatti.
"We can't relive 2016. I love this country, our values and our people too much to sit by while they are destroyed. #FightClub #Basta."
The 47-year-old, who has been representing Ms Daniels in a lawsuit against Mr Trump and the president's former personal lawyer, Michael Cohen, raised the prospect of a political run after being asked on Twitter when he was going to announce his own candidacy.
Mr Avenatti went on to say: "To those that claim that only a traditional politician with "experience" can beat Trump, go back & look at the results from 2016. He beat all 15 of those candidates that he faced (crushed many). If we go down the same path and are not smart, don't be surprised with the result."
Rudy Giuliani appears to dismiss own statements about Donald Trump and Stormy Daniels as 'rumours'
Amid widespread anticipation Mr Trump will next week will next name a conservative candidate to fill a Supreme Court vacancy created by the resignation of Justice Anthony Kennedy, Mr Avenatti said that unlike the president, he was solidly pro-choice and would never "never nominate a justice to the SCOTUS who did not believe in Roe or who would seek to outlaw same sex marriage".
"Fully support equality for women & people of all races, & gay rights. We don't separate families at the border. And we don't kiss-up to Putin," he said.
Retweeting an image of the front page of the New York Daily News that showed Mr Trump with the face of a clown, he added: "I always liked the Daily News! Be clear - only a street fighter has a chance at displacing the "King." Otherwise, this country and its principles will be in pieces and non-recognisable."
World news in pictures

Show all 50
Ms Daniels, whose real name is Stephanie Clifford, is suing Mr Trump and Mr Cohen to invalidate an alleged "hush money" deal to silence the adult-film actress.
The money was paid to her by Mr Cohen on the eve of the 2016 election to buy her silence over an alleged sexual encounter dating back a decade earlier.
Mr Trump has always denied having any relationship with Ms Daniels.
Mr Trump formally confirmed in February he intended to run for a second term and named Brad Parscale, his 2016 digital strategist, as his campaign manager for 2020. The president has yet to respond to Mr Avenatti's vow to challenge him.
Register for free to continue reading
Registration is a free and easy way to support our truly independent journalism
By registering, you will also enjoy limited access to Premium articles, exclusive newsletters, commenting, and virtual events with our leading journalists
Already have an account? sign in
Join our new commenting forum
Join thought-provoking conversations, follow other Independent readers and see their replies