Michael Flynn: David Duke praises Trump national security appointee for anti-Semitic retweet
The general originally posted the tweet in July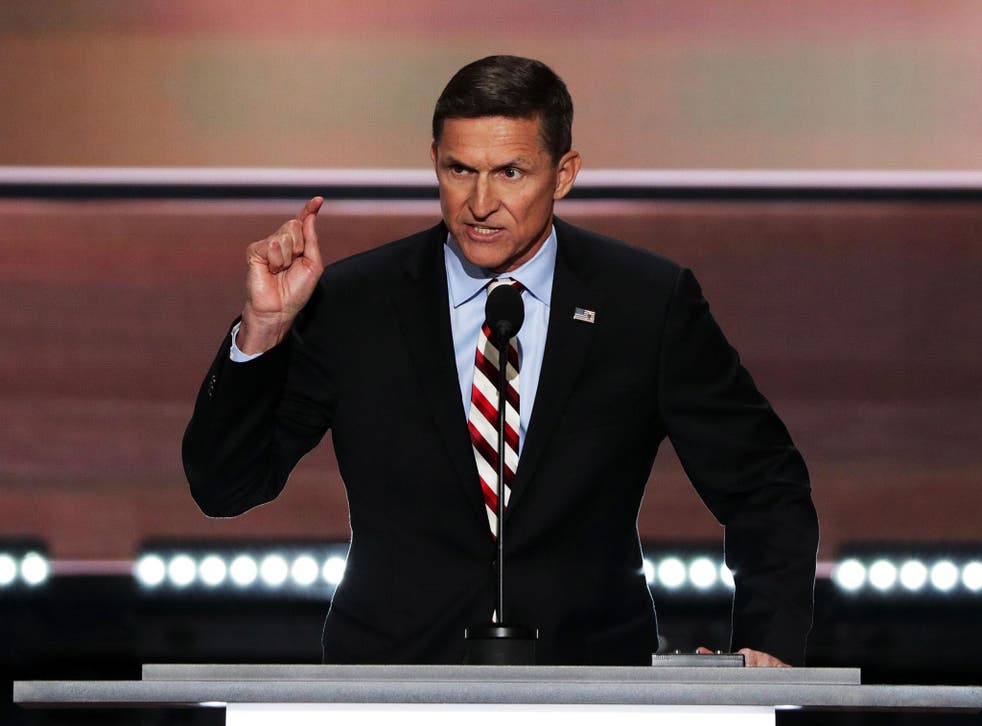 Former Ku Klux Klan leader David Duke praised Donald Trump's pick for National Security Advisor for promoting an anti-Semitic tweet over the summer.
Duke's endorsement of General Michael Flynn's tweet comes as each of the President-elect's appointments have drawn criticism for their racist views – including the choice for Attorney General, Jeff Sessions, a man once deemed "too racist" to serve as a federal judge.
Donald Trump's most controversial quotes

Show all 14
Mr Flynn was met with fierce criticism in July after he shared a tweet in response to the Hillary Clinton campaign's suggestion that Russia was behind the emil hack of the Democratic National Committee.
"The corrupt Democratic machine will do and say anything to get [Clinton] into power. This is a new low," he tweeted, linking to a tweeted from a user called Saint Bibiana.
It said: "CNN implicated. 'The USSR is to blame!' … Not anymore, Jews. Not anymore."
Lt. Gen. Michael Flynn (Ret) says islam is a political ideology and not a religion
Mr Flynn deleted the tweet shortly after he sent it out, saying "the earlier retweet was a mistake". He claimed that he only intended to tweet a link to the CNN clip of Clinton campaign manager Robby Mook's statement.
Despite Mr Flynn's disavowal of the tweet, Duke championed the choice of Flynn as national security Isis with an anti-Semitic remark of his own.
"Great pick!" he tweeted. "Gen Flynn's retweet shows he knows that the Saudis, Isis, and the Jewish-NeoCons are the real enemies - NOT Assad and NOT Russia!"
Mr Flynn has made clear his views against Islam.
In February he called fear of Muslims "rational". He has also referred to Islam as a "political ideology" that "hides behind religion.
People who have worked closely with Mr Flynn while he ran the Defence Intelligence Agency said that the incoming National Security Advisor does not have a firm grasp of facts – a common criticism of Mr Trump himself.
Mr Flynn had previously asserted that Shariah Law is expanding in the US, according to the New York Times, an outrageously false claim.
Such claims from the man who will be among the new President's top aides had been dubbed "Flynn facts".