Michael Flynn says senior Trump campaign officials directed his communications with Russians
The former national security adviser has pleaded guilty to lying to the FBI
Emily Shugerman
New York
Friday 01 December 2017 17:44 Comments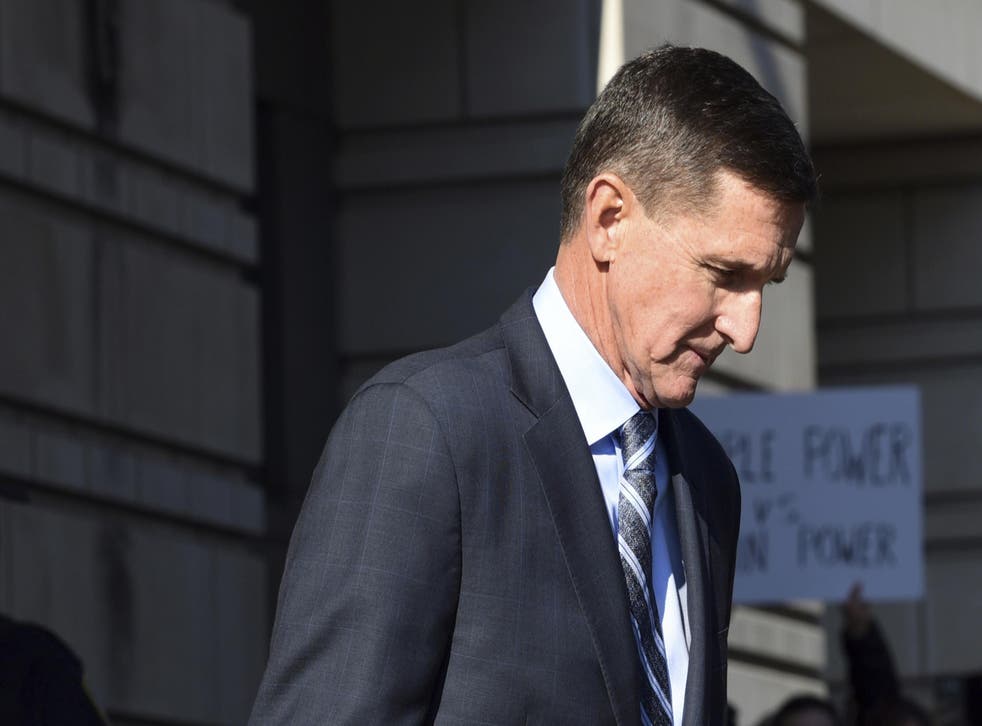 Donald Trump's former national security adviser has claimed the Trump campaign ordered him to contact Russia during their transition to the White House.
Michael Flynn alleged in a plea deal that a senior campaign official directed him to make contact with Russian officials. The plea deal did not name the senior official.
Mr Flynn pleaded guilty on Friday to making a false statement to the FBI regarding the investigation. The ex-adviser lied to agents about his conversations with former Russian ambassador Sergey Kislyak, telling them he had not counselled Mr Kislyak on how to respond to sanctions imposed by then-President Barack Obama during the transition.
The former national security adviser is the first senior member of the Trump transition team to plead guilty as a result of the Russia investigation.
In a statement, Mr Flynn called his actions "wrong," and said he had chosen to cooperate with special counsel Robert Mueller's investigation "in the best interests of my family and of our country". Mr Mueller is investigating possible collusion with Russia and obstruction of justice by the Trump team.
The biggest names involved in the Trump-Russia investigation

Show all 17
The White House responded with a statement emphasising that Mr Flynn served in the Trump White House for only 25 days. He resigned in February after it was revealed that he had mislead the Vice President and others regarding his conversations with Mr Kislyak.
"The false statements involved mirror the false statements to White House officials which resulted in his resignation in February of this year," said Trump attorney Ty Cobb. "Nothing about the guilty plea or the charge implicate anyone other than Mr Flynn."
Former US national security adviser Michael Flynn arrives at court
Mr Flynn's charges stem from his conversation with Mr Kislyak on the same day Mr Obama imposed sanctions against Russia. According to court documents, Mr Flynn falsely told the FBI that he had not asked Mr Kislyak to "refrain from escalating the situation in response to [the] sanctions". He also falsely claimed not to remember Mr Kislyak telling him that Russia had "chosen to moderate its response to those sanctions as a result of his request".
Mr Flynn called accusations of treason stemming from his actions "extraordinarily painful".
"Such false accusations are contrary to everything I have ever done and stood for," he said.
The 58-year-old is the fourth Trump campaign associate to be charged in Mr Mueller's Russia probe. Former Trump campaign manager Paul Manafort and his deputy Rick Gates were charged with various financial crimes last month. Both pleaded not guilty.
George Papadopolous, a former campaign adviser also charged by Mr Mueller, pleaded guilty to lying to the FBI about his contacts with Russia sources.
Register for free to continue reading
Registration is a free and easy way to support our truly independent journalism
By registering, you will also enjoy limited access to Premium articles, exclusive newsletters, commenting, and virtual events with our leading journalists
Already have an account? sign in
Join our new commenting forum
Join thought-provoking conversations, follow other Independent readers and see their replies