Who is Michael Flynn? And why is his guilty plea such bad news for Trump?
The FBI and Congressional investigations into alleged collusion between campaign team members and Russian officials continues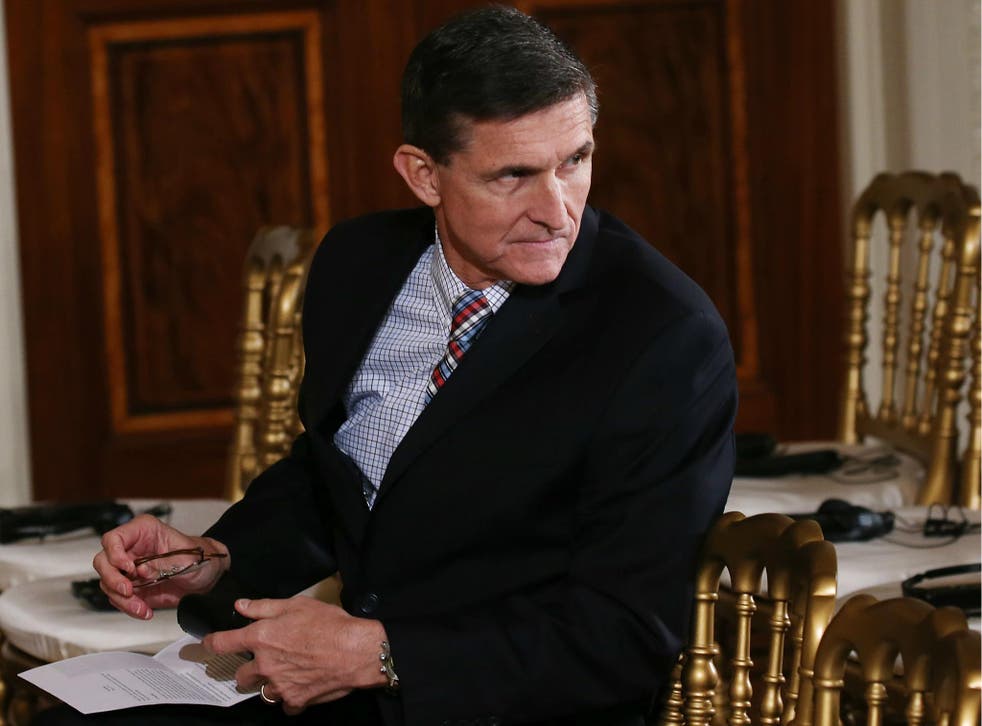 Former National Security Adviser Michael Flynn has pleaded guilty to charges of making false statements to the FBI in special prosecutor Robert Mueller in the investigation into alleged collusion between US President Donald Trump's 2016 campaign team and Russian officials.
Given the indictment of other campaign officials like Paul Manafort and Rick Gates, as well as the guilty plea of campaign aide George Papadopoulos, some like lawyer and University of New Hampshire professor Seth Ambramson said on Twitter: "The jig is up, Mr. President. This is the beginning of the end for this administration."
Who is Michael Flynn?
Michael Flynn is the former National Security Adviser to Mr Trump. He had served just 24 days in the Trump administration.
The retired three-star Army Lieutenant General was an ardent and early supporter of Mr Trump despite being a registered Democrat prior to the 2016 election.
He gave a fiery speech during the Republican National Convention in July 2016, starting a chant in the crowd to "Lock Her Up!," referring to sending opponent Hillary Clinton to jail.
He stumped for Mr Trump throughout the campaign, touting the real estate magnate's national security and foreign policy abilities despite his total lack of political experience.
Mr Flynn had also worked under former President Barack Obama as the Director of the Defence Intelligence Agency in 2012.
But by 30 April 2014, Mr Flynn had announced his retirement from the military after 33 years of service.
He had been forced out of the DIA a year earlier than planned due to repeated clashes with superior officers and his "Flynn Facts," or dubious statements that had a "loose relationship" with actual facts according to the New York Times.
Why is everyone talking about him now?
Mr Flynn was charged with making "false, fictitious, and fraudulent statements" to the FBI about his contact with Russian Ambassador to the US Sergey Kislyak in a 24 January questioning.
What happened when he was National Security Advisor?
He misled Vice President Mike Pence, then-White House Chief of Staff Reince Priebus, and then-Press Secretary Sean Spicer about conversations he had with former Russian Ambassador to the US Sergey Kislyak.
The three repeated his false claims to the public on more than one occasion.
In an interview with CBS on 15 January, Mr Pence said Mr Flynn told him the conversation was about "Christmas wishes" and "sympathy for the loss of life in the airplane crash that took place" the month before.
Mr Flynn also spoke with Mr Kisylak again on 21 January to set up a meeting between the President and Russian President Vladimir Putin.
The biggest names involved in the Trump-Russia investigation

Show all 17
According to former acting Attorney General Sally Yates' May testimony in front of the Senate, she had rushed to speak to White House lead counsel Don McGahn on 26 January about how Mr Flynn was susceptible to blackmail by Russia because Moscow knew he had been lying about his contact with Mr Kislyak.
It took 18 days for Mr Trump to ask Mr Flynn for his resignation on 13 February and he implied in later comments that he felt media pressure to do so.
Ms Yates was fired just five days after her dramatic conversation with the President. The White House said it was because she did not support Mr Trump's travel ban on people from six Muslim-majority countries entering the US.
Mr Flynn had also been under investigation even before Mr Trump took office.
The Army was looking into whether he had received money from the Russian government during a 2015 trip.
If he had it would be a violation of the Emoluments Clause of the US Constitution that bars any former military officials from receiving foreign government funds without first getting permission from Congress.
What are the charges?
The FBI found a transcript of a call Mr Flynn made to Mr Kislyak on 29 December 2016.
That was the same day former President Barack Obama had imposed sanctions on Russia for its interference in the US election and they discussed that on the call.
He also asked Mr Kislyak to "delay the vote on or defeat a pending United Nations Security Council resolution," according to court documents.
Mr Flynn was still only a member of Mr Trump's transition team at the time.
The day after his resignation, 14 February, Mr Trump had asked former FBI Director James Comey to "see your way clear to letting this go, to letting Flynn go" according to Mr Comey's testimony in front of the Senate.
The FBI had continued the investigation into Mr Flynn in spite of the President's comments.
What could happen next?
The former Lieutenant General has pleaded guilty to the charge of lying to the FBI.
As Daily Beast reported, "legally, pleading guilty to an information is the same thing as pleading guilty after being indicted."
Mr Mueller and Congress are continuing with their investigations into the campaign team's alleged collusion with Russian officials which could lead to an indictment for Michael Flynn Jr as well.
The senior Mr Flynn's legal team had cut off communications with Mr Trump's lawyers last week, which could mean he is cooperating with Mr Mueller and offered some information in the investigation.
Experts have said he may have offered crucial links between Russian officials and a senior campaign team official given the relatively lenient charge.
It remains unclear whether Mr Flynn will face actual jail time
Mr Abramson could be correct in his estimation given Mr Trump's lawyer Ty Cobb now calling for a swift end to the Russia investigation.
Register for free to continue reading
Registration is a free and easy way to support our truly independent journalism
By registering, you will also enjoy limited access to Premium articles, exclusive newsletters, commenting, and virtual events with our leading journalists
Already have an account? sign in
Register for free to continue reading
Registration is a free and easy way to support our truly independent journalism
By registering, you will also enjoy limited access to Premium articles, exclusive newsletters, commenting, and virtual events with our leading journalists
Already have an account? sign in
Join our new commenting forum
Join thought-provoking conversations, follow other Independent readers and see their replies