Michelle Obama reveals why she held back tears at Trump's inauguration
The first lady also reveals how she's adapting to private life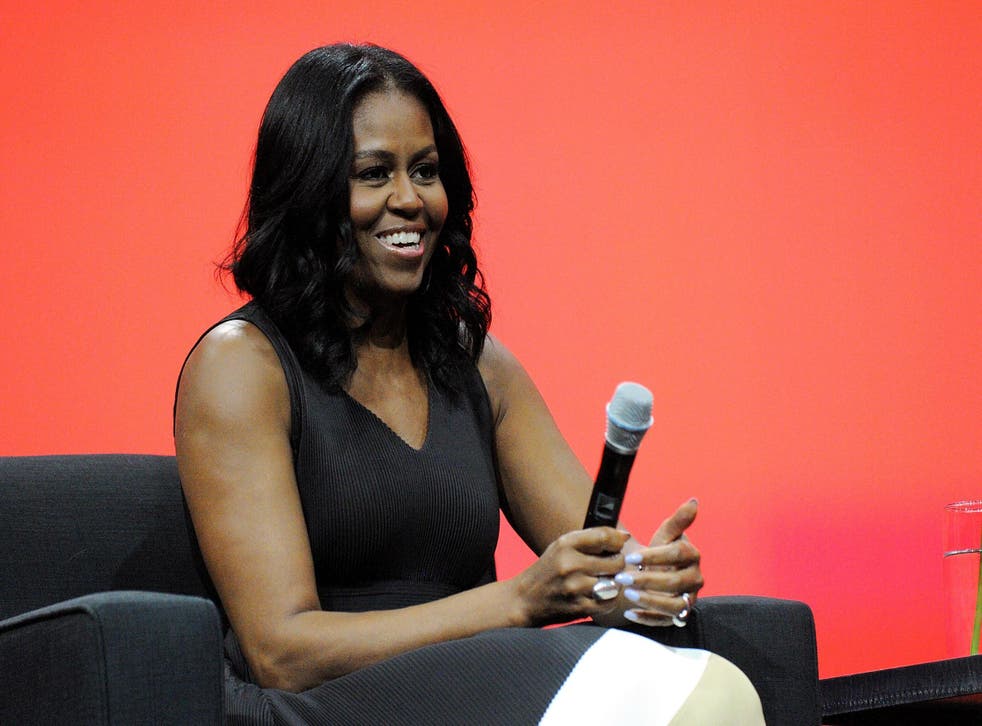 Former First Lady Michelle Obama has revealed the reason behind her now-infamous "side-eye" during Donald Trump's inauguration: She was holding back tears.
"I didn't want to have tears in my eyes because people would swear I was crying because of the new president," Ms Obama told an audience at the American Institute of Architects convention in Orlando.
In her first speech since Mr Trump took office, Ms Obama said she had grown emotional at the thought of leaving her White House staff. But she also made it clear she had no intentions of returning to Pennsylvania Avenue.
Michelle Obama makes emotional final speech as first lady
"I wouldn't ask my children to do this again because, when you run for higher office, it's not just you, it's your whole family," she said, rebuffing rumours of a possible White House run. "Plus, there's so much more we can do outside of the office, because we won't have the burden of political baggage."
Among the freedoms the Obama family now enjoys are the ability to open their windows at night and travel without a motorcade. Mr Trump recently lamented his own inability to go for a drive by himself.
"You're really into your own little cocoon, because you have such massive protection that you really can't go anywhere," the current President told Reuters.
Ms Obama's appearance marked her and her husband's entry into the post-presidency, paid-speaking circuit. Just like the Clintons before them, the Obamas are facing criticism for receiving hundreds of thousands in speakers fees. Mr Obama is slated to receive $400,000 for a speech at a health-care conference sponsored by investment bank Cantor Fitzgerald in September.
But reporters said Ms Obama seemed relaxed and unconcerned in her speech on Thursday.
"So far, so good," she said of her new, private life. "It hasn't been that long, really. It's been less than 100 days. I think everybody's counting 100 days. We're counting, too."
Register for free to continue reading
Registration is a free and easy way to support our truly independent journalism
By registering, you will also enjoy limited access to Premium articles, exclusive newsletters, commenting, and virtual events with our leading journalists
Already have an account? sign in
Register for free to continue reading
Registration is a free and easy way to support our truly independent journalism
By registering, you will also enjoy limited access to Premium articles, exclusive newsletters, commenting, and virtual events with our leading journalists
Already have an account? sign in
Join our new commenting forum
Join thought-provoking conversations, follow other Independent readers and see their replies