Michelle Obama wows Las Vegas crowds calling on them to vote
'While some folks are frustrated and tuned out and staying home on Election Day, trust me, other folks are showing up,' says former first lady. 'Democracy continues with or without you'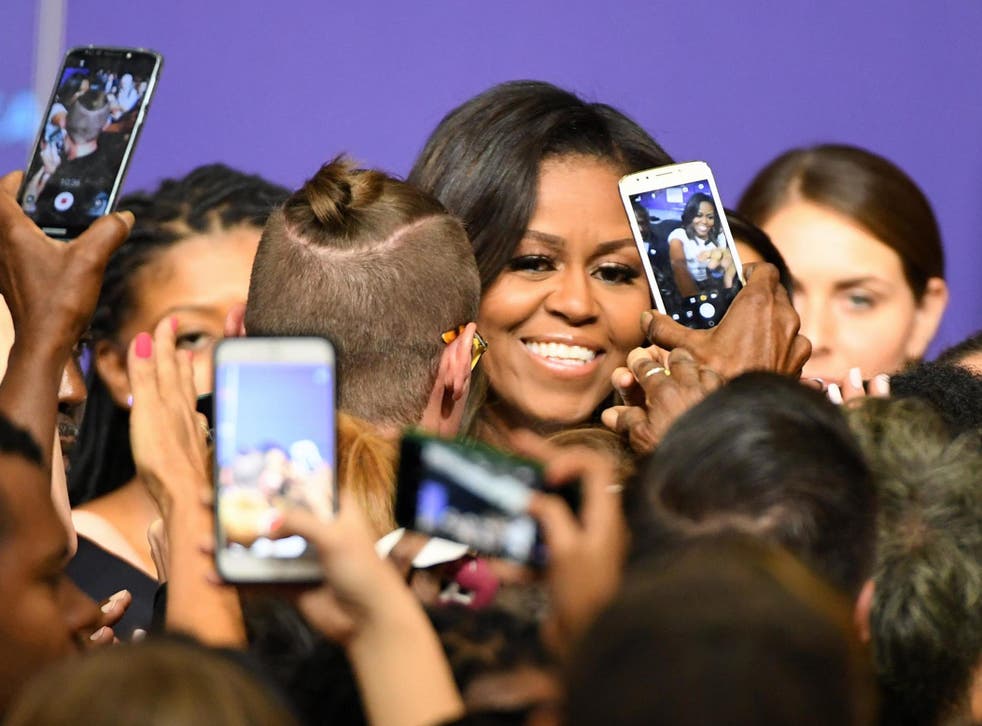 Michelle Obama stepped into the tumult of November's midterm elections with a spirited call for citizens to vote, no matter how busy, discouraged or tuned-out they might feel.
"Our vote matters. It always does," she said. "But only if we use that vote."
Headlining her first rally for When We All Vote, the nonprofit initiative she launched in July, Obama spoke of her own disappointment with the political moment and criticised efforts to suppress voting by making it more difficult to register or cast ballots.
"Believe me, I am frustrated, too," Ms Obama told a crowd that repeatedly rose to its feel to cheer her return to the political arena. "I am sick of all the chaos and the nastiness of our politics. It's exhausting and, frankly, it's depressing. I understand wanting to shut it all out.
"But here's the problem. While some folks are frustrated and tuned out and staying home on Election Day, trust me, other folks are showing up. Democracy continues with or without you."
Ms Obama's event was her first major foray in a busy season that marks her return to the public eye, 21 months after she left the White House. On 13 November, she launches her memoir, Becoming in Chicago and starts a national tour of appearances in arenas.
She plans to travel to Miami for a similar rally, capping a week of events by artists, athletes and celebrities recruited to her new cause. They include NBA star Chris Paul and actor Tom Hanks, as well singer Faith Hill, who will headline a rally in Nashville. The long-term, nonpartisan goal, Ms Obama says, is to change culture of voting.
World news in pictures

Show all 50
When We All Vote, designed this year with the help of a small team of advisers, addresses issues of low turnout that Ms Obama has long discussed on the campaign trail, albeit in service to Democratic candidates.
In 2014, the last midterm elections, only 36 percent of eligible voters cast a ballot, the lowest turnout since 1942, according to the US Elections Project.
The organisation is paying special attention to demographic groups that tend to register in lower numbers, including African Americans, Hispanics and young people. Kyle Lierman, an Obama administration veteran who directs the effort, said, "We are able to make sure we're doubling down our efforts and reaching them, but we really are trying to reach all Americans."
The organisation is facing scepticism in some Republican quarters.
"This is the furthest you can possibly get from being nonpartisan," said Keith Schipper, spokesman for Republican Sen. Dean Heller's closely-watched re-election fight against Nevada Democrat congresswoman Jacky Rosen. "It is nothing more than a progressive voter registration drive designed to boost Jacky Rosen's struggling campaign."
Two Democrats advising campaigns this year said Ms Obama's presence is likely to help their candidates even when she does not speak of party politics. Democrats have a registration advantage in Nevada.
Democratic congressional candidate Susie Lee worked the Las Vegas crowd. "Let's do this. Let's get our democracy back," she said as one supporter asked for a selfie.
She said she was thrilled that Ms Obama chose Las Vegas: "Michelle coming out here and energizing people to commit to voting is what democracy is all about."
Ms Obama and her team are using contacts and marketing techniques they developed in the White House to reach adults who have not registered and those who vote only sporadically, if at all.
UK news in pictures

Show all 50
They are drawing on celebrities and athletes with large social media followings and using short Internet videos of Obama talking about the importance of voting.
"This is my generation. It's important to be able to communicate with them in a way they understand," said singer Janelle Monáe, who will headline a voting rally at Spelman College in Atlanta. "I don't think we can afford right now to stay home and not vote."
At last count, When We All Vote had 10 paid staffers, with the money coming from "foundations and individuals who have been supportive of the Obamas and who care about voting," Mr Lierman said. "There are thousands of folks day in and day out trying to register people and make sure they get out to vote. It's our job to make their job 10 percent easier."
The campaign is drawing on partnerships, including one with ride-sharing company Lyft, which will encourage its drivers to register and include a note on all ride receipts asking passengers whether they are registered, Mr Lierman said. He described the pitch to companies this way: "You have incredible reach, you engage millions of people. Let's use your platform and reach them and make sure they're ready to vote."
Although When We All Vote is officially nonpartisan - Obama said she was not there "to tell anyone how to vote" - the Chaparral High School gymnasium was packed with 2,600 fans and had the feel of a campaign event.
Taking the stage wearing a T-shirt that read, "Voting is my superpower," comedian Keegan Michael Key brought the crowd to its feet. After urging everyone to text a code to a When We All Vote number, he gave instructions: "Turn your anger, and more importantly folks, turn your passion, turn your hope, into action."
Last to speak, Obama had sharp words for politicians and outside groups that are shutting polling places or requiring voters to produce sometimes difficult-to-obtain identification. She said it's "happening right now all over the place."
"They're finding all kinds of ways to keep you at home, hoping that when you hear about all those things, you'll just give up," she said. "Don't let anybody intimidate you from being a part of this process."
Twenty-three minutes into her remarks, someone called from the back of the room, "Run for president," prompting the longest and loudest cheers of the night. It wasn't clear whether Obama, who has repeatedly said she will not run, heard the remark. She returned to her remarks, saying, "You know, we need you guys."
The crowd then drowned her out with a chant, "We need YOU! We need YOU."
The Washington Post
Register for free to continue reading
Registration is a free and easy way to support our truly independent journalism
By registering, you will also enjoy limited access to Premium articles, exclusive newsletters, commenting, and virtual events with our leading journalists
Already have an account? sign in
Register for free to continue reading
Registration is a free and easy way to support our truly independent journalism
By registering, you will also enjoy limited access to Premium articles, exclusive newsletters, commenting, and virtual events with our leading journalists
Already have an account? sign in
Join our new commenting forum
Join thought-provoking conversations, follow other Independent readers and see their replies