Midterms 2018: 'Migrant caravan' fears stoked by conservative activists sharing misleading photo online
Disinformation is fuelling fear and hatred towards Central Americans ahead of November's congressional elections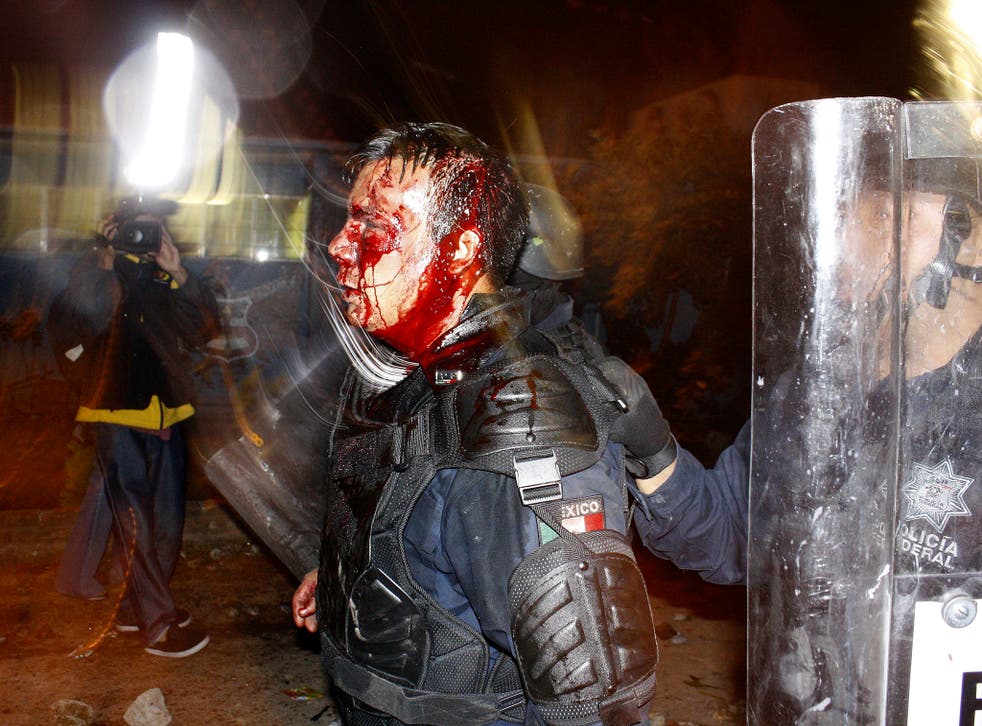 The image is shocking: a Mexican policeman in riot gear bleeds profusely from gashes on his head. The culprits, according to posts spreading virally on social media, were members of the migrant caravan making their way north towards the US border – and delivering violence along the way.
An early version on Facebook on Sunday says beneath this image, "And WE are supposed to believe these are just poor, helpless refugees seeking asylum??? I am 100% behind POTUS deploying our military to protect our border and keep them out."
But the post – shared by tens of thousands including Ginni Thomas, a conservative activist who is the wife of Supreme Court Justice Clarence Thomas – is misleading in key ways, starting with the photograph itself. It is not from any incident related to the migrant caravan that has emerged as a potent flash point in the intensifying midterm congressional election.
The photo of the bloodied policeman was taken during Mexican student protests in 2012, according to Snopes, a fact-checking website. The post, say several researchers, is just one example of the false content spreading rapidly as the midterm congressional election nears – despite promises by Facebook and other companies to prevent a repeat of the 2016 presidential election, when disinformation and fake news ran rampant across social media.
"Many of the worst sources of political news and information are now covering the movements of the immigrant caravan," said Phil Howard of Oxford University's Computational Propaganda Project. "Social media is awash with pictures that portray an angry mob heading for the US border ... This kind of the event is easy for junk news outlets to turn into a sensational news story."
In a statement, Facebook said: "In this situation, while it's something we should have caught sooner, we were able to identify and address duplicate versions of this photo that were being shared elsewhere on Facebook; thanks to a 'false' rating from one of our third-party fact-checkers on this photo, we've been able to demote these duplicate posts in News Feed."
World news in pictures

Show all 50
Trevor Davis, the researcher who brought attention to the misleading nature of the posts featuring the bloodied Mexican policeman, started analysing information related to the caravan Monday night. On Tuesday – the same day that Snopes labelled the image as "miscaptioned" – Mr Davis wrote an article on Medium noting the wide spread of the Facebook post, including the role played by Ginni Thomas.
She did not reply to requests for comment from The Washington Post, but the post appeared to be removed from Facebook on Wednesday afternoon, following online publication of this story by the Post.
Mr Davis, a research professor at George Washington University, found that more than 50 Facebook posts with the same picture of the bloodied policeman had been shared at least 113,000 times.
The same image by itself or as part of a montage appeared on Twitter more than 10,000 times. Twitter said in a statement on Wednesday: "Accounts that deliberately attempt to disrupt the public conversation, including sharing the same content repeatedly or attempt to game trending topics, will face action pursuant with our enforcement policies."
Of the misleading photo of the Mexican policeman, Twitter said it has suspended "a small number of accounts that were deliberately attempting to share it at scale".
Mr Davis, the researcher, also highlighted Ms Thomas' post on Facebook, which said: "The media won't share THIS, will they? It is an invasion, and thank GOD for President [Donald] Trump."
"This is really dangerous stuff," said Mr Davis, who has worked in the past for Democratic Party causes and founded CounterAction, a disinformation research project.
He said the misleading image changes the emotional tenor of the debate around the caravan, by providing apparent visual evidence that the migrants heading north are violent and clashing with police along the way.
"The emotional pull of the still photograph shapes how you interpret events," Mr Davis said. "It changes the tone of it. It becomes about violent thugs beating their way through Mexico."
The first Facebook post featuring the image of the bloodied Mexican policeman appears to have come from a user named Jacque Guinan, who posted it shortly after midnight on Sunday. Then, between 6 and 7am that day, a handful of Twitter accounts began tweeting the same images with only slight modification to the text. Ms Guinan's original post eventually garnered 36,774 shares and almost 3,000 comments.
Ms Guinan did not respond to messages left at five numbers associated with her or those of relatives. She also did not respond to messages sent via Facebook, even though she was active on the social media site, posting over 15 times on Wednesday. Reached by phone, her ex-husband said he would contact her by text and pass along a message from a Post reporter seeking comment.
However, when images of the bloodied policeman appeared on 4chan.org and a Reddit group for supporters of President Trump, users sent out warnings about the origins of the photo.
"DO NOT SPREAD FAKE NEWS," warned one post. Another said, "If we also spread fake news, we have become exactly what we sought to destroy."
The Washington Post
Join our new commenting forum
Join thought-provoking conversations, follow other Independent readers and see their replies