Kyrsten Sinema: Democrat wins race to become Arizona's first female senator, beating Republican rival Martha McSally
Republican Martha McSally conceded, and has not engaged with Donald Trump's voter fraud theory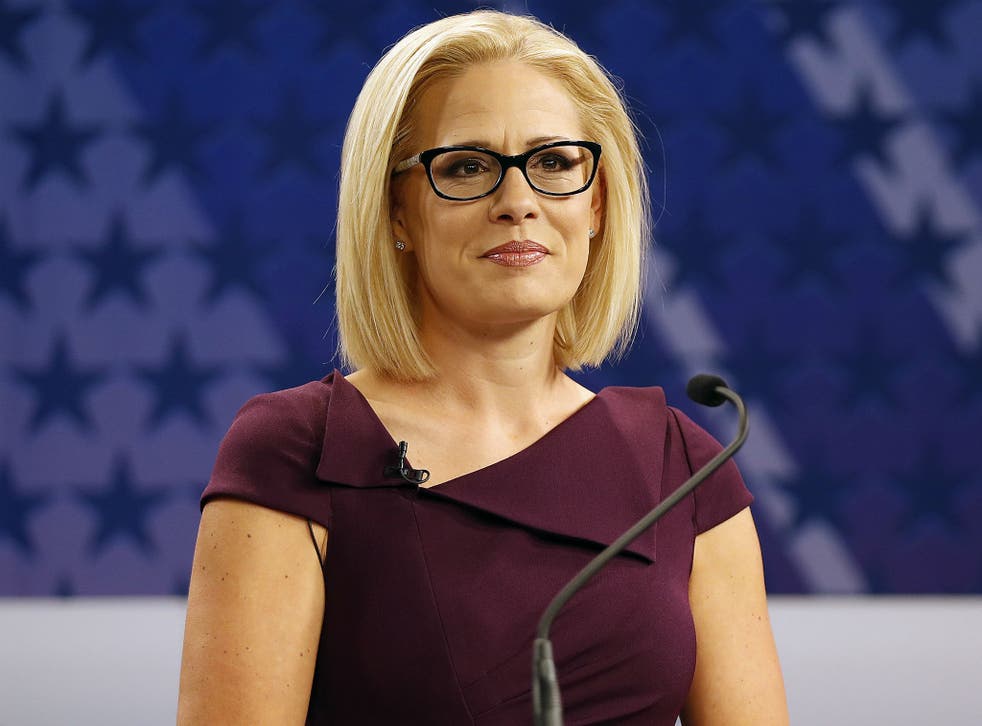 Democrat Kyrsten Sinema has won Arizona's US Senate seat to become the state's first female senator after Republican Martha McSally conceded.
The three-term congresswoman won after a slow vote count that dragged on for nearly a week after voters went to the polls on 6 November.
Donald Trump had publicly cast doubt over the legitimacy of the voting process, suggesting that fraudulent activities may have taken place.
"Just out – in Arizona, signatures don't match. Electoral corruption – Call for a new Election? We must protect our Democracy!" Mr Trump tweeted.
These fact-free claims were not endorsed by Ms McSall, who has not engaged with Mr Trump's voter fraud theory.
Ms Sinema's victory achieves a long-time Democratic goal of making Arizona a competitive state, becoming the first Democratic US senator in the state since 1994.
She spoke to reporters at a Scottsdale hotel after declaring victory in the wake of the concession by her opponent.
Ms Sinema said she would follow the example of the late Senator John McCain, who died in August, and would try to follow his example and "put country before party."
Ms Sinema tailored her campaign for conservative-leaning Arizona rather than the national environment, but it may be a guide for Democrats who hope to expand the electoral map in 2020.
She chose not to criticise Mr Trump's hardline immigration stance and painted herself as a non-partisan problem solver.
During her six years in Congress, Ms Sinema built one of most centrist records in the Democratic caucus, and she voted for bills backed by Mr Trump more than 60 per cent of the time. She backed legislation increasing penalties against people in the country illegally who commit crimes.
Ms McSally, a former Air Force pilot who embraced Mr Trump after opposing him during the 2016 elections, had claimed that Ms Sinema's anti-war protests 15 years ago disqualified her and said one protest amounted to what she called "treason."
"I just called Kyrsten Sinema and congratulated her on being Arizona's first female senator after a hard fight battle," Ms McSally said in her concession video. "I wish her all success as she represents Arizona in the Senate."
Ms McSally backed Mr Trump's tax cut, border security and the Affordable Care Act repeal agenda as she survived a three-way GOP primary in August, defeating two conservative challengers who claimed her support for Mr Trump was fake. Ms McSally also campaigned on her military record and support for the Armed Forces.
US midterm results: more diverse, more female and more progressive

Show all 20
The contest drew more than $90 million (£70m) in spending, including more than $58 million (£45m) by outside groups, according to Federal Election Commission reports. Attack ads by both sides clogged the airwaves for months.
Ms Sinema, 42, has a law degree, worked as a social worker and was a political activist in her 20s, running as an independent Green Party candidate for the Arizona House. She then became a Democrat and served several terms in the state legislature. Ms Sinema started as an overt liberal but developed a reputation for compromise among her Republican peers, laying the groundwork to tack to the centre.
Ms McSally, 52, was the first female Air Force pilot to fly in combat, flying A-10 attack jets. She was also the first woman to command a fighter squadron, again in A-10s.
Support free-thinking journalism and attend Independent events
Ms McSally lost her first race in Arizona's 2nd congressional district in 2012, when she was narrowly defeated by Democratic Representative Ron Barber, who replaced Representative Gabby Giffords after she was wounded in a 2011 assassination attempt. But Ms McSally came back to win the 2014 election, beating Mr Barber by a narrow margin. She was re-elected in 2016.
Agencies contributed to this report
Register for free to continue reading
Registration is a free and easy way to support our truly independent journalism
By registering, you will also enjoy limited access to Premium articles, exclusive newsletters, commenting, and virtual events with our leading journalists
Already have an account? sign in
Register for free to continue reading
Registration is a free and easy way to support our truly independent journalism
By registering, you will also enjoy limited access to Premium articles, exclusive newsletters, commenting, and virtual events with our leading journalists
Already have an account? sign in
Join our new commenting forum
Join thought-provoking conversations, follow other Independent readers and see their replies