Midterms 2018: Voting machine malfunctions, high turnout and discontent with Trump - Americans take to the polls
The president's name is not on any ballot but his presence looms large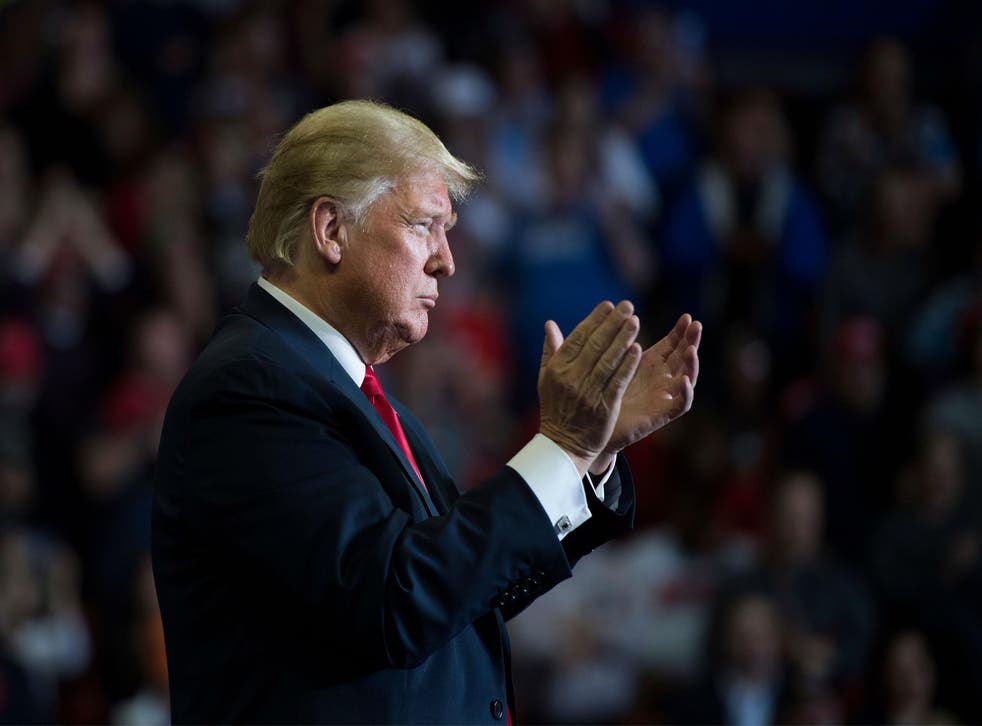 Half of America is very unhappy with the presidency of Donald Trump, exit polls suggested, as millions cast their ballots in the costliest midterm elections in history and one considered the most consequential for decades.
Mr Trump's name was not on the ballot – the White House issued a statement saying he and the first lady were watching the result come on television – but early indications suggested the president's approval rating, which at times has been historically know, was proving to be a crucial factor.
CNN said exit polls from across the country, suggested almost half of voters said they strongly disapproved of the president's stewardship of the country, while 40 per cent said they approved of it. In all, two-thirds said Mr Trump was a factor in the way they cast their ballot.
"As president, Donald Trump has headlined an unprecedented 50 rallies – 30 in the last two months alone—and he has campaigned for dozens of candidates at all levels of government," White House press secretary Sarah Huckabee Sanders, said in a statement.
"The president has energised a staggering number of Americans at packed arenas and in overflow crowds at rallies across the country. Under President Trump's leadership, the Republican National Committee has raised more than a quarter billion dollars."
She added: "The president and first lady look forward to watching the results come in with friends and family in the White House residence."
Midterms voters at Brooklyn Public Library forced to use emergency ballot box as 'all scanners broken'
While turnout is typically lower during a midterm election than one when the White House is up for grabs, reports from various key states – among them Georgia, Kentucky and Indiana – suggested that long lines of voters turned out.
An awful is at stake in the 2018 midterms – a set of elections the parties are expected to have spent more than $5bn contesting. While much attention has been on the battles for the House of Representatives and Senate, dozens of races for governorships were also taking place. In Georgia, where the race has been dogged by accusations of voter suppression of minority communities, Stacey Abrams was seeking to make history by being the first black woman elected as a sate governor.
Going into the night, most pundits believed the Republicans would do well enough to hold onto their narrow advantage, and perhaps even add one or two seats – Democrats Joe Donnelly of Indiana, and Heidi Heitkamp of North Dakota were both considered vulnerable.
US midterm elections: voters head to the polls

Show all 28
They also predicted the Democrats would do well enough to flip the 23 seats they need to win the House of Representatives, the lower chamber of congress and where any impeachment effort against Mr Trump would start out.
Early on Tuesday evening, lots of attention was being paid to Kentucky's 6th congressional district where Democrat Amy McGrath, a former Marine battling to oust Republican incumbent Andy Barr. Experts said if the Democrats were to enjoy the so-called "blue wave" many have talked about, a victory for Ms Mcgrath would be an early indicator of one. With around 70 per cent of the vote counted, Ms Mcgrath led Mr Barr 49.5–49.2
"The drumbeat you hear across America is people voting," said Nancy Pelosi, the House Democratic leader who would hope to become Speaker of the House if Republicans lose it. "I feel confident we will win."
The first actual result this cycle was in Guam, where the governor's race was won by Democrat Lou Leon Guerrero – flipping the office from the Republicans for the first time since 2003.
Among its early projections, CNN predicted that Bernie Sanders would be reelected to his senate seat in Vermont. That means the 77-year-old is set for another six years unless Hillary Clinton's surprisingly strong primary challenger in 2016, decides to make another run for the White House in two years time, something that would thrill his many supporters.
Join our new commenting forum
Join thought-provoking conversations, follow other Independent readers and see their replies