Several members of migrant caravan have reached the US-Mexico border to seek asylum
President Donald Trump has deployed troops to secure the border 
Mythili Sampathkumar
New York
Friday 20 April 2018 20:03 Comments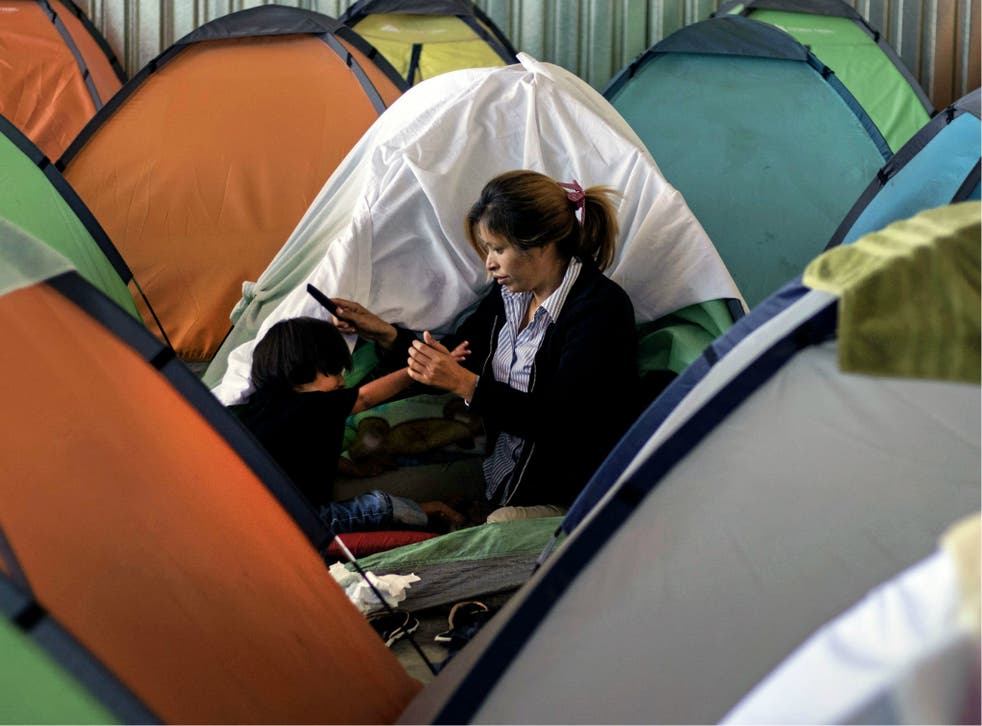 At least 50 members of a migrant caravan that has been travelling through Central America and Mexico has reached the US border and are seeking asylum.
The group, which at one point reached a peak of 1,500 people from Honduras, El Salvador, and Guatemala, had prompted US President Donald Trump to call in the National Guard troops from Arizona and Texas in order to secure the border and continues on with plans to build a 2,000-mile border wall.
The group dwindled as word of Mr Trump's threats spread and Mexican authorities separated those who were legally allowed to stay in Mexico from those who were not. Though some of the migrants have been granted entry, "there have already been cases of people being illegally turned away by border officials when trying to request asylum at the U.S. border," a spokesperson for Pueblo Sin Fronteras, an immigrant rights group, told Newsweek.
More migrants are expected at the border near Tijuana, Mexico, soon as well. "Since yesterday, some began to cross into the United States to turn themselves in from Tijuana and request asylum. We understand more...will do the same," Jose Maria Garcia, director of migrant assistance organisation Juventud 2000, told Reuters.
Per US Citizenship and Immigration Services, asylum seekers must "demonstrate [they] have suffered persecution or fear that they will suffer persecution due to" five factors: race, religion, nationality, membership in a particular social group, or political opinion. The majority of migrants in the caravan are fleeing some of the world's most violent areas in terms of gang violence, murders per capita, and drug cartel control. They have up to one year to apply for the status after they arrive in the US. The process can take up to 180 days and involves being fingerprinted and government officers running a check on all the claims being made in the application.
US border patrol guards kick over water left for migrants near Mexico border
Mr Trump's comments about the caravan have followed the tone of his other policies on immigration. Earlier this month the president ditched prepared remarks at a speech in West Virginia to say that women in the caravan "are [being] raped at levels that nobody has ever seen before", despite there being almost no evidence on which to base the claim.
"And remember my opening remarks at Trump Tower when I opened. Everybody said, 'Oh, he was so tough.' And I used the word 'rape.' And yesterday it came out where, this journey coming up, women are raped at levels that nobody has ever seen before. They don't want to mention that," he said.
People strike across America for A Day Without Immigrants

Show all 16
While the distinct absence of evidence for the suggestion does not rule out the possibility that there are incidents of rape taking place within the caravan, Mr Trump's claim that there were reports that "came out" "yesterday" does not check out in a survey of media reports.
His comments in West Virginia also highlighted sanctuary cities, which he said are "the worst", adding that "it's basically a city to protect a lot of people that are bad people. Really bad." Cities like Los Angeles, New York, Philadelphia, and Chicago have vowed to protect the confidential information of undocumented immigrants and not assist federal authorities with rounding them up. Instead, local police focus on combatting criminal and violent activities.
Other matters on immigration the administration has pushed of late include praising construction of the roughly 2,000-mile US-Mexico border wall and ending the Deferred Action on Childhood Arrivals (Daca) programme seemingly over a political fit with Congressional Democrats. The decision to end the programme has left 800,000 people brought to the US illegally when they were minors in a legal limbo. They had been allowed to stay, study, and even work while paying taxes through Daca.
Register for free to continue reading
Registration is a free and easy way to support our truly independent journalism
By registering, you will also enjoy limited access to Premium articles, exclusive newsletters, commenting, and virtual events with our leading journalists
Already have an account? sign in
Register for free to continue reading
Registration is a free and easy way to support our truly independent journalism
By registering, you will also enjoy limited access to Premium articles, exclusive newsletters, commenting, and virtual events with our leading journalists
Already have an account? sign in
Join our new commenting forum
Join thought-provoking conversations, follow other Independent readers and see their replies