Republican who 'joked' about executing gay people decries 'social media lynching' as calls for resignation grow
Politician calls reporting of his remarks 'fake news' as audio recording features him laughing at anti-LGBT+ comments
Chris Riotta
New York
Tuesday 04 June 2019 16:26 Comments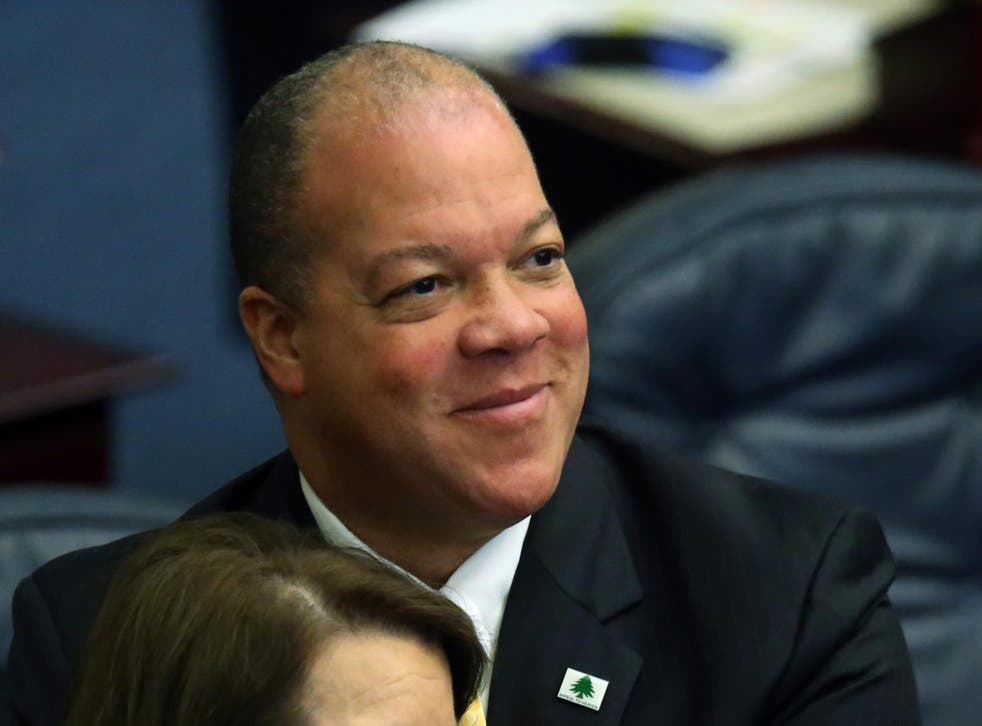 State officials in Florida are calling on a local politician to resign from office after he joked about introducing legislation to execute gay people.
In an audio recording reported on Friday by Pensacola News Journal, Republican Mike Hill can be heard exchanging and laughing about anti-LGBT+ comments with local constituents.
"In 1 Corinthians, it says that a man who has an affair with another man will be put to death," one constituent can be heard saying in the recording. "It says that in the Old Testament, too," Mr Hill responds.
"Can you introduce legislation?" another constituent is heard asking, sparking laughter throughout the crowd. "I wonder how that would go over?" The politician responds while laughing.
Mr Hill has now called the local paper's coverage of his comments "fake news" and decried the so-called "social media lynching" he said he has faced ever since the recording was posted online, writing on Twitter in response to a journalist: "I laughed at the nonsense of running legislation that the gentleman in the audience suggested. And you know it. Don't join the #FakeNewsMedia."
Thousands march against Donald Trump in LGBT rights parade

Show all 8
However, some Democratic officials and LGBT+ rights groups aren't buying his excuses, and have called on him to either apologise or step down from his role as a state representative.
Equality Florida, a political advocacy non-profit, has created a petition demanding Mr Hill's resignation. "Violence and discrimination against LGBT+ people is not a laughing matter," Brandon Wolf, a media relations manager with the group, told The Independent on Tuesday. "Representative Hill's comments are repulsive and beneath the dignity of his office."
Mr Wolf, a survivor of the mass shooting at Pulse nightclub in Florida, decried the local politician's comments and noted members of the community are still grieving from the tragedy that occurred at the LGBT+ venue in June 2016.
"Three years ago, a man filled with hatred took an assault rifle and turned my safe space into a hunting ground," he said. "That any member of the legislature would be making light of that kind of violence is shocking."
Democrat Carlos Guillermo Smith, the first openly gay Latino in Florida's legislature, said he was "shocked" and "disgusted" by his colleague in a tweet.
"As a survivor of anti-gay hate violence, I know the consequences of homophobia are real," he wrote, before providing Mr Hill an ultimatum: "[Apologise] to LGBTQ Floridians or RESIGN."
Nikki Fried, the Florida commissioner of agriculture and consumer services, has also demanded Mr Hill face punishment or walk back remarks he's made on a range of issues, while also calling out Florida Republican Senator Dennis Baxley for similar comments.
"We must hold the conduct and opinions of our public servants to a higher standard,'' the Democrat said in a recent statement. "In furthering the suggestion that LGBT+ Floridians should be murdered under Florida law, and that reproductive rights and immigration mean 'extermination' of white Americans, Representative Hill and Senator Baxley failed to meet that basic standard. They must [apologise], be reprimanded by their legislative chambers, or resign from office."
Support free-thinking journalism and attend Independent events
The audio recording of Mr Hill was made at a 23 May event held by a local group called Women for Responsible Legislation. He was also asked at the meeting about a new bill that would include sexual orientation and gender identity in the state's Civil Rights Act. Mr Hill does not support the legislation, and suggested he believes sexual orientation and gender identity are a behavioural choice people make, whereas race and sex are not.
Mr Hill did not return multiple requests for comment.
Register for free to continue reading
Registration is a free and easy way to support our truly independent journalism
By registering, you will also enjoy limited access to Premium articles, exclusive newsletters, commenting, and virtual events with our leading journalists
Already have an account? sign in
Join our new commenting forum
Join thought-provoking conversations, follow other Independent readers and see their replies