Republican suggests 'lack of thoughts and prayers' the biggest factor behind mass shootings
Mike Huckabee suggests mass shootings in America are due to a lack of moral compass rather than access to assault-style weaponry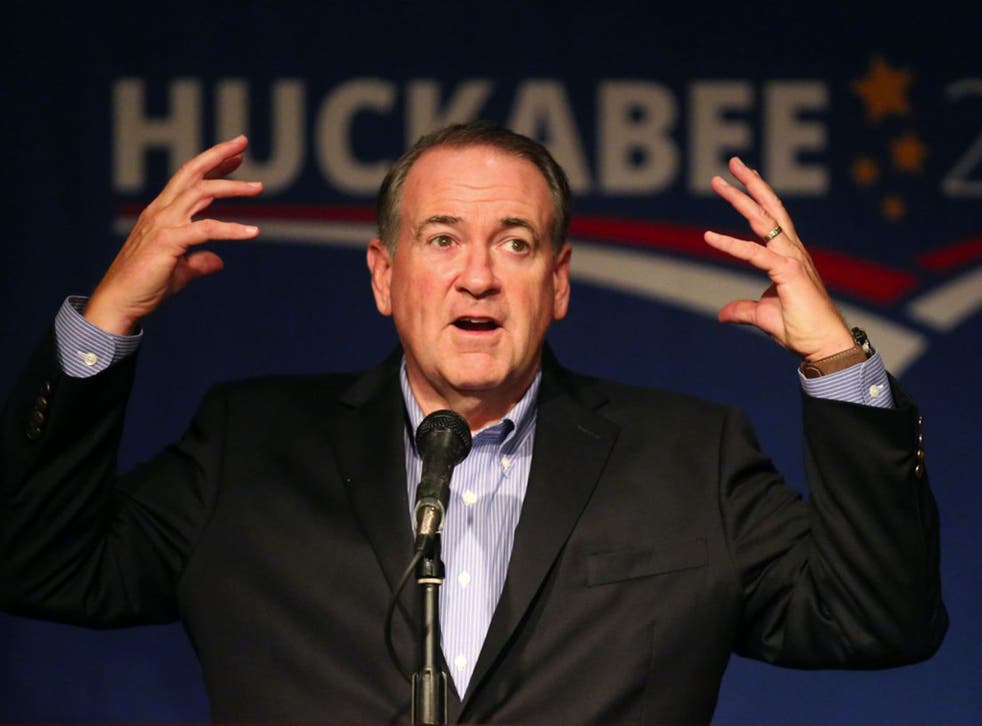 A "lack of thought and prayers is probably the single biggest factor" behind an increase in mass shootings across the United States, according to the former Republican governor of Arkansas.
Mike Huckabee, who served as the Arkansas governor from 1996 to 2007, and whose daughter Sarah Huckabee Sanders served as Donald Trump's former White House press secretary until earlier this year, described the recent shootings as "mindless violence" after gunmen left nearly 31 dead in reportedly unconnected attacks over the weekend in El Paso, Texas and Dayton, Ohio.
"Despite all those who are denouncing the idea of prayers for the victims (do a Google search for 'Thoughts and prayers are not enough' and see how many hits you get), I will continue to pray for the victims and their families and for an end to this mindless violence, and I hope you will, too," Mr Huckabee wrote.
"In fact," he added, "amid all the finger-pointing and blame-laying and repulsive attempts to turn these tragedies to political advantage before the bodies are even cold, I would posit that the lack of thought and prayers is probably the single biggest factor in what is behind them."
The controversial comments arrived as Americans of various political affiliations called for stricter gun control laws in the wake of the latest deadly mass shootings to grip the country. The FBI announced earlier this week it was treating the shooting in El Paso that left nearly 21 dead as a hate crime, after media outlets reported the shooter posted an anti-immigrant manifesto online before storming a Wal-Mart located in the diverse community.
Ohio shooting: Gunman kills nine after opening fire outside bar

Show all 21
Meanwhile in Ohio, Republican Governor Mike DeWine discussed plans to address gun violence and mental health on Tuesday after hundreds of people chanted "Do something!" as he addressed a local vigil for the nine people killed in Dayton.
The governor proposed a so-called "red flag" law that would essentially require background checks for the majority of firearm purchases, along with increased penalties for felons who purchase guns. The state would also begin providing additional mental health access, according to Mr DeWine.
"Some chanted 'do something' and they were absolutely right," he said on Tuesday at a morning news conference. "We must do something, and that is exactly what we are going to do."
"If we do these things, it will matter," he added. "If we do these things, it will make us safer."
Mr Huckabee, on the other hand, suggested a focus on gun legislation and the president's incendiary comments targeting immigrants and minorities was a distraction from the real issue pushing the country further into disarray: a lack of moral compass.
Support free-thinking journalism and attend Independent events
"The bottom line is this: you can pass laws, blame the tools, ban free speech, point fingers and argue politics from now until doomsday. But you'll never legislate the evil out of people's hearts," the former governor wrote.
He added, "This is never going to end until we have a reawakening of morality and values, and until kids are brought up once again to believe that we are all made in the image of God, that life is sacred and superficial differences like skin colour are meaningless.
Join our new commenting forum
Join thought-provoking conversations, follow other Independent readers and see their replies