Mike Pence lands in Afghanistan on surprise trip as Trump looks to change war policy
The Trump administration has put more troops into the country recently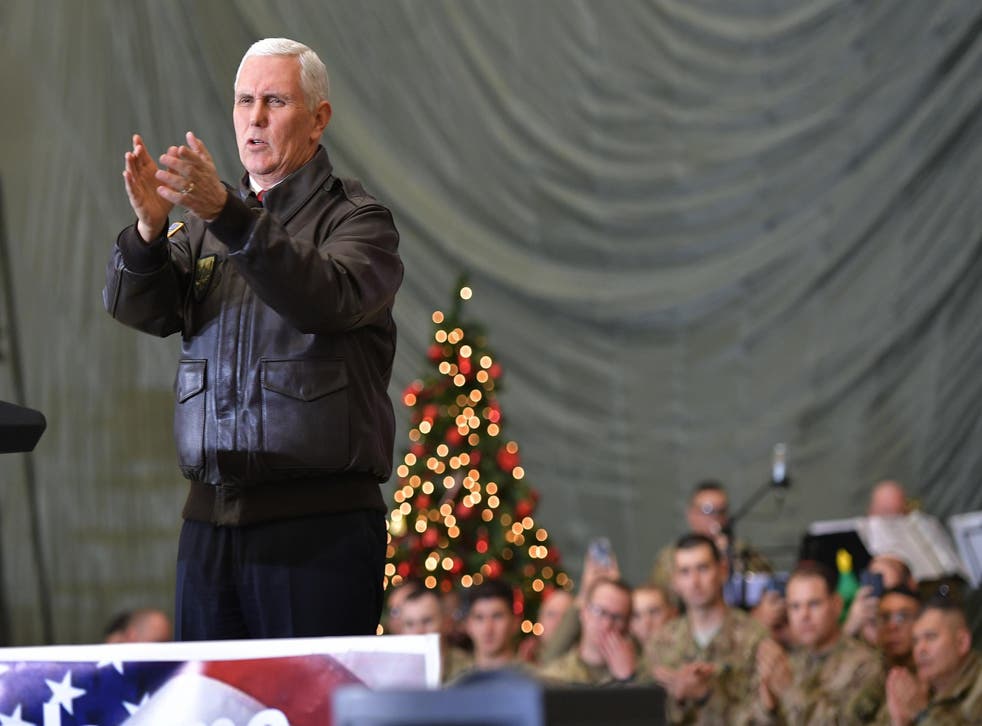 Vice President Mike Pence has landed in Afghanistan on an unannounced, pre-Christmas trip to the Middle Eastern country, just months after the White House he works under announced that it would pursue a new strategy in the country with the hopes of ending the 16-year-war there.
Mr Pence landed Thursday at Bagram Air Base under heavy security, before being lifted via helicopter to Kabul, where he is expected to hold meetings with Afghanistan President Ashaf Ghani. The surprise trip is the first such trip by either Mr Pence or his boss, President Donald Trump, in Afghanistan. He later returned to Bagram, where he addressed troops and received military briefings from officials, including General John Nicholson, the top military officer in Afghanistan.
The new Afghanistan strategy relies on a regional approach, hoping to develop cooperation with South Asian nations to help weed out al-Qaeda and establish a level of stability there so that American troops may eventually be able to leave the area.
The new strategy is an explicit memo to the Afghanistan government that American troops may not always provide outsized supplies and capital to the country — and ties US involvement with the willingness of the Afghanistan government to cooperate an contribute the fight on terror there.
There are currently around 15,000 US forces in Afghanistan, after Mr Trump decided to send 3,800 additional troops to help the effort this fall. The Trump administration reportedly plans on infusing hundreds more US Army trainers to the country to help in the efforts there, which could bring the number of troops there to 16,000.
Afghanistan: Between Hope and Fear

Show all 16
Other top US officials, including Secretary of State Rex Tillerson and Defense Secretary Jim Mattis have recently visited Afghanistan as well. Mr Mattis' trip there illustrated how strained the situation in Afghanistan has become, after the Taliban launched rockets at the Kabul airport, nearly hitting Mr Mattis' plane.
The United States responds with air strikes against the Taliban.
Join our new commenting forum
Join thought-provoking conversations, follow other Independent readers and see their replies