Mike Pence's NFL walkout stunt cost taxpayers more than $14,000
Donald Trump says he told Mr Pence to leave 
Alexandra Wilts
Washington DC
Tuesday 14 November 2017 23:43 Comments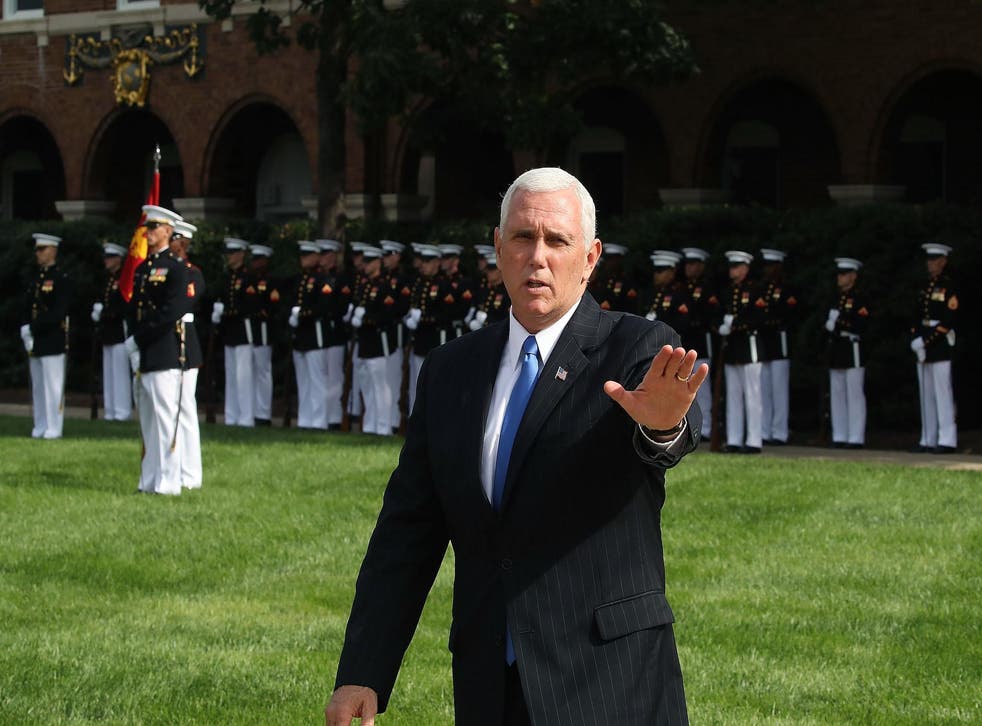 Indianapolis taxpayers will pick up the tab for a game Vice President Mike Pence left early to show he disapproved of NFL players kneeling during the national anthem.
The Indianapolis Metropolitan Police Department spent a total of $14,163.36 (£10,764) to protect Mr Pence as he sat for mere minutes of the Colts football game, according to documents obtained by the liberal group Citizens for Responsibility and Ethics in Washington (CREW).
"The tone is set at the top when it comes to this administration's disregard for ethics," CREW executive director Noah Bookbinder said in a statement. "Vice President Pence should know better than to use taxpayer money to make a rhetorical point, but carelessness with taxpayer money seems to be a common theme with senior administration officials."
Mr Pence had attended the game in his home state of Indiana with his wife, Karen. Pool reporters covering the Vice President said they were held in their vans outside the stadium, in case of an early departure.
"While everyone is entitled to their own opinions, I don't think it's too much to ask NFL players to respect the Flag and our National Anthem," Mr Pence said in a statement after leaving the game.
Earlier this year, Donald Trump sparked a wave of protests among NFL players after he condemned those who knelt during America's national anthem – a movement that began last year when Colin Kaepernick, then a quarterback for the San Francisco 49ers, began doing so to highlight, as he has said, police brutality and racial injustice.
Donald Trump's least presidential moments so far...

Show all 30
Mr Trump later took credit for Mr Pence's display, saying he had asked his Vice President to walk out of the stadium if any players kneeled.
"I am proud of him and @SecondLady Karen," the President tweeted.
Register for free to continue reading
Registration is a free and easy way to support our truly independent journalism
By registering, you will also enjoy limited access to Premium articles, exclusive newsletters, commenting, and virtual events with our leading journalists
Already have an account? sign in
Join our new commenting forum
Join thought-provoking conversations, follow other Independent readers and see their replies