Mike Pompeo on Suleimani assassination: 'There was dancing in the streets in parts of Iraq'
Mike Pompeo rules out Senate run in 2020, reports say
Trump loyalist wants to stay at state department amid crisis with Iran
Secretary of state Mike Pompeo is said to have ruled out making a run for the US Senate – denying Republicans a candidate they believe could ensure victory in the state of Kansas.
In recent weeks, Mr Pompeo, a former congressman who was asked to head Donald Trump's CIA before becoming secretary of state, had been considering running for vacant seat in the midwestern state he calls home.
But various US media reports said the 56-year-old, who has emerged as loyalist of the president, had decided against such a move.
"He loves doing the job he's doing right now and feels that things are too volatile with the various situations around the world, particularly with Iran and Iraq, and he wants to make sure he's in the best spot to serve his country," a person close to Mr Pompeo told the Wall Street Journal.
"He believes that is secretary of state."
US airstrike kills Iran's Qassem Soleimani: Fallout in pictures

Show all 35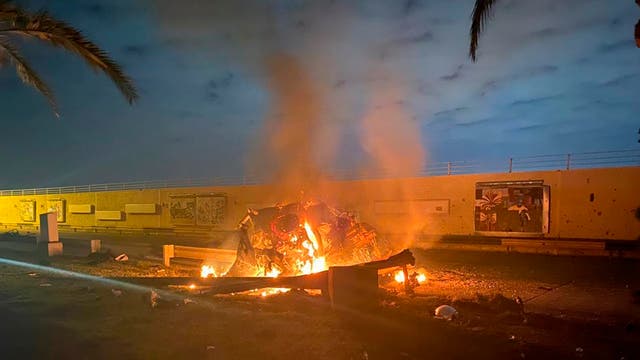 The reports said he had informed Republican Senate leader, Mitch McConnell, of his decision.
Mr McConnell had urged Mr Pompeo to run for the seat to help keep the party's majority after Republican senator Pat Roberts announced last year he would retire.
Mike Pompeo criticises UK and other US allies for 'not being helpful' over Soleimani assassination
It was said Mr Pompeo became convinced of his need to remain at the department of state as tensions with Iran soared in recent days, after Mr Trump ordered the targetted killing of military leader, Qasem Soleimani.
Reports said Republicans face a primary for the seat with several different candidates, among them former Kansas secretary of state Kris Kobach, who in 2018 failed in a bit to become governor, despite support from the right.
It was said Democrats at a national level are rallying behind Barbara Bollier, a state senator who left the GOP a year ago, as their preferred candidate.
Join our new commenting forum
Join thought-provoking conversations, follow other Independent readers and see their replies