Mini-Super Tuesday: What's at stake for Biden and Sanders in the Democratic primaries?
It could be another historic Bernie comeback – or the revolution's last gasp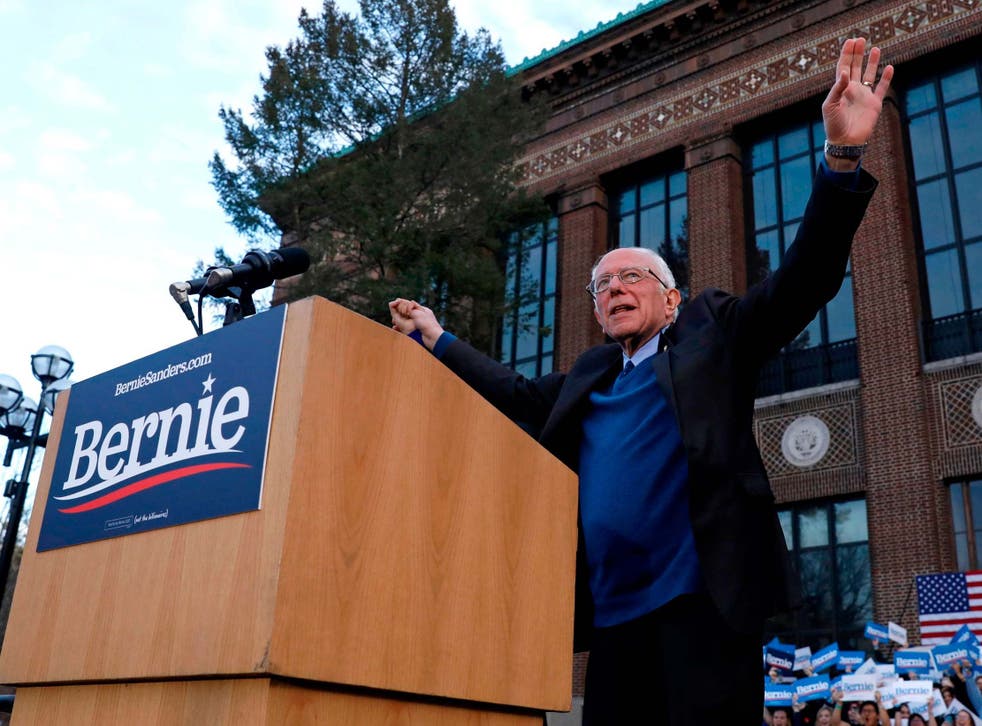 A week after Super Tuesday narrowed the Democratic field to two serious contenders, Joe Biden and Bernie Sanders are facing off in six more states. Between them, these primaries have the potential to all but decide the nomination fight – or confuse it even further.
While Biden is so far well ahead and heavily favoured to win overall, the pledged delegate gap between the two men is not yet decisive.
From the west coast to the Midwest to the Deep South, here are the next six battlefield states in the latest Sanders-Biden face-off.
Barring a spectacular turn of events, Idaho is not going to break for the Democratic candidate in November. The Republicans usually win more than 60 per cent of the vote – though given the state only holds four electoral votes, it doesn't get much attention anyway.
The same goes for Idaho's Democratic primary. Very little polling has been done in the state, which holds less than 1 per cent of the contest's pledged delegates.
Last time around, Idaho was a blowout win for Bernie Sanders; he dominated the caucuses with nearly 79 per cent of the vote and won every county but one.
However, like many other caucus states, Idaho has now switched from a caucus to a primary, making it easier for people to vote; unaffiliated voters will also be allowed to participate. What effect this will have in practice remains to be seen.
The way things are going, Michigan might just be the key to the nomination. This has less to do with the overall delegate count (though that matters) than with the trajectory of Sanders's campaign.
This state is key to Sanders's whole narrative as a presidential candidate. It was in Michigan that Sanders pulled off one of the great primary upsets, defying polls that had him behind Clinton by more than 20 points.
His success proved that the primary campaign was far from over (even if Clinton was still overwhelmingly favoured to win), and also foretold exactly the problems that would doom her there in the final contest – low enthusiasm among key demographics and a turnout far lower than in the Republican primary.
This year, the polls in Michigan don't uniformly put Sanders behind; instead, they don't agree on any particular outcome. But if he can't hold off Joe Biden here, he will come out of his second consecutive batch of primaries having failed to stop the "establishment" in its tracks – and having underperformed relative to his last attempt. Making the case that he's the stronger candidate will be harder than ever.
Joe Biden is heavily favoured to win Mississippi, which has one of the most disproportionately black electorates among all the Democratic primary states. In 2016, some 71 per cent of Mississippi primary voters were black; Clinton trounced Sanders there, winning more than 82 per cent of the vote.
Then as now, Sanders is struggling to make inroads among black voters, who since the South Carolina primary have been mostly in Biden's column. While he did narrowly win black voters under 30 in 2016, the problem was that they voted at much lower rates than older black voters.
His campaign has been making serious efforts to change things on this front, but it may be too little too late.
Still, Sanders's opinion of the southern primaries is pretty low anyway. Back in 2016, he came in for some flak when he said that they "distort reality" – this after losing South Carolina by 48 points, and a slew of southern Super Tuesday states by similarly devastating margins.
Once a crucial swing state, Missouri is now considered fairly safe Republican territory. But at primary level, it's a different story.
This was one of the most closely contested states in 2016. Clinton went into the state polling behind Sanders but ended up netting one of her narrowest victories over Sanders: 1,574 votes, a margin of 0.2 per cent.
Because the margin was less than one percent, Sanders was legally entitled to request a recount but decided against it, saying a changed result wouldn't affect the delegate allocation and that he would "prefer to save the taxpayers of Missouri some money".
Trump went on to win the state by 18.5 points – double Mitt Romney's lead over Barack Obama.
One of the US's least populous states, North Dakota sends only 14 pledged delegates to the Democratic convention. And while Sanders stormed to victory over Clinton in the 2016 caucuses, only 394 voters took part. He is currently forecast to lose the state to Joe Biden.
North Dakota's relevance in the Democratic primary rather tallies with its national profile. It's a safe Republican state in presidential elections, no Democrat having won it since Lyndon Johnson in 1964. That said, the Democrats have their moments here.
Until Heidi Heitkamp lost her seat in the 2018 midterms, North Dakota sent at least one Democratic senator to Washington for decades. And in the later stages of the 2008 campaign, there was talk of Barack Obama flipping the state; it would have been a stunning upset, but in the end, Obama lost it by nearly nine points.
Washington
A solidly Democratic state, Washington has changed its primary procedure since 2016. Until then, its delegates were awarded via a caucus routinely featuring low turnout, with a non-binding primary held later in the primary season.
In 2016 as in previous years, the two results were very different. Following a nationwide pattern, Sanders demolished Clinton in the caucuses, whose electorate totalled just over 26,000, but Clinton beat him by five points in the primary, in which more than 800,000 voters participated.
This year, delegates will be awarded based on the primary alone.
Another quirk of Washington's primary is that the state votes by mail. As of 9 March, nearly 1.6 million ballots had been returned – many of them likely posted before candidates such as Elizabeth Warren and Michael Bloomberg had dropped out.
Outside the states, another contest has been rumbling away for a week: the Democrats Abroad primary, which sees party members around the world vote by mail and even in person at polling stations in their countries of residence. The primary awards 17 pledged delegates, and was a lock for Sanders last time around; he bested Clinton with nearly 69 per cent of the worldwide vote.
Register for free to continue reading
Registration is a free and easy way to support our truly independent journalism
By registering, you will also enjoy limited access to Premium articles, exclusive newsletters, commenting, and virtual events with our leading journalists
Already have an account? sign in
Register for free to continue reading
Registration is a free and easy way to support our truly independent journalism
By registering, you will also enjoy limited access to Premium articles, exclusive newsletters, commenting, and virtual events with our leading journalists
Already have an account? sign in
Join our new commenting forum
Join thought-provoking conversations, follow other Independent readers and see their replies