Republicans still don't know what Donald Trump wants on healthcare, Mitch McConnell says
'Sometimes it helps' to feud with other Republicans, Trump says 
Jeremy B. White
San Francisco
Sunday 22 October 2017 20:30 Comments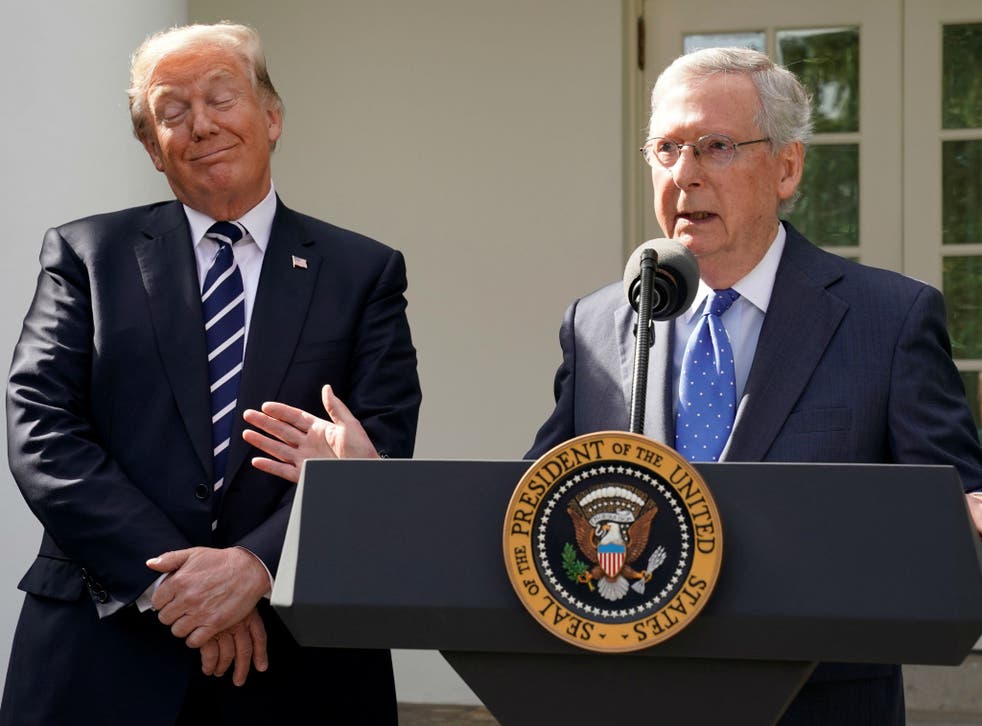 Republicans are still uncertain what Donald Trump wants to do on healthcare and are awaiting the President's direction, Senate majority leader Mitch McConnell said.
"What I'm waiting is to hear from President Trump what kind of healthcare bill he might sign", Sen McConnell, a Kentucky Republican, said during an appearance on CNN's State of The Union.
Despite both houses being controlled by Republicans Congress has repeatedly failed to repeal Barack Obama's landmark healthcare law, falling short on a longstanding conservative campaign pledge. With legislative efforts foundering, Mr Trump moved to dismantle a central aspect of the law by revoking payments to health insurers.
Amid warnings that the pullback would upend insurance markets, Republican senator Lamar Alexander and Democrat Patty Murray announced a deal to sustain the payments - a bill that has since attracted support from both parties. The president has sent mixed signals on the bill, saying "I'm not going to do it" and then "that's a very good solution" during the same appearance next week.
Asked about what comes next, Sen McConnell appeared uncertain about the President's intentions.
"We need a bill the president will actually sign and I'm not certain yet what the President's looking for here, but I'd be happy to bring a bill to the floor if I knew the president would sign it", Sen McConnell said.
Faces of Obamacare: The health scheme at the centre of the shutdown

Show all 3
In a separate interview on Fox News, Mr Trump praised the authors of the new bill but was vague about whether he would support the measure. He noted that the secretary of the United States Department of Health and Human Services has "tremendous leeway" to administer the law (his pick to lead the agency, Tom Price, recently stepped down amid reports of his use of private and military aircraft) and said he believed a full repeal would still advance.
"We'll have that long before the election in 2018", Mr Trump said.
John McCain draws gasps and applause as he votes no on Obamacare repeal
The President has clashed with Sen McConnell and other Senate Republicans over their failure to advance a healthcare repeal bill and, increasingly, over their questioning his foreign policy. Asked about his public spats with Republican senators Bob Corker and John McCain, both of whom have warned that Mr Trump's foreign policy is destabilizing the world, Mr Trump said the "bickering and feuding" was useful.
"Sometimes it helps", Mr Trump said. "Sometimes it gets people to do what they're supposed to be doing".
Register for free to continue reading
Registration is a free and easy way to support our truly independent journalism
By registering, you will also enjoy limited access to Premium articles, exclusive newsletters, commenting, and virtual events with our leading journalists
Already have an account? sign in
Register for free to continue reading
Registration is a free and easy way to support our truly independent journalism
By registering, you will also enjoy limited access to Premium articles, exclusive newsletters, commenting, and virtual events with our leading journalists
Already have an account? sign in
Join our new commenting forum
Join thought-provoking conversations, follow other Independent readers and see their replies