Mueller report is not the end of Trump's affair with Russia
'Oh my God. This is terrible. This is the end of my presidency, I'm f****d'
Kim Sengupta
Diplomatic Editor
Thursday 18 April 2019 18:33 Comments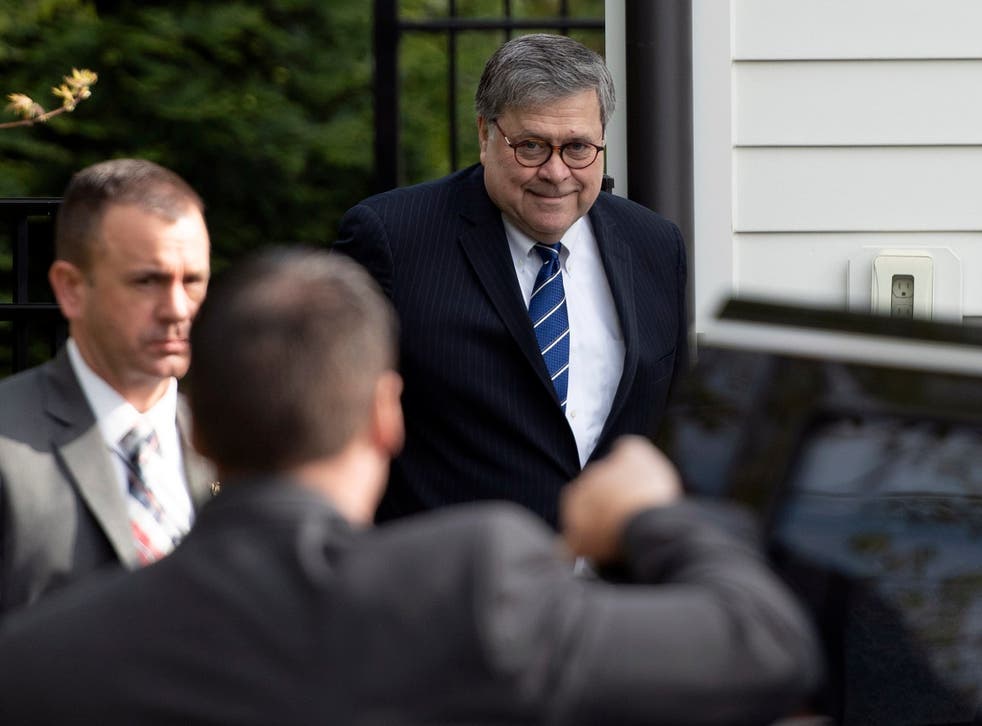 The chair of the US House Intelligence Committee was in London last year asking questions about people who have been investigating Donald Trump. One of his key targets was Christopher Steele, who had written the explosive dossier on Trump and the Kremlin that was given massive publicity.
Devin Nunes was particularly keen on who the former MI6 officer had contacts in the FBI and Justice Department. He asked to meet the head of MI6, Alex Younger, and his counterparts at MI5, Andrew Parker, and GCHQ, Jeremy Fleming. Although it was far from unusual for the chair of the House Intelligence Committee to meet the heads of Britain's security establishment, all three refused because they were wary, according to officials, of his motives. He had to make do instead with Theresa May's deputy national security advisor, Madeleine Alessandri.
The visit by Mr Nunes, who was part of Trump's transition team, was at a particularly difficult time for the president. His personal lawyer and consigliere, Michael Cohen, and former campaign manager, Paul Manafort, were in court.
Mr Nunes had to recuse himself for a while from the investigation after being caught out making secret visits to the White House. The Republican-controlled House Committee published its report in spring last year, with dissenting notes from the Democrat members, and it was seen as whitewash of Trump.
Mr Nunes is no longer the chair of the Intelligence Committee in the Democrat-controlled House, it is Adam Schiff, the former deputy chair who has been a vociferous advocate for investigation. This is a man who can do Trump a great deal of damage, a man he could perhaps have tried to mend fences with. Instead, the president referred to him in a tweet as Adam "Schitt" just after he took the post.
The House Intelligence Committee, under Schiff, said today that it has requested Robert Mueller to testify – and it has reopened its investigation into Mr Trump. The Mueller report reveals one reason why the special counsel did not conclude whether Mr Trump was guilty of obstruction – Justice Department policy that a sitting president could not be prosecuted for a crime. This, a number of analysts has pointed out, leaves it to congress to make the constitutional decision whether Mr Trump can be charged.
Mueller investigation: The key figures

Show all 12
This House inquiry is possibly the most hawkish in keeping after Mr Trump, but there are about 20 different continuing probes into Mr Trump, his family and associates, by congressional committees and federal and state prosecutors. And no fewer than 14 of these inquiries have received information gathered by the special counsel's team and passed it on because it did not fit in with the focus of their task.
Just 48 hours before attorney general William Barr gave his press conference claiming that Trump had been cleared, a performance for which he was criticised for acting like the president's defence attorney, House Democrats were issuing subpoenas for information from Deutsche Bank and other financial institutions in their investigation of Mr Trump.
As we know from redacted copies of the Mueller report, when told of the appointment of a special counsel, the president "slumped back in his chair and said, 'Oh my God. This is terrible. This is the end of my presidency, I'm f****d'."
The 675-day inquiry may be over, but Trump and his supporters have long complained that Mueller was going beyond his remit. Now the president's critics know that what he gathered has not been wasted but taken up by other investigators.
The special counsel, we have seen, pointed to "10 episodes" in which Mr Trump engaged in potential obstruction of justice. Barr insisted that there was no evidence to bring charges and reiterated that there was no collusion between Russians and the Trump team.
But the Mueller report also states that Mr Trump ordered a number of his team, former attorney general Jeff Sessions, lawyer Don McGahn, and former campaign manager Corey Lewandowski, to sabotage the Russia inquiry – but they refused.
The ongoing investigations are looking for evidence of both collusion and obstruction. The Democrats who have launched investigations maintain that just because the president failed in his attempts to obstruct justice, he is not absolved from possible charges of conspiracy to obstruct.
The House Intelligence Committee has expanded its scope by looking in particular at Russian organised crime. This is in response to claims that Russian loans received by Mr Trump were in fact illicit funds being laundered.
Other lines of inquiry being pursued by the committee include the extent of contact between the Trump team and Russia, influence on Mr Trump and his coterie from other foreign states, and whether Trump obstructed justice.
One of the key events which emerged during the Mueller investigation was a meeting at Trump Tower in New York, between Donald Trump Jr, Trump's son-in-law Jared Kushner, his then campaign manager Paul Manafort, and a group of Russians, some of them with links to the country's security apparatus. The meeting was allegedly arranged so a Russian lawyer could pass on dirt on the Clinton campaign.
Michael Cohen claims that Donald Trump knew about the meeting despite his denials that was the case. The Mueller report states that Trump directed aides on multiple occasions not to disclose emails setting up the meeting, and Trump himself dictated a misleading statement. But the special counsel concluded that president's actions were not criminal acts. The report also states that it did not prosecute Donald Jr and others because it could not be proved that they had "wilfully" violated the law.
The damage to Hillary Clinton's campaign through the hacking of her and Democrat party emails is another avenue the House Committee is said to be taking. The information was stolen, according to Mueller indictments, by Russian military intelligence officers, some of whom were in touch with WikiLeaks which then made it public. The committee is said to be looking at allegations against WikiLeaks and its founder Julian Assange, who is now in police custody in London after being arrested at the Ecuadorian embassy where he had been granted asylum for seven years.
Continuing investigations into Trump are examining what took place from the very start of his presidency. The US Attorney's Office for the Southern District of New York is examining the finances of Trump's inauguration committee, which took in and spent $107m (£80m). The FBI raised concerns about some of the Russians who appeared at the inauguration and other eastern European connections. Sam Patten, an associate of Mr Manafort, has admitted that he helped a Ukrainian businessman put $50,000 into the inauguration.
Prosecutors subpoenaed a range of documents from the committee with apparent particular interest in money donated with connection to the UAE, Saudi Arabia and Israel – states that have financial ties with Trump or his son-in-law Jared Kushner. They are also believed to be looking at claims that China and Qatar also targeted Kushner, who is a White House senior advisor.
Mr Mueller passed on information to New York attorneys about Mr Manafort. They are now looking at whether Mr Manafort, when chair of the Trump campaign, illegally coordinated with a super PAC, Rebuilding America Now, and whether the PAC received money from Qatar and other Middle Eastern countries. Michael Cohen has testified to congress that prosecutors are examining his communications with Trump and Trump's representatives following FBI raids on his offices in April 2018.
New York investigators are looking at Trump's finances after The New York Times reported that he had benefited from more than $400m in various tax schemes. And the New York attorney general has charged the Trump Foundation with "violations of campaign finance laws, self-dealing and illegal coordination with the presidential campaign". The attorney general has said, the go-ahead from a judge, that he is expanding his inquiries into Trump's broader business activities.
Meanwhile, the attorney generals for Maryland and District of Columbia have sent subpoenas to the Trump Organisation – a real-estate company – over the Emoluments Clause of the US Constitution. This clause bars the president from accepting payments from foreign governments while in office. The case is expected to yield evidence that various countries have done deals with Trump's business – for example, the Saudi government booked more than 500 rooms in Trump's hotel in Washington in the months after the election.
So this is not the end of the affair as far as Trump and Russia are concerned, not even the beginning of the end. Information Mueller has provided has helped to start other investigations into Trump, and what is revealed in the report, even with its redactions, will be of great help in deciding whether the US president really was the Muscovian candidate for the White House.
Register for free to continue reading
Registration is a free and easy way to support our truly independent journalism
By registering, you will also enjoy limited access to Premium articles, exclusive newsletters, commenting, and virtual events with our leading journalists
Already have an account? sign in
Join our new commenting forum
Join thought-provoking conversations, follow other Independent readers and see their replies