Muslim nonprofit groups rejecting federal funds because of Donald Trump
At least four Muslim nonprofit groups reject federal money outright — even though grants would have been a much-needed boost to their budgets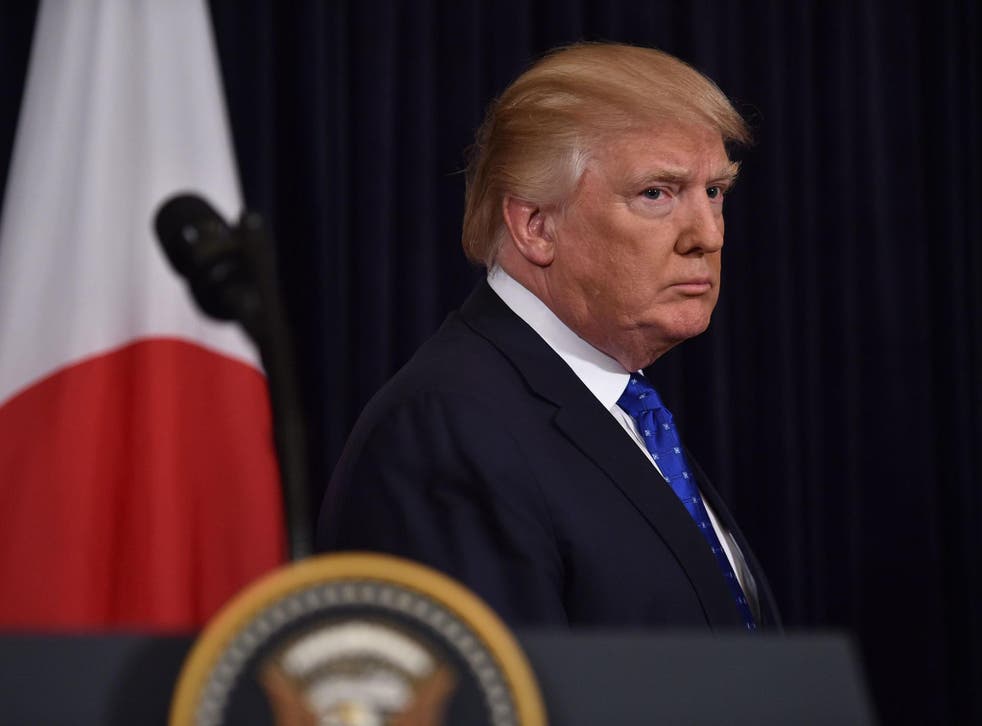 At least four Muslim nonprofit groups have rejected more than $2m in federal funding to fight violent extremism, citing President Donald Trump's rhetoric against Muslim Americans and Islam and the new administration's policies as their reasons.
The groups had been among the 31 recipients of the first round of Countering Violent Extremism grants, awarded by the Department of Homeland Security in the last week of Barack Obama's presidency. The funds were intended to go to programs that curtailed recruitment and radicalisation efforts by foreign groups, such as Isis, as well as domestic ones like white supremacists.
However, in the first weeks of Mr Trump's administration, several Muslim nonprofit groups that had received grants wrestled with how to justify accepting the funds when, in their eyes, the president's unfair targeting of Muslim Americans ran counter to their missions.
For at least four of those groups, the answer was to reject the federal money outright — even though the grants would have been a much-needed boost to their budgets.
"We have and will continue to work with our government where there is no conflict of interest, but given the anti-Muslim actions of the current executive branch, we cannot in good conscience accept this grant," Bayan Claremont, a private Islamic graduate school in California, said in a statement. The school announced Friday that it would reject $800,000 that it had proposed be used for a two-year project called Flourishing Communities to "improve interreligious cooperation, civic engagement, and social justice."
Trump considers "brand new" travel ban
Ka Joog, a Minneapolis-based nonprofit group that supports Somali American youth, said in a statement on 1 February that it would decline its $499,998 CVE grant because the Trump administration and their policies promoted "hate, fear, uncertainty and even worse; an unofficial war on Muslim-Americans and Immigrants."
The decision was not an easy one, Ka Joog executive director Mohamed Farah told CBS News.
"It all came down to principle," Mr Farah told the station. "$500,000 is a lot of money, especially if you are a nonprofit. But at the end of the day, we work with immigrants, we work with refugees, we work with Muslims. And we believe that this new administration is against everything that we stand for. For that reason, we decided to really alienate ourselves from the ideologies that are coming from this administration."
Mr Trump signed executive orders on 27 January that not only suspended admission of all refugees into the United States for 120 days but also implemented "new vetting measures" to screen out "radical Islamic terrorists." Refugee entry from Syria, however, was suspended indefinitely, and all travel to the United States from Syria and six other nations — Iran, Iraq, Libya, Somalia, Sudan and Yemen — was suspended for 90 days. Mr Trump also said he would give priority to Christian refugees over those of other religions, according to the Christian Broadcasting Network.
Those orders have been challenged and blocked, and on Thursday, the US Court of Appeals for the 9th Circuit ruled three to none that the travel ban should remain frozen. Trump has since indicated he may simply file a "brand new order" rather than take the case to the Supreme Court. ("We will win that battle," the president told reporters aboard Air Force One.)
In early February, Reuters reported that the Trump administration wanted to rename the Countering Violent Extremism program to "Countering Islamic Extremism" or "Countering Radical Islamic Extremism," removing the focus on domestic groups like white supremacists. The reported shift was met with alarm by Muslim groups that had already been wary of the program.
"That is concerning for us because they are targeting a faith group and casting it under a net of suspicion," Hoda Hawa, director of policy for the Muslim Public Affairs Council, told Reuters.
In recent weeks, the Associated Press reported that at least two other grant recipients have decided to turn down federal funds from the Countering Violent Extremism program:
Leaders Advancing and Helping Communities in Dearborn, Michigan, rejected $500,000 for youth development and public health programs, citing the "current political climate."
Unity Productions Foundation of Potomac Falls, Virginia, said it would not accept $396,585 "due to the changes brought by the new administration." The nonprofit organisation, whose aim is "to counter bigotry and create peace through the media," had intended to use the money to produce educational films that would combat extremist narratives.
The controversial orders Donald Trump has already issued

Show all 9
A Department of Homeland Security spokesman said on Saturday morning that he would not be able to immediately address questions about the program. It is unclear what would happen to the rejected funds; the AP reported that none of the 31 grants had yet been disbursed.
In December 2015, Congress passed the Department of Homeland Security Appropriations Act that earmarked $10m "to help states and local communities prepare for, prevent, and respond to emergent threats from violent extremism."
On 13 January, a week before Mr Trump took office, then-Homeland Security Secretary Jeh Johnson announced the first round of grants awarded under the program. A total of 31 grants would go to a mix of local governments, universities and nonprofit organisations from across the country.
"In this age of self-radicalisation and terrorist-inspired acts of violence, domestic-based efforts to counter violent extremism have become a homeland security imperative," Mr Johnson said in a statement. "And, I know from visiting numerous communities across this country that very often the best efforts to counter violent extremism are local, tailored to a particular community. … Again, this is a homeland security imperative."
Many of the 31 awardees were already focused on countering recruitment efforts by Isis in the United States, Mr Johnson said. However, he also pointed out that $400,000 had gone to a group called Life After Hate, which supports the rehabilitation of former neo-Nazis and other "domestic extremists."
Christian Picciolini, the co-founder of Life After Hate and a former member of a neo-Nazi group, told the AP he was concerned about the Trump administration's desire to change the name to focus on Islamic terrorism.
"… it sends a message that white extremism does not exist, or is not a priority in our country, when in fact it is a statistically larger and more present terror threat than any by foreign or other domestic actors," Mr Picciolini told the AP.
Washington Post
Join our new commenting forum
Join thought-provoking conversations, follow other Independent readers and see their replies