Nafta: Trump administration begins trade deal renegotiations by claiming it has 'failed many Americans'
'We feel that Nafta...needs major improvement'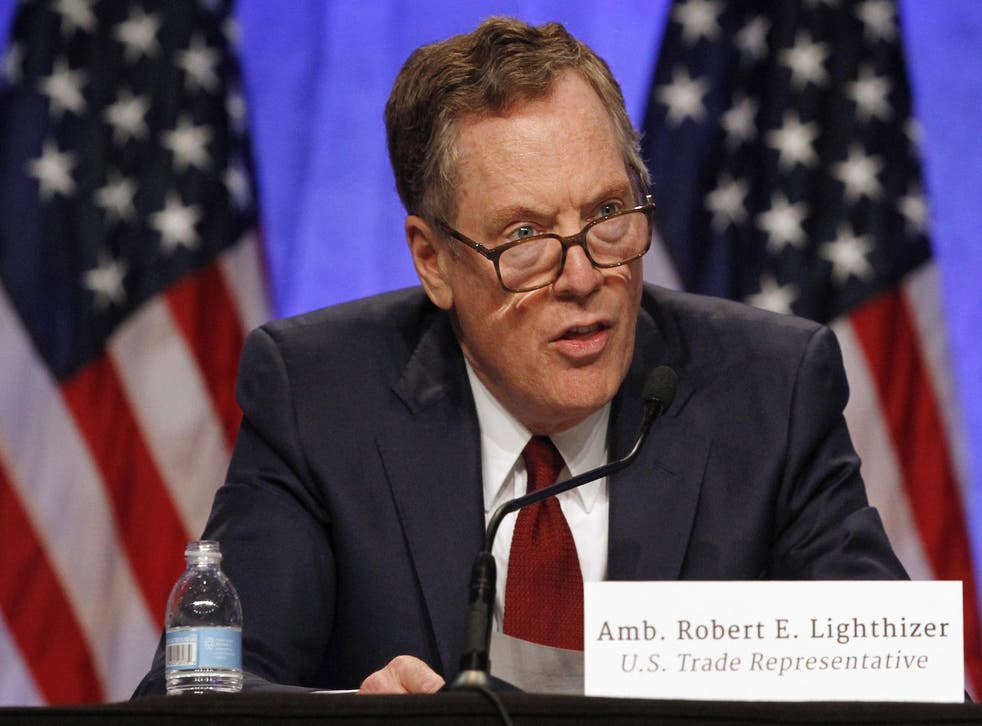 Donald Trump's trade representative began talks on renegotiating the North Atlantic Free Trade Agreement by bashing the deal, saying the pact between the US, Canada and Mexico has "fundamentally failed" many Americans.
"I want to be clear that [Mr Trump] is not interested in a mere tweaking of a few provisions and a couple of updated chapters," said US trade representative Robert Lighthizer, who is leading the American team aiming to overhaul the 23-year-old trade deal. "We feel that Nafta...needs major improvement."
The talks that started this week in Washington are the first of several rounds to renegotiate the agreement Mr Trump has repeatedly declared as "the worst trade deal" because it is "very, very bad for our companies and for our workers".
"The views of the President about Nafta, which I completely share, are well known," Mr Lighthizer said.
While noting that many Americans have benefited from Nafta, particularly farmers and ranchers, Mr Lighthizer said "the huge trade deficits, the lost manufacturing jobs, the businesses that have closed or moved because of incentives" in the current agreement cannot be ignored.
While the US did lose about 5.6m manufacturing jobs between 2000 and 2010, 85 per cent of these jobs losses are attributable to technological change – largely automation – rather than international trade, according to a study by the Center for Business and Economic Research at Ball State University.
A major focus of the Nafta renegotiation talks is likely to be on trade deficits, which Mr Trump appears to view as an indicator of economic health.
"In 1993, when NAFTA was approved, the United States and Mexico experienced relatively balanced trade," Mr Lighthizer said in his opening statement. "However since then, we have had persistent trade deficits – in the last year totaling nearly $57bn."
While pointing out that the US has seen improvement in its trade balance with Canada in recent years, he said America's deficit in goods has exceeded $365bn.
The controversial orders Donald Trump has already issued

Show all 9
"Canada doesn't view trade surpluses or deficits as a primary measure of whether a trading relationship works," Canadian Foreign Minister Chrystia Freeland said, noting that the US has a surplus in trade of goods and services with Canada.
Ms Freeland also lauded the "deep friendship our countries share."
Economic experts have asserted that using trade deficits or surpluses to measure US commercial relations with any single country, as Mr Trump does, ignores the complexities of trade in today's global economy. What matters is the totality of trade, the experts argue.
Mexico's Economy Secretary Ildefonso Guajardo said his country "thinks that Nafta has been a strong success for all parties", adding that achieving a consensus on a renegotiated agreement won't be easy.
"Let's not be mistaken, the first challenge we have is to find a common ground among the three countries," he said. "For a deal to be successful, it has to work for all parties involved; otherwise it is not a deal."
Mr Trump will need the approval of Congress for any revised agreement to go into effect. While Democrats have sought changes to Nafta for a long time, the President's political problems could complicate the possibility of any alliance.
There also appears to be little if any congressional support for Mr Trump's threat to withdraw from the trade deal if Mexico and Canada protest to changes.
Register for free to continue reading
Registration is a free and easy way to support our truly independent journalism
By registering, you will also enjoy limited access to Premium articles, exclusive newsletters, commenting, and virtual events with our leading journalists
Already have an account? sign in
Register for free to continue reading
Registration is a free and easy way to support our truly independent journalism
By registering, you will also enjoy limited access to Premium articles, exclusive newsletters, commenting, and virtual events with our leading journalists
Already have an account? sign in
Join our new commenting forum
Join thought-provoking conversations, follow other Independent readers and see their replies