Donald Trump is 'evaluating the situation' over national security advisor Michael Flynn, says White House
The comments raise fresh speculation about the former general's future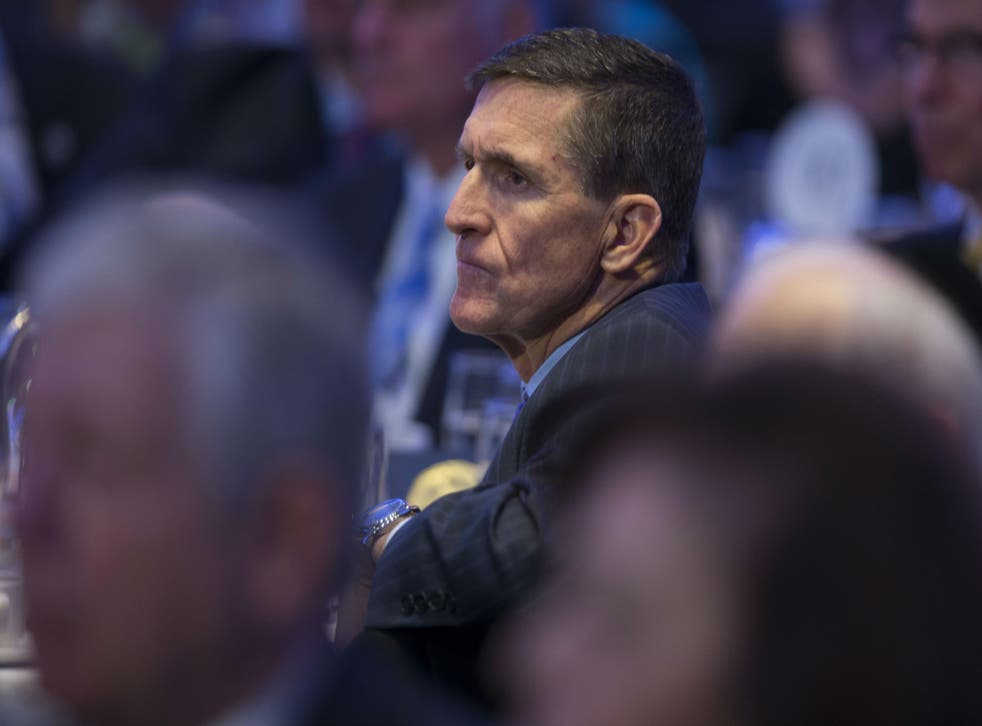 Donald Trump is "evaluating the situation" in regard to his national security advisor, the White House has said, as pressure continued to mount on Michael Flynn.
The former general is under intense scrutiny after it emerged he spoke to a Russian diplomat about US sanctions before Mr Trump took office – something he originally denied having done.
Every day new leaks emerge from the White House about a state of fear and loathing at the National Security Council, which Mr Flynn at least nominally heads. The latest, published by the New York Times, suggested things were so chaotic that members of staff were waking in the morning, reading Mr Trump's latest Twitter posts, and then struggling "to make policy to fit them".
Michael Flynn: We're officially putting Iran on notice
The same report said that others have begun using encrypted communications to talk with each other, after hearing that Mr Trump's top advisers were considering an "insider threat" programme that could result in the monitoring of phones and emails.
Meanwhile, efforts to get Mr Trump to focus on complicated issues are not straightforward. In short, Mr Trump is not a details man. NSC staff members have been told keep papers to a single page, with lots of graphics and maps. "The president likes maps," one official told the newspaper.
The leaks suggest various factions fighting for primacy within the White House. Observers suggest secretary of state Rex Tillerson and defence secretary James Mattis are in one group, with political advisers Stephen Bannon, Stephen Miller and Kellyanne Conway – a group that has its own internal battles – in another.
It was noticeable that over the weekend, Mr Miller, who appeared on the major networks political shows, did very little to voice support for Mr Flynn.
On NBC he was asked if the President still had confidence in his national security advisor.
"That's the question that I think you should ask the President, the question you should ask Reince, the chief of staff. I'm here today as a policy advisor," said Mr Miller.
Mr Trump was asked about the controversy last Friday as he flew to Florida on Air Force One with Japanese premier Shinzo Abe. He claimed to have no idea what story journalists were even referring to.
"I don't know about that, I haven't seen it," Mr Trump said. "What report is that? I haven't seen that. I'll look into that."
On Monday, an hour after Ms Conway told reporters that Mr Flynn had the president's "full confidence", the White House suggested the ground under the former general's feet was not so solid.
The White House said Mr Trump was "evaluating the situation" involving Mr Flynn. The President's spokesman, Sean Spicer, told reporters the President was speaking with Mr Pence and others about the matter, according to the Associated Press.
Robert Shapiro, Professor of government at Columbia University, told The Independent the leaks regarding Mr Flynn were very damaging. Previous administrations had not leaked just four weeks into their term.
"This is very new, because usually the administration is united and unified and quiet," he said.
He said that Mr Flynn's admission to having spoken to the Russian ambassador to Washington about sanctions before Mr Trump took office, was especially damaging because other senior members of the government – including Mike Pence – had backed him.
It subsequently emerged his conversation had been monitored by US intelligence officials who said he had discussed the future of sanctions and the chance for a new US-Russia relationship under Mr Trump.
Some have suggested Mr Trump will not fire Mr Flynn as he would not want to have to admit defeat. But Mr Shapiro disagreed.
"I think Flynn has to go," he said. "This is an embarrassing distraction."
Ambassador Eric Edelman, a former undersecretary of defence who was among those former security officials to write an open letter against Mr Trump's candidacy, said every administration suffered teething pains.
But he said it seemed the situation currently playing out was different. For one thing, he said, it was unclear whether information from the NSC was making it onto Mr Trump's desk.
"It seems that in some of these calls with foreign leaders, he did not get the pre-brief," he said. "It meant he was not prepared for things that might crop up."
Join our new commenting forum
Join thought-provoking conversations, follow other Independent readers and see their replies