Three high school students write op-ed telling NRA 'we will not let you win'
The students warn they 'wield enormous' spending power and will be able to vote soon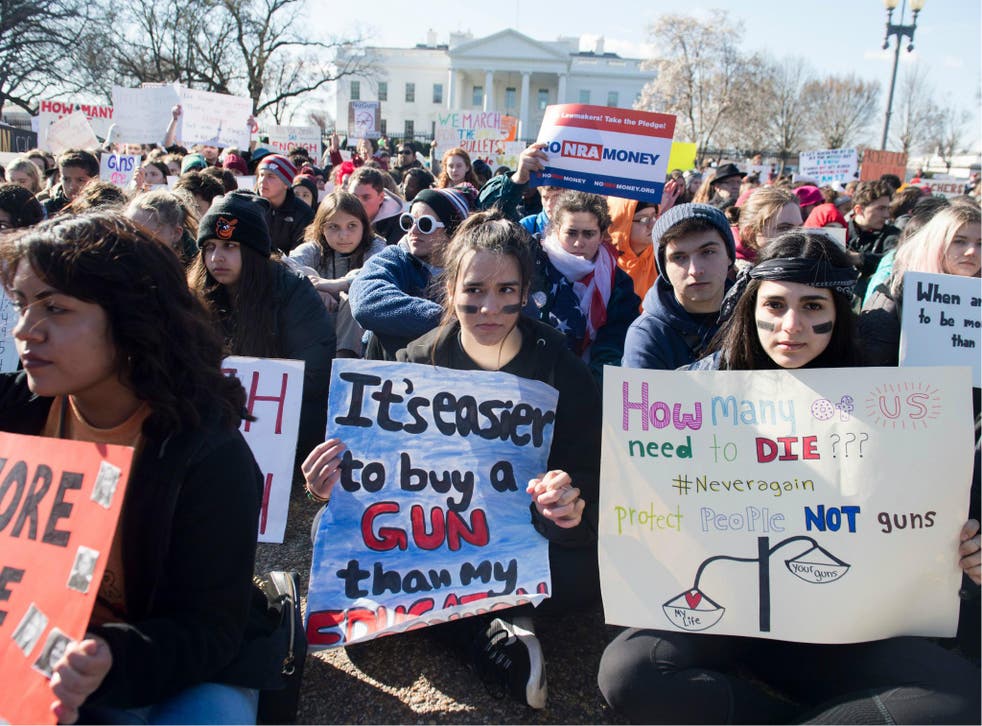 Three New Jersey students wrote an opinion piece directed towards the National Rifle Association (NRA) titled: "We won't let you win. From, teenagers".
Darcy Schleifstein, Zachary Dougherty and Sarah Emily Baum helped organise the state's National Walkout school protests taking place across the country today as students take a stand against gun violence in the wake of the Parkland, Florida school shooting where 17 people died on 14 February.
The students warned the powerful gun lobby in their New York Times piece that they "are Generation Z, the generation after millennials...We outnumber them by nearly one million and may be the largest cohort of future American spenders since the baby boomers".
The students mentioned that gun control reform, and at least the banning on assault-style weapons like the AR-15 one used in Parkland, "should have happened" after the 1999 Columbine, Colorado school shooting and certainly after 20 six and seven-year-old children and six adults were slain at Sandy Hook Elementary School in Newtown, Connecticut in 2012.
The difference now is that the students involved are old enough to have a voice thanks to social media and a slew of mass shootings devastating communities around the country.
The teenagers warned that they "wield enormous influence in family spending". Estimates put the spending power of Generation Z at close to $44bn, according to Forbes.
Survivors of the Parkland, Florida shooting have been out in full force since the mass shooting that killed 14 of their classmates and three adults at Marjory Stoneman Douglas High School, participating in a series of passionate on-camera media appearances, tweets, and protests.
Florida student Emma Gonzalez passionately calls for gun control at rally after school shooting
The three New Jersey students felt the need to "band together" behind the efforts of their peers in Parkland.
A group of students, known as Teens for Gun Reform, staged a lie-in on the square in front of the White House on 19 February and the Parkland survivors have planned a "March for Life" in Washington on 24 March, which thousands of people are expected to attend. They have already garnered more than $2m from the likes of Oprah Winfrey, Steven Spielberg, and George and Amal Clooney.
The opinion piece mentioned that many of those students and their peers across the country are also close to turning 18, the voting age in the US.
Florida shooting – in pictures

Show all 10
Not only will they be able to "flex their muscle at the ballot box" later this year in the crucial midterm elections for House of Representative candidates, many will vote in their first presidential election in 2020.
According to the Center for Responsive Politics, the NRA spent $3.2m in lobbying in 2016, a little over $1m in campaign contributions to Republican candidates, and over $54m in "outside spending," which is money spent "against candidates" who do not favour gun ownership rights. Speaker of the House Paul Ryan is one of the largest recipients of NRA funds.
Nearly half of the organisation's registered federal lobbyists have also been government employees at some point.
However, they noted that this is not a political issue: "this is about protecting this nation's children, whether they are related to you by blood, or whether they are children you have taught or nurtured," they wrote.
"We have to work ourselves to end senseless killing, not just for our sakes, but for the sakes of future generations of Americans," they said.
Register for free to continue reading
Registration is a free and easy way to support our truly independent journalism
By registering, you will also enjoy limited access to Premium articles, exclusive newsletters, commenting, and virtual events with our leading journalists
Already have an account? sign in
Register for free to continue reading
Registration is a free and easy way to support our truly independent journalism
By registering, you will also enjoy limited access to Premium articles, exclusive newsletters, commenting, and virtual events with our leading journalists
Already have an account? sign in
Join our new commenting forum
Join thought-provoking conversations, follow other Independent readers and see their replies