US Secretary of State Mike Pompeo urges allies to put economic pressure on Iran
'Iran's regime wants to start trouble wherever it can. It's our responsibility to stop it,' says US secretary of state
Kimberley Richards
New York
Thursday 12 July 2018 21:19 Comments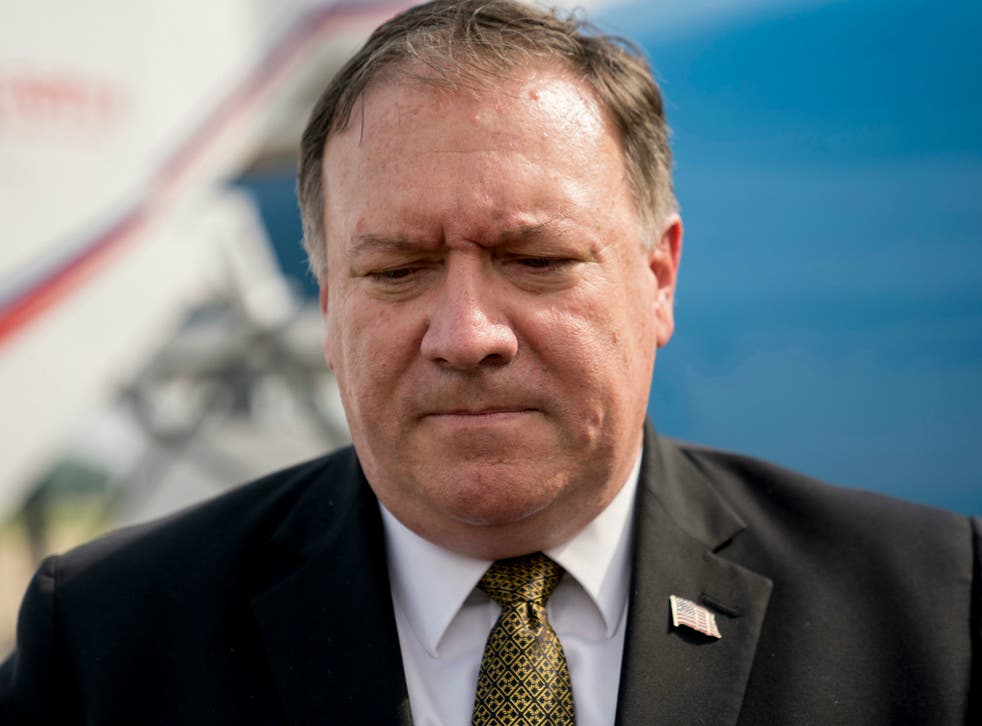 Mike Pompeo has called on US allies to put economic pressure on Iran by cutting off all funding to the Middle Eastern country, which he asserts, will use the funds to support terrorism.
The US secretary of state arrived in Brussels earlier this week ahead of the 29th Nato summit to urge American allies to put pressure on Iran in meetings on the sidelines of the summit.
"We ask our allies [and] partners to join our economic pressure campaign against [Iran's] regime," he wrote on Twitter. "We must cut off all funding the regime uses to fund terrorism [and] proxy wars. There's no telling when Iran may try to foment terrorism, violence [and] instability in one of our countries next."
Donald Trump notably announced his decision to pull the US out of the Iran deal back in May; reimposing US sanctions on Iran's oil sector that had previously been lifted as part of the agreement. The 2015 nuclear deal is an agreement between Iran and the US, China, France, Russia, Britain and Germany - also called the P5 +1 - that states sanctions would be lifted in exchange for essentially curbing Iran's nuclear programmes.
Earlier on Thursday, Mr Trump was asked at a Nato news conference about rising tensions with Iran and replied: "I would say there might be an escalation between us and the Iranians."
However, Iran was now "treating us with much more respect right now, than they did in the past," Mr Trump added.
"I know they'€™re having a lot of problems and their economy is collapsing, but I will tell you this - at a certain point they'€™re going to call me and they'€™re going to say let'€™s make a deal. And we'€™ll make a deal. But they're feeling a lot of pain right now," Mr Trump said.
World news in pictures

Show all 50
With America out of the deal, called the Joint Comprehensive Plan of Action (JPCOA), US allies have fought to remain committed, but with considerations for US penalties. The Trump administration had previously appeared to threaten sanctions against European companies that do business with Iran.
Prime Minister Theresa May, Chancellor Angela Merkel and President Emmanuel Macro released a joint statement in May saying Mr Trump's decision to pull the US out of the deal was of "regret and concern."
"Together, we emphasise our continuing commitment to the JCPOA. This agreement remains important for our shared security," the statement read in part.
In another recent tweet, Mr Pompeo accused Iran of blatantly violating UN Security Counsel regulations.
"[Iran] continues to send weapons across the Middle East, in blatant violation of #UN Security Council resolutions," he wrote. "Iran's regime wants to start trouble wherever it can. It's our responsibility to stop it."
Mr Trump had long been opposed to the Iran deal; during his presidential campaign he referred to it as the "worst deal ever."
According to Reuters, US officials also reportedly told reporters they held three days of talks on Iran while in Saudia Arabia to discuss "new ways to deprive the regime of revenues".
"Together with our allies #UK, #France, #Germany, #SaudiArabia, #Jordan, today we reaffirmed our support for the Syrian political process and our goals of removing Iran's influence, defeating #ISIS, deterring chemical weapons use," Mr Pompeo wrote in a tweet.
Register for free to continue reading
Registration is a free and easy way to support our truly independent journalism
By registering, you will also enjoy limited access to Premium articles, exclusive newsletters, commenting, and virtual events with our leading journalists
Already have an account? sign in
Join our new commenting forum
Join thought-provoking conversations, follow other Independent readers and see their replies