Net Neutrality repeal: Democrats vow to force vote on overturning decision as bill clears key hurdle
Political backlash to net neutrality repeal yielding results
Jeremy B. White
San Francisco
Wednesday 10 January 2018 23:57 Comments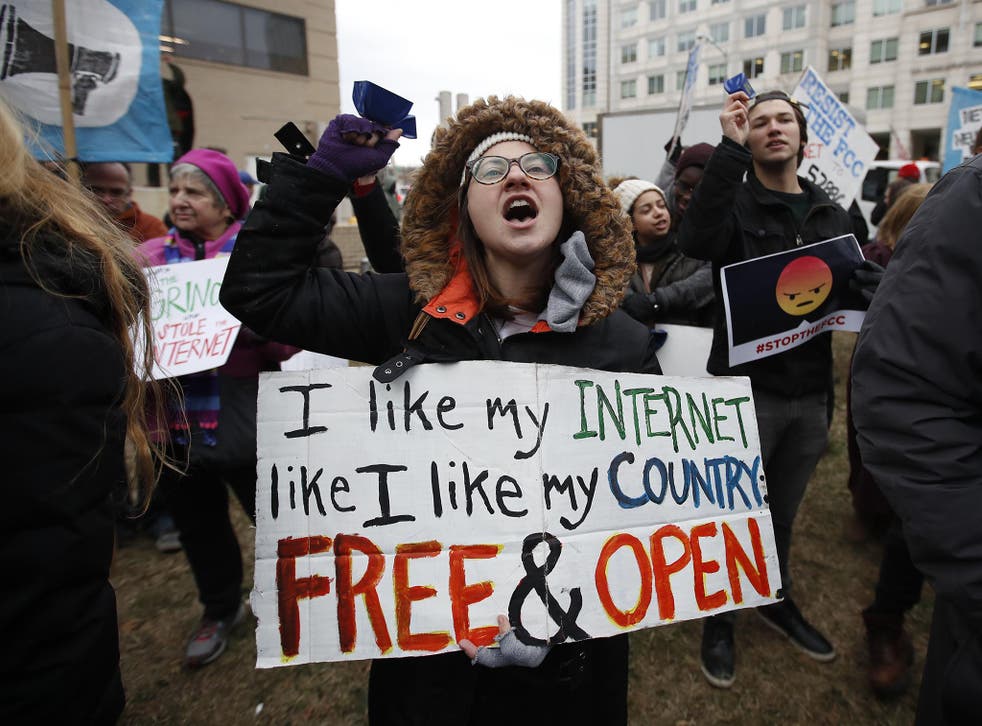 A push by Congress to reinstate recently discarded net neutrality rules is gaining momentum, with backers gaining enough support to force a vote.
Last month, the Federal Communications Commission voted to repeal 2015 rules that required internet service providers to treat all traffic equally. Backers called the rules clumsy and unnecessary, arguing the Internet had flourished without such protections.
But the vote provoked a national backlash from elected officials, technology companies and internet users worried the move would undermine an open internet by segregating it into faster and slower lanes. Almost as soon as the FCC voted, attorneys general were threatening to sue and members of Congress were vowing to reverse the regulator's decision.
Those promises are moving closer to reality. The Congressional Review Act empowers representatives to turn back regulatory moves — and, unlike other bills that could languish indefinitely if committee chairs block them, a bill invoking the act gets referred to a floor vote if it has enough support.
Sen Ed Markey of Massachusetts announced this week his bill had cleared that threshold and then some, gaining more than 40 cosponsors. Among them was Maine Republican Susan Collins, the first GOP member to join on.
"There will be a vote on the floor of the United States Senate on net neutrality, Mr Markey said at a news conference, calling it "the foundation of both our democracy and our economy".
Net neutrality protests – in pictures

Show all 5
"There will be a political price to pay for those who are on the wrong side of history," he added, noting that that the issue galvanizes millennial voters.
Despite that progress towards overruling the FCC, supporters still face an uphill fight. While some Republicans have said Congress should decide the matter rather than deferring to regulators, the argument for repealing net neutrality is essentially a conservative economic one: less regulation means more innovation and cost-savings that companies will invest in new infrastructure or pass on to customers.
And even if the measure does clear the Republican-controlled congress, Donald Trump, who would need to sign off, has been supportive of repealing net neutrality. He elevated FCC chairman Ajit Pai, who championed the change, and the White House characterised repeal as an end to "burdensome regulations".
Register for free to continue reading
Registration is a free and easy way to support our truly independent journalism
By registering, you will also enjoy limited access to Premium articles, exclusive newsletters, commenting, and virtual events with our leading journalists
Already have an account? sign in
Join our new commenting forum
Join thought-provoking conversations, follow other Independent readers and see their replies