New York wants power to prosecute criminals pardoned by Donald Trump
Change could make it more difficult for president's aides and others who might be pardoned to escape criminal prosecution
Mythili Sampathkumar
New York
Wednesday 18 April 2018 21:18 Comments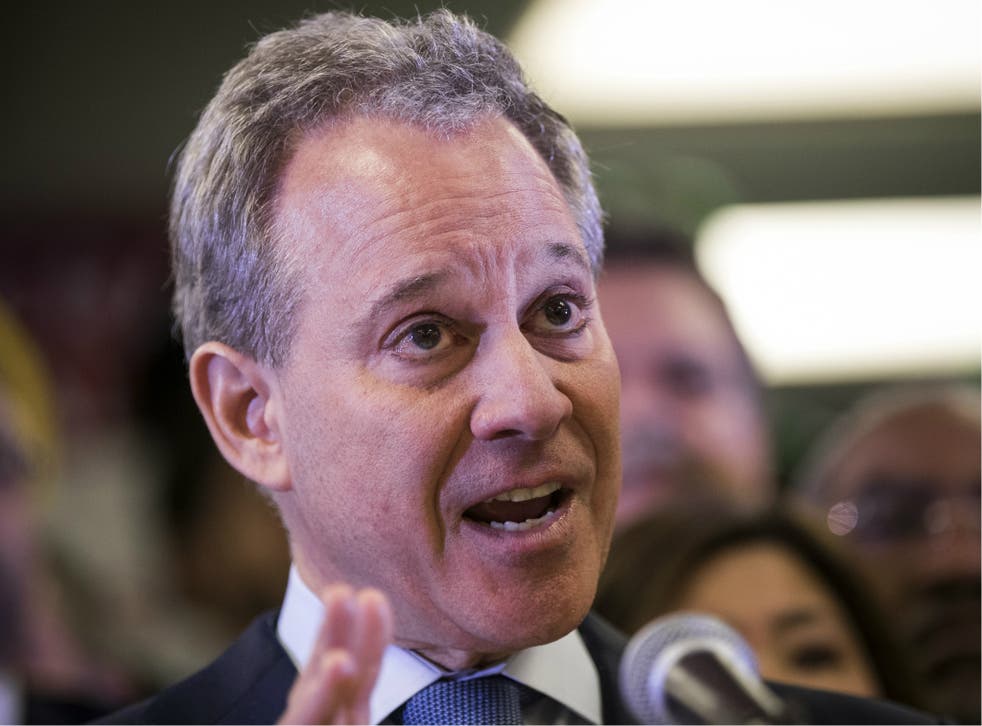 The New York attorney general has said a criminal pardoned by Donald Trump should not be immune to being prosecuted by the state.
In a letter, Eric Schneiderman urged Governor Andrew Cuomo and legislative leaders to close a loophole in New York's double jeopardy law shielding recipients of presidential pardons from state prosecution.
A change could make it more difficult for Trump aides and others who might be pardoned to escape criminal prosecution, even if special counsel Robert Mueller's probe into possible Russian interference in the 2016 presidential election were curbed or shut down.
The president is only allowed to pardon a person's federal crime. State crimes are out of the office's jurisdiction. Mr Schneiderman tweeted: "No one accused of breaking [New York's] laws should escape accountability merely because of a strategically timed presidential pardon."
He said in a statement accompanying a three-page letter to Mr Cuomo: "We are disturbed by reports that the president is considering pardons of individuals who may have committed serious federal financial, tax, and other crimes — acts that may also violate New York law.
"We must ensure that if the president, or any president, issues such pardons, we can use the full force of New York's laws to bring such individuals to justice."
If the policy is approved by Mr Cuomo and the state legislature, Mr Trump's legal troubles will extend beyond the 20 women accusing him of sexual misconduct and the ongoing congressional and FBI investigations into alleged collusion between his 2016 campaign team and Russian officials.
As Mr Schneiderman said in the letter, Mr Trump's pardon power is "sweeping" and generally not reviewed or kept in check by other branches of government, let alone individual US states.
Current state law prohibits prosecution of presidentially pardoned individuals because double jeopardy - or being tried for "crime related to the same act" more than once even if one of the times is in federal court - is prohibited, as the New York Times reported.
The US Supreme Court ruled on the 5th Amendment of the US Constitution that a "federal prosecution poses no constitutional bar under the double jeopardy clause to a subsequent state prosecution, and vice versa", Mr Schneiderman wrote in the letter.
He suggested New York end its policy of going beyond the minimum that protects those pardoned from the federal crime immunity from being tried for breaking state laws.
Trump has power to pardon himself, claims his lawyer
He wrote that recent reports indicated Mr Trump "may be considering issuing pardons that may impede criminal investigations".
He continued: "This is disturbing news, not only because it would undermine public confidence in the rule of law, but also because — due to a little-known feature of New York law that appears to be unique in its reach — a strategically-timed pardon could prevent individuals who may have violated our state's laws from standing trial in our courts as well.
"My staff has researched the relevant state statute and its legislative history, and can find no evidence that the legislature intended this result."
Mr Trump, a New York native, once called Mr Schneiderman "the worst AG in the nation", "dopey", and "a total loser" - some of the president's favoured insults to hurl at people on Twitter.
Mr Schneiderman, for his part, had conducted a three-year case regarding the private, for-profit Trump University and it resulted in a ruling which required Mr Trump to pay out $25m.
World news in pictures

Show all 50
The lower house state assembly speaker Carl Heastie, a Democrat, said "we will take a close look" at the "serious" issue.
Democratic state senator Todd Kaminsky tweeted a plan to introduce a bill to close the loophole.
However, the State Senate's divide between Republicans and Democrats is closer than the Assembly, which means the bill may not get the required votes to pass.
Last week, Mr Trump pardoned Lewis "Scooter" Libby, a former chief of staff to Vice President Dick Cheney, over his role in the unmasking of CIA agent Valerie Plame.
He also pardoned Arizona sheriff Joe Arpaio, who had been accused of police misconduct, and Kristian Mark Saucier, a former US Navy sailor who was convicted of taking unauthorised photographs of a Navy vessel.
Pundits have said Mr Trump could pardon those who have been convicted as part of the Russia investigation, which he has called a "witch hunt" on numerous occasions.
Former National Security Advisor Mike Flynn, deputy campaign manager Rick Gates, and campaign aide George Papadopoulos have all pleaded guilty.
Former campaign manager Paul Manafort has been indicted and Mr Trump's personal attorney Michael Cohen is under investigation.
Register for free to continue reading
Registration is a free and easy way to support our truly independent journalism
By registering, you will also enjoy limited access to Premium articles, exclusive newsletters, commenting, and virtual events with our leading journalists
Already have an account? sign in
Join our new commenting forum
Join thought-provoking conversations, follow other Independent readers and see their replies