New York and Washington to join Hawaii to sue over Trump's new travel ban
Mr Trump's initial ban sparked international protests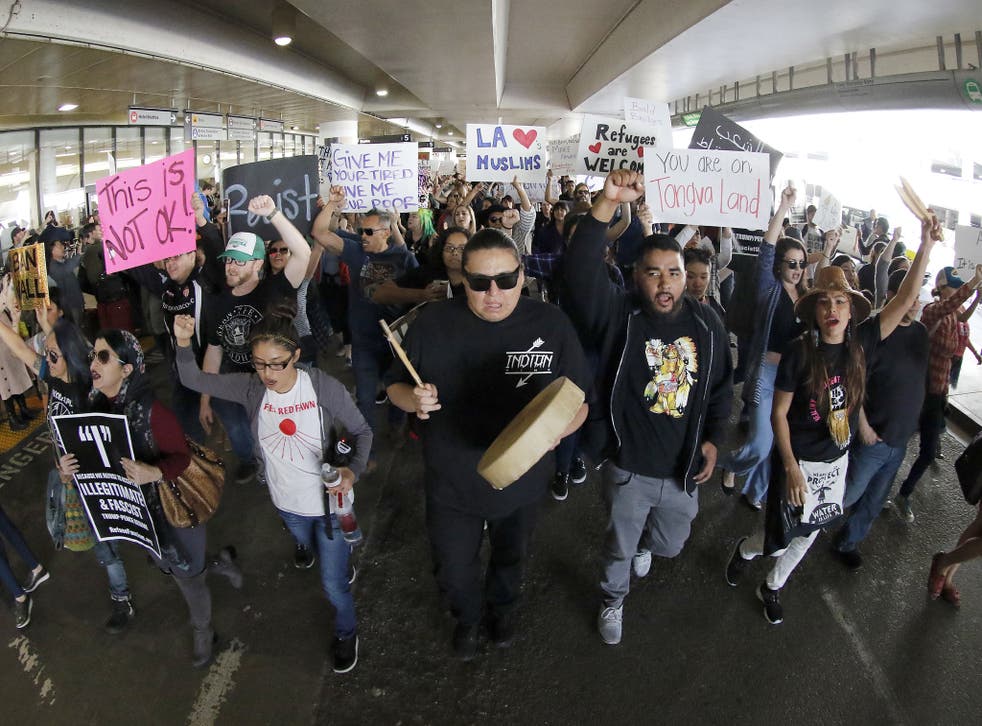 Donald Trump's revised Muslim travel ban is under mounting attack, as the state of Washington joined with New York and Oregon to challenge the president's proposal.
The announcement by Washington Attorney General Bob Ferguson came a day after Hawaii launched its own lawsuit against Mr Trump's order, which freezes entry to the US for citizens from six Muslim-majority countries.
Washington was the first state to sue over the original ban, which resulted in Judge James Robert in Seattle halting its implementation around the country. Mr Ferguson said the state would ask the judge to rule that his temporary restraining order against the first ban also applies to Mr Trump's revised action.
According to Reuters, Mr Ferguson said the although the new order harmed a "smaller group" of individuals, that would not affect the state's ability to challenge it in court.
New York's attorney general, Eric Schneiderman, also said on Thursday he would be joining Washington's lawsuit against the new ban.
In August of 2017, Donald Trump decried the courts' role in the travel ban
The new order, signed on Monday and set to go into effect on March 16, was designed to avoid some of the legal opposition. More than two dozen lawsuits were filed around the country against the first ban, which sparked both nationwide and international protests.
The revisions replace the original order and include explicit exemptions for legal residents or existing visa holders and waivers are allowed on a case-by-case basis for some business, diplomatic and other travellers.
While the new order keeps a 90-day ban on travel to the United States by citizens of Iran, Libya, Syria, Somalia, Sudan and Yemen, it excludes Iraq.
Refugees are still halted from entering the country for 120 days but the new order removed an indefinite ban on all refugees from Syria.
Join our new commenting forum
Join thought-provoking conversations, follow other Independent readers and see their replies