RNC 2016: Nigel Farage says Donald Trump's campaign 'makes even me wince a little bit'
The former UKIP leader was visiting the GOP Convention in Cleveland, where he said he sensed 'a genuine hunger' among Republicans to understand the success of his Brexit campaign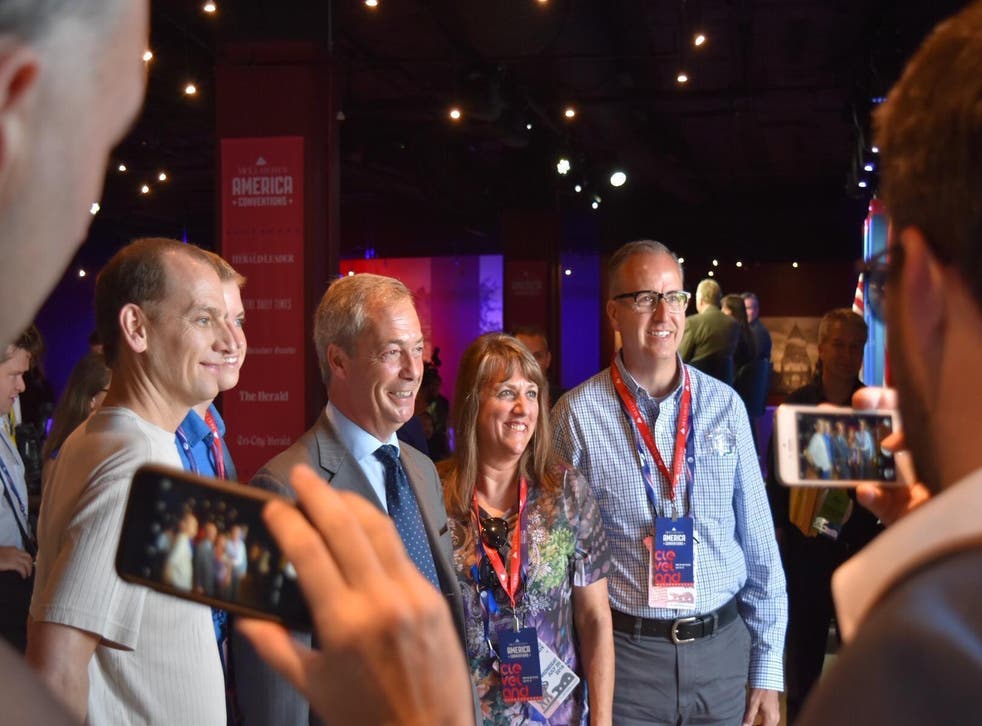 As the figurehead for a group of frustrated nationalist voters, and as a man not infrequently accused of racism, Nigel Farage might appear to be a natural bedfellow for Donald Trump. But, speaking during the Republican National Convention in Cleveland on Wednesday, the former UKIP leader admitted even he found Mr Trump's presidential campaign a touch coarse at times.
"He's prepared to talk about issues that perhaps other people find a bit awkward, a bit uncomfortable," Mr Farage told an audience at a breakfast event organised by McClatchy, saying he admired the billionaire property mogul's ability to reach out to angry, blue collar voters. "I can see what he's trying to do, but occasionally the style of it makes even me wince a little bit."
In the past, Mr Farage has spoken positively of Mr Trump's irresistible rise, and he said he was "not in the least bit surprised" by the result of the Republican primaries. But he insisted he was at the convention simply as a "fascinated observer" and did not intend to endorse the Apprentice star or campaign on his behalf, nor did he have any plans to meet him.
"It's a big mistake for foreign politicians to tell people how to vote and and how to think," Mr Farage said, recalling President Barack Obama's controversial intervention on the Remain campaign's behalf during the Brexit referendum. Calling Mr Obama "the most anti-British President there has ever been," the Leave leader nevertheless said he would "always be grateful to Obama," whose comments arguably backfired, creating a poll bounce for Brexit. "Without him we would never have won the referendum."
Though he declined to declare his explicit support for Mr Trump, Mr Farage did also say he would never vote for Hillary Clinton, and accused the Democrat of harbouring "a sense of entitlement".
Mr Farage had been invited to attend the convention because there was "a genuine hunger" among Republicans to understand the success of the Leave campaign, he said. Suggesting Brexit held lessons for the party of Trump, he went on: "If the little people, the ordinary people who've completely given up on politics and don't believe anyone speaks for them – if you can inspire those people to go out and vote, you can change the world."
The erstwhile UKIP boss was not the only right-wing European politician to draw a crowd in Cleveland this week. On Monday Geert Wilders, leader of the anti-Islam Dutch Freedom Party, told Republicans at a fringe event that Europe was "exploding" as a result of Muslim immigration.
"The situation in Europe today is worse than ever. Europe, as a matter of fact, is collapsing, is imploding, is exploding. We have terror attacks by the jihadis almost every week," Mr Wilders said, in a speech reported by Politico. "The reason for all of this of, course, is a policy decades-long of open borders and cultural relativism; the biggest disease in Europe today."
Mr Wilders' message, which has fuelled his party's rising poll numbers in the Netherlands, will likely resonate with Trump supporters who back the Republican nominee's proposal for a temporary ban on Muslims entering the US. Mr Farage thought the ban a bad idea, however, saying it would be "very difficult to enforce."
Mark McCaig, a Republican delegate from Texas, told The Independent he had long been an admirer of Mr Farage. "He really is one of my favourite British politicians," he said. "I admire that he's a very independent-minded man who's willing to fight against the establishment."
The 33-year-old lawyer, who had his picture taken with Mr Farage following the event, saw parallels between Mr Trump's victories and the Brexit campaign. "The success of Brexit was because they were able to reach out and motivate a lot of folks, who had become so angry with politics as usual that they had refrained from voting for many years," Mr McCaig said. "Mr Trump's style of politics has also motivated a lot of people to come out and vote, who haven't voted in many years because they were so disgusted by what they've seen out of Washington."
Register for free to continue reading
Registration is a free and easy way to support our truly independent journalism
By registering, you will also enjoy limited access to Premium articles, exclusive newsletters, commenting, and virtual events with our leading journalists
Already have an account? sign in
Register for free to continue reading
Registration is a free and easy way to support our truly independent journalism
By registering, you will also enjoy limited access to Premium articles, exclusive newsletters, commenting, and virtual events with our leading journalists
Already have an account? sign in
Join our new commenting forum
Join thought-provoking conversations, follow other Independent readers and see their replies