North Korea now threatens the entire world, says US
US Secretary of State Rex Tillerson is pushing for further sanctions against the country
Emily Shugerman
New York
Friday 15 September 2017 16:48 Comments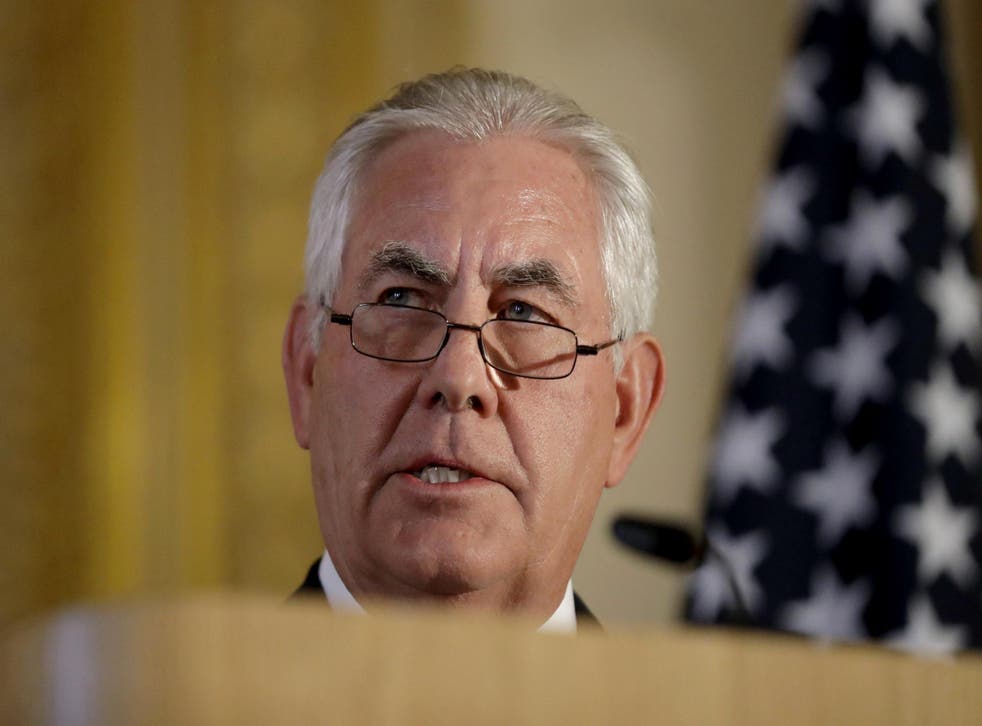 US Secretary of State Rex Tillerson has claimed North Korea now threatens "the entire world," after Pyongyang mounted its second missile launch over Japan in less than a month.
North Korea sent a mid-range missile over Japan on Thursday, after threatening to sink the country "into the sea". The launch marked the isolated country's longest missile flight to date, and yet another sign of its advancing military capabilities.
"In East Asia, an increasingly aggressive and isolated regime in North Korea threatens democracies in South Korea, Japan, and more importantly, and more recently, has expanded those threats to the United States, endangering the entire world," Mr Tillerson said, according to Reuters.
The North has continued to push forward with military tests, despite increasing international outcry. Earlier this month, Pyongyang conducted its sixth-ever test of a nuclear bomb. The country has also tested intercontinental ballistic missiles capable of hitting the US mainland.
Kim Jong-un inspects weapon North Korea says is powerful hydrogen bomb

Show all 6
The Security Council passed its most stringent sanctions ever against North Korea this week, in an attempt to deter its nuclear programme. On Friday, Mr Tillerson called the sanctions "the floor, not the ceiling, of the actions we should take".
The US is now calling for further restrictions on the country's oil imports, and a ban on foreign work permits for North Korean citizens.
Mr Tillerson pushed China and Russia – both of which have opposed stringent sanctions on the country – to "indicate their intolerance for these reckless missile launches by taking direct actions of their own".
World leaders react to North Korea's latest missile launch
Dmitry Peskov, a spokesman for Russian President Vladimir Putin, told reporters that Russia "resolutely condemns" the missile test, adding that it will "lead to the further growth of tensions and the further escalation of tensions on the [Korean] peninsula".
China's foreign ministry, however, urged the parties involved not to inflame a "complex, sensitive and severe" situation. Spokeswoman Hua Chunying attempted to take some diplomatic pressure off of China, claiming the parties directly involved should be responsible for resolving the situation.
"Any attempt to wash their hands of the issue is irresponsible and unhelpful for its resolution," she said.
The Security Council planned to meet later on Friday to discuss next steps. Mr Tillerson said the US would look to South Korea and Japan for help in building consensus at the UN, and in creating a "united international front that upholds our values and strives to make us safer".
Japanese Prime Minister Shinzo Abe called for existing UN sanctions to be firmly imposed, and asked the international community to send a clear, unified message to Pyongyang. South Korean President Moon Jae-in, who had initially pushed for talks with North Korea, said the latest tests have made dialogue "impossible".
"The sanctions and pressure by the international community will only tighten so that North Korea has no choice but to take the path for genuine dialogue," he said.
North Korea's latest missile launch – its 19th ballistic missile launch to date – triggered warning signals in Japan before plunging into the Pacific Ocean. The missile flew about 2,300 miles, at a maximum height of 468 miles.
Some experts believe the launch was intended to demonstrate Pyongyang's ability to strike the US territory of Guam – home to a major military base some 2,112 miles from North Korea. Pyongyang has previously threatened to encircle the island in "enveloping fire".
US disarmament ambassador Robert Wood said Washington is hoping to exhaust every diplomatic option it has in the conflict. He added, however, that the US had not taken the option of war or a military strike off the table.
Register for free to continue reading
Registration is a free and easy way to support our truly independent journalism
By registering, you will also enjoy limited access to Premium articles, exclusive newsletters, commenting, and virtual events with our leading journalists
Already have an account? sign in
Join our new commenting forum
Join thought-provoking conversations, follow other Independent readers and see their replies