US will seek peaceful resolution despite 'provocative' North Korean missile launch, Rex Tillerson says
'We're going to continue our peaceful pressure campaign'
Alexandra Wilts
Washington DC
Sunday 27 August 2017 15:45 Comments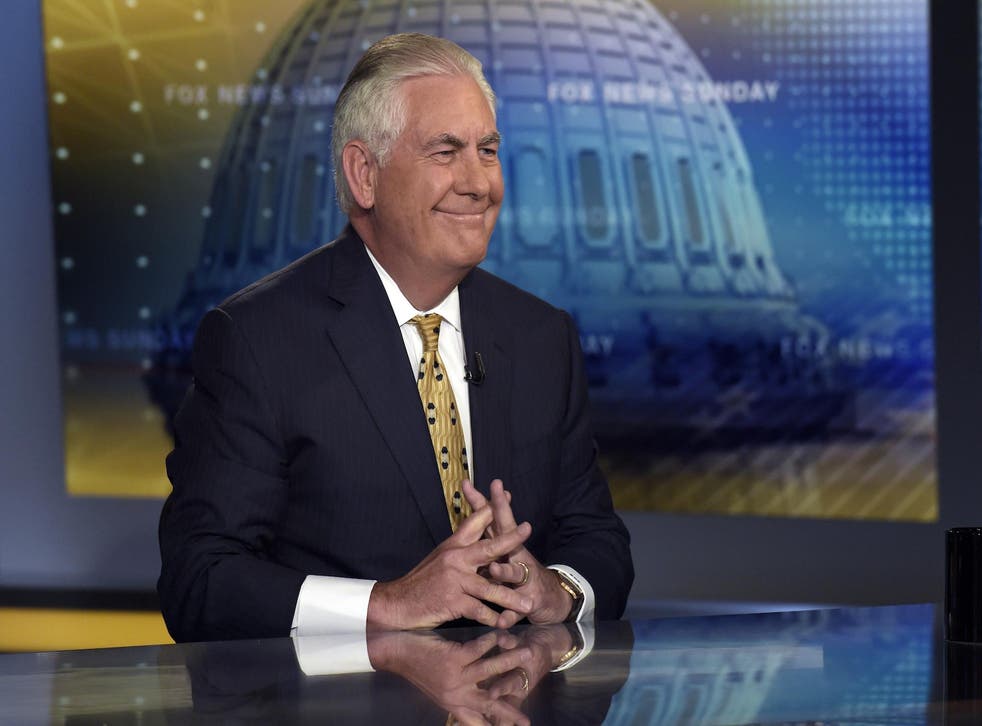 Rex Tillerson, US Secretary of State, has called North Korea's most recent missile launch a "provocative act", but said the US will continue to seek a peaceful resolution with Kim Jong-un's regime.
North Korea reignited tensions with the US this weekend by firing three missiles into the sea between the Korean Peninsula and Japan. One failed and none posed risk to the United States, the US Pacific Command said in a statement late Friday.
The missiles appeared to be short-range, unlike the intercontinental ones capable of reaching the mainland US that North Korea fired last month.
"We do view it as a provocative act against the United States and our allies, Mr Tillerson said in an interview on Fox News Sunday. "We're going to continue our peaceful pressure campaign as I have described it, working with allies, working with China as well to see if we can bring the regime in Pyongyang to the negotiating table."
Animosity between the two countries spiked earlier this month after North Korea warned it might fire missiles toward the US territory of Guam in response to warlike rhetoric from Donald Trump. The US leader said any threat from Kim Jong-un's regime would be met with "fire and fury like the world has never seen".
North Korea later appeared to put a hold on its threat to attack Guam, saying it would wait to assess "the foolish and stupid conduct" of the US before launching any missiles. At a rally in Phoenix, Arizona last week, Mr Trump said Kim Jong-un "is starting to respect us...maybe something positive can come about."
While the US prefers a diplomatic approach, the country and its allies are prepared to respond to a North Korean threat with military force, Mr Tillerson said at a news conference in August.
Iran's 'Trumpism' contest

Show all 10
Mr Trump has repeatedly complained that China is not helping the US rein in North Korea, and Mr Tillerson has said "China and Russia bear unique and special responsibility" for North Korea's "growing threat to regional and global stability".
But Chinese diplomats and the state news media have asserted that the US and its allies should not depend so much on China to ease tensions created by North Korea's growing nuclear weapons programme and missile capabilities.
Register for free to continue reading
Registration is a free and easy way to support our truly independent journalism
By registering, you will also enjoy limited access to Premium articles, exclusive newsletters, commenting, and virtual events with our leading journalists
Already have an account? sign in
Join our new commenting forum
Join thought-provoking conversations, follow other Independent readers and see their replies