US threatens action against China if it doesn't follow new North Korea sanctions
'If China doesn't follow these sanctions, we will put additional sanctions on them', Mr Mnuchin said
Alexandra Wilts
Washington DC
Wednesday 13 September 2017 13:42 Comments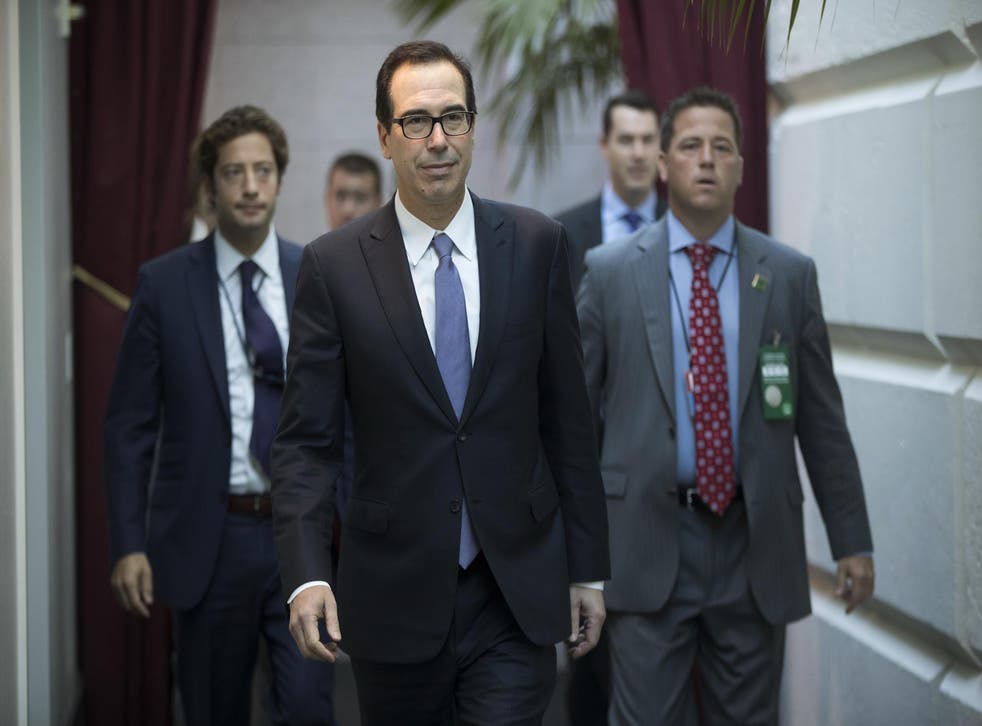 China has been warned that it could face further sanctions from the US if it does not abide by new United Nations sanctions placed on Kim Jong-un's regime, Treasury Secretary Steven Mnuchin has said.
The UN Security Council unanimously voted this week to ratchet up sanctions on North Korea following its sixth and largest nuclear test, although the penalties fell short of the sweeping sanctions the Trump administration had demanded.
Both Russia and China, North Korea's main economic ally, had opposed the US's call for an oil embargo and other far-reaching sanctions.
The new penalties include a ban on the sale of natural gas to North Korea and limits the amount of refined petroleum sales to the country to two million barrels per year. China supplies most of North Korea's crude oil.
"If China doesn't follow these sanctions, we will put additional sanctions on them and prevent them from accessing the U.S. and international dollar system, and that's quite meaningful," Mr Mnuchin said, adding that "economic warfare works".
Nikki Haley, the US's ambassador to the UN, on Monday cast the new sanctions as a victory and credited Donald Trump's relationship with his Chinese counterpart, Xi Jinping, as a reason why the 15 council members were able to approve tougher penalties.
"We don't take pleasure in further strengthening sanctions today. We are not looking for war," Ms Haley said.
"The North Korean regime has not yet passed the point of no return," she added. "If North Korea continues its dangerous path, we will continue with further pressure. The choice is theirs."
Kim Jong-un inspects weapon North Korea says is powerful hydrogen bomb

Show all 6
In his remarks, China's UN ambassador Liu Jieyi cautioned the US against efforts at "regime change" and the use of military force. "China will continue to advance dialogue," he said.
North Korea's ambassador to the UN, Han Tae Song, told a conference in Geneva: "The forthcoming measures by DPRK [the Democratic Republic of Korea] will make the US suffer the greatest pain it has ever experienced in its history."
Sanctions approved by the UN Security Council in August were already estimated to slash North Korea's $3 billion annual export revenue by a third.
Mr Trump praised China and Russia for backing those sanctions last month, but said that China could be doing more to help the US rein in North Korea.
He previously suggested that if China does so, he may change his views on trade between Americans and the Chinese – a topic which he has constantly said he will do something about.
"We lose hundreds of billions of dollars a year on trade with China," Mr Trump said in August, referring to the large US-China trade deficit, which he has repeatedly railed against. "They know how I feel. It's not going to continue like that. But if China helps us, I feel a lot differently toward trade, a lot differently toward trade."
Register for free to continue reading
Registration is a free and easy way to support our truly independent journalism
By registering, you will also enjoy limited access to Premium articles, exclusive newsletters, commenting, and virtual events with our leading journalists
Already have an account? sign in
Join our new commenting forum
Join thought-provoking conversations, follow other Independent readers and see their replies