North Korea: Nikki Haley admits sanctions may not work as Vladimir Putin calls them 'worthless'
US Ambassador to the UN Ms Haley says sanctions may not change North Korean behaviour - but will cut revenue allowing them to build missiles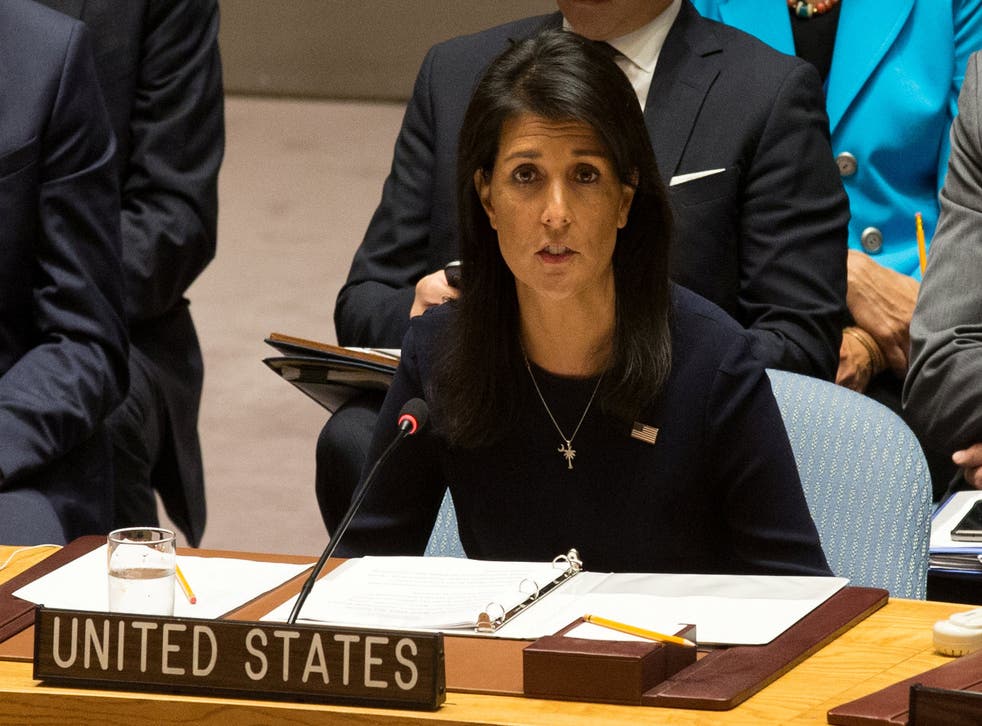 US Ambassador to the United Nations Nikki Haley has admitted she is not sure that sanctions will work to deter North Korea from moving forward with developing nuclear weapons, as North Korea promised more "gift packages" for the US following the nation's latest missile test.
"Do we think more sanctions are going to work on North Korea? Not necessarily," Ms Haley told the American Enterprise Institute think tank in Washington, DC. "But what does it do? It cuts off the revenue that allows them to build ballistic missiles."
The previous day, Ms Haley had accused Pyongyang of "begging for war" as she pushed for harsh sanctions from the UN after the sixth - and largest - nuclear test conducted by the regime of Kim Jong-un.
After the latest bomb testing, an official for for North Korea said that the US can expect more shows of military might if it does not stop trying to put pressure on the country.
"The US will receive more 'gift packages' from my country as long as it relies on reckless provocations and futile attempts to put pressure on the DPRK [North korea]" Han Tae Song, an ambassador to the UN in Geneva, said, stating that the bomb tests were the "gifts".
He did not elaborate on what he meant by "more 'gift packages'".
Kim Jong-un inspects weapon North Korea says is powerful hydrogen bomb

Show all 6
The likelihood that the UN Security Council will impose new sanctions on North Korea is pretty slim at the moment. Russia, a permanent member of the 15-country council with veto power, does not seem keen on letting the measures be implemented.
Russian President Vladimir Putin called more sanctions a "road to nowhere" on Tuesday, and his UN Ambassador, Vassily Nebenzia, said: "I don't think we'll be able to rush it so fast."
Russia condemns North Korea's nuclear test as "provocative," Mr Putin told a televised news conference in China. But he stopped short of expressing willingness to impose more sanctions on North Korea, saying Moscow viewed them as "useless and ineffective."
Mr Putin said North Korea's neighbours should engage with it, not whip up "military hysteria."
"It's a road to nowhere. Whipping up military hysteria — this will lead to no good," he said. "It could cause a global catastrophe and an enormous loss of life."
White House Press Secretary Sarah Huckabee Sanders told reporters during her daily press briefing that the Trump administration views the denuclearisation of the Korean Peninsula as a priority, and ruled out no future course of action.
"We're going to continue to push for a safer and denuclearised Korean Peninsula, and that's the priority here," Ms Sanders said. "All options are on the table" to deal with North Korea, including diplomatic and economic measures.
Tensions between the United States and North Korea have been strained this year since Donald Trump took over the Oval Office, with Pyongyang repeatedly testing weapons systems. The North Korean government has raised the stakes in its relationship with Washington through repeated missile and nuclear tests, and is said to have the capacity to place a nuclear warhead on the tip of a missile.
The country tested intercontinental ballistic missiles (ICBMs) earlier this year, raising concerns that the country may be able to launch a missile capable of hitting the US mainland soon.
In response to those tests, which were perceived in Washington as threats either against the US itself, or allies in the region, Mr Trump promised "fire and fury" if North Korea continued to test weapons. The escalation in language between North Korean media sources and Mr Trump has not stopped since then, and the President has indicated that available diplomatic solutions are becoming rarer the longer the conflict continues.
North Korea launched another missile over Japan late last month, adding to concern that the concerns could boil over into full-on war. The United States has pledged to defend both Japan and South Korea in the case of aggression impacting either country, and any attacks on those countries would likely pull the US into a war in the Pacific theatre.
Mr Trump has steadfastly promised to honour those protection commitments since the tensions have flared.
The missile launch over Japan did not yield any casualties, and the warhead landed harmlessly in the sea. Still, the launch was enough to worry the government in Tokyo enough to encourage residents in the flight path to take cover. The missile, which flew nearly 1,700 miles, has also been seen as a powerful and provocative propaganda tool.
Join our new commenting forum
Join thought-provoking conversations, follow other Independent readers and see their replies