US and South Korea united over need to 'isolate North Korea economically and diplomatically', says Mike Pence
At the same time, North Korea has invited the leader of South Korea up for a visit for the first time since 2007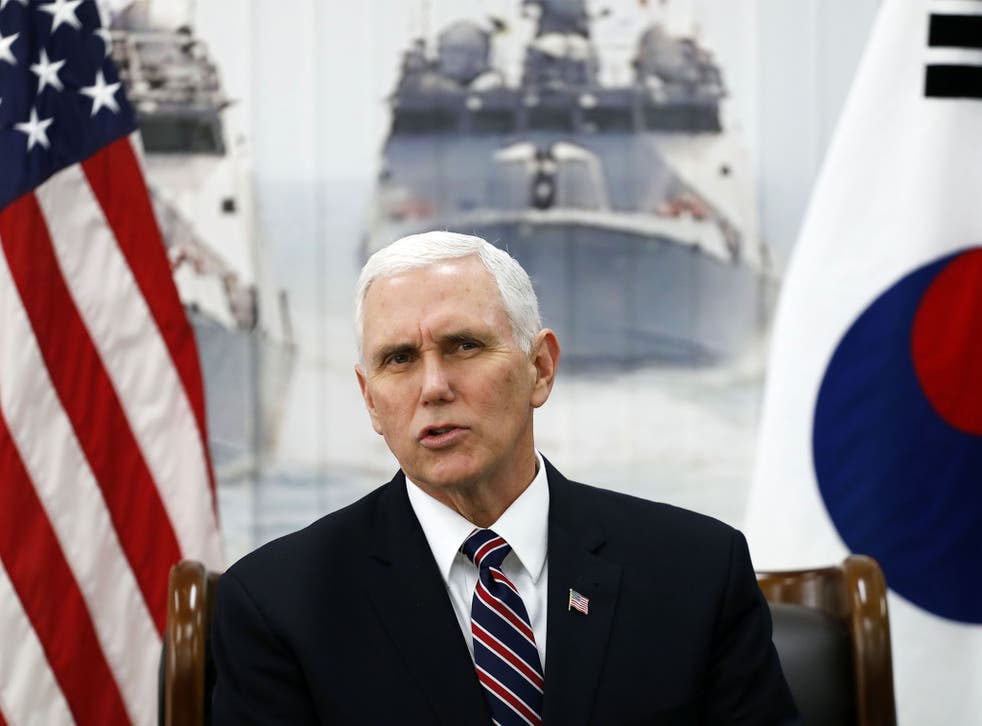 US Vice President Mike Pence has told reporters that the US and South Korea are united in their approach to North Korea's nuclear programme after the Olympic opening ceremonies in Pyeong Chang featured a joint appearance between the two Koreas.
"There is no daylight between the United States, the Republic of Korea and Japan on the need to continue to isolate North Korea economically and diplomatically until they abandon their nuclear and ballistic missile program," Mr Pence told reporters on a flight back to the US from South Korea.
The Olympic opening ceremonies emphasised the joint North and South Korean presence, and the announcers on the American broadcast of the event frequently noted the approach.
The United States has spearheaded efforts to marginalise North Korea over the past year, championing economic sanctions from the majority of the world aimed at cutting the country's ability to raise funds.
Those sanctions have resulted from North Korea's continued efforts to develop nuclear weapons capabilities that could hit the United States. The country conducted several weapons tests last year, sparking a war of words between US President Donald Trump and North Korean leader Kim Jong Un.
North Korean and South Korea athlete walked and sat together during the opening ceremonies in Pyeong Chang in a rare statement of unity there. The seeming message sparked a wave of speculation about the relationship between the two countries.
Great Britain athletes heading to the Winter Olympics

Show all 10
Mr Pence, during those ceremonies, did not stand when the two countries came in, nor did he clap to applaud those athletes. He did, however, stand and applaud the American athletes when they arrive.
Even with Mr Pence's insistence that the US and South Korea are unified in their opposition to North Korea and its nuclear programme, relations between the two Koreas has appeared to thaw recently.
In addition to the joint appearance in the Olympics, South Korean President Moon Jae-in has reportedly been invited to North Korea for a visit.
If Mr Moon accepts the offer, it would mark the first tine since 2007 that leaders from the two countries meet.
Mr Kim took over as leader of the country in 2011.
Join our new commenting forum
Join thought-provoking conversations, follow other Independent readers and see their replies