North Korea: Trump doesn't rule out military strike but says it is 'not our first choice' after call with China
Trump and his Chinese counterpart, Xi Jingping, discussed North Korea's latest nuclear test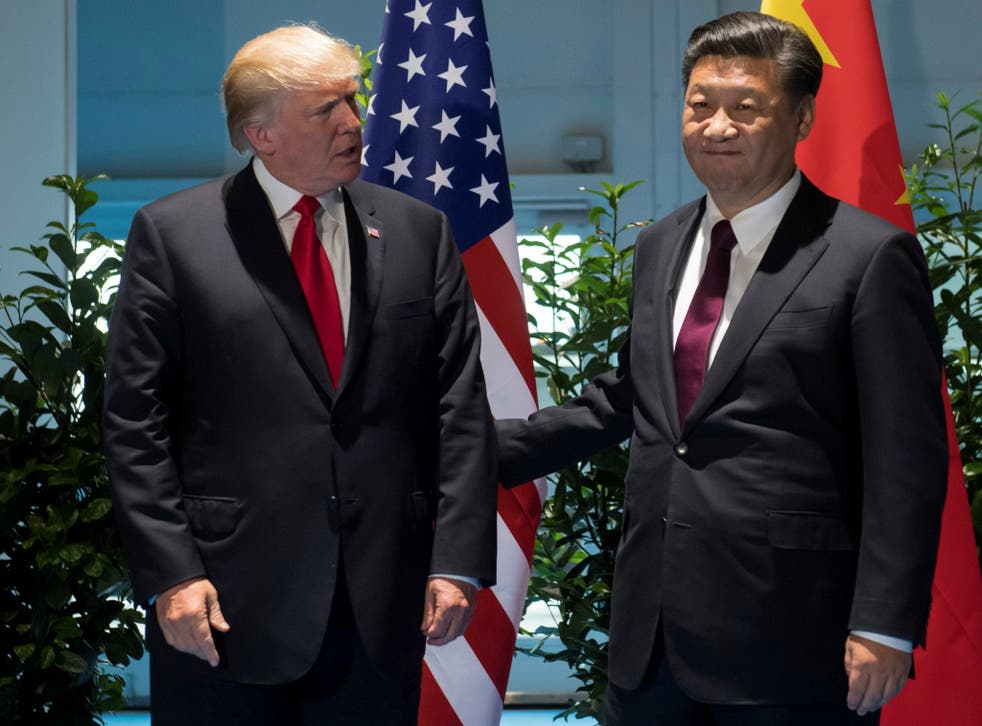 Donald Trump has said that the United States will not tolerate the actions of North Korea, but said military action was not his "first choice" after a call with President Xi Jinping of China.
A month of escalating belligerence from North Korea reached a new peak over the weekend as the isolated country tested a massive nuclear weapon, showcasing its military capabilities after a series of missile tests that have rattled Asia and confronted the Trump administration with a geopolitical standoff with the highest possible stakes.
After the call, Mr Trump - who has repeatedly pressured China to do more to deal with thier isolated neighbour - said that he and Mr Xi had a "very, very frank and very strong phone call".
"President Xi would like to do something. We'll see whether or not he can do it. But we will not be putting up with what's happening in North Korea," Mr Trump said from the White House.
According to a statement from China's foreign ministry, Mr Xi urged a "peaceful solution" and said China saw its role as "safeguarding peace and stability on the Korean Peninsula and resolving the issue through dialogue and consultation".
Key moments in North Korea's nuclear programme
The call came as a draft UN resolution put together by the US to punish North Korea for the latest missile test was leaked. It calls for the UN Security Council to impose an oil embargo on North Korea, ban the country's exports of textiles, ban the hiring of North Korean workers abroad and place the head of the North Korean regime, Kim Jong-un, under an asset freeze and travel ban.
US Ambassador to the United Nations Nikki Haley has said she wants the 15-member council to vote on Monday on the draft resolution to impose new sanctions over North Korea's sixth and largest nuclear test. However, Russia's UN Ambassador Vassily Nebenzia has said a Monday vote may be "a little premature."
It was not immediately clear if the draft resolution had the support of North Korean ally China, while Russian President Vladimir Putin insisted on Wednesday that resolving the North Korean nuclear crisis was impossible with sanctions and pressure alone.
China has not always seen eye-to-eye with the United States on how to handle Pyongyang and the regime led by Kim Jong-un. China has consistently called for diplomacy rather than risk a renewed outbreak of conflict on the Korean Peninsula that could approach its border.
As North Korea has flexed its muscles with a series of missile tests, Mr Trump and his surrogates have consistently declined to rule out a military strike.
Global tensions soared in August after Mr Trump warned of meeting North Korean threats with "fire and fury" while Pyongyang has said it is considering firing missiles at the US territory of Guam. Ms Haley said this week that Mr Kim was "begging for war" with the most recent test, and Secretary of Defence Jim Mattis said America would respond to any threat with a "massive military response", saying America was capable of "the total annihilation of a country".
Kim Jong-un inspects weapon North Korea says is powerful hydrogen bomb

Show all 6
In addition to the bellicose rhetoric toward North Korea, Mr Trump has lashed out at other countries in the region. He responded to the nuclear test by taking to his preferred medium of Twitter and slamming South Korea - whose recently elected leader campaigned on a promise to seek a detente with North Korea - for embracing "appeasement".
He also floated "stopping all trade with any country doing business with North Korea" - a proposal that, because China provides an economic lifeline to North Korea, would mean cutting off trade with China and sundering one of America's most prominent economic relationships.
While China joined with other United Nations Security Council members in early August in levelling the last new sanctions on Pyongyang, state media has chastised Mr Trump for his aggressive language.
A state editorial condemning Pyongyang's latest nuclear test also faulted "Washington's belligerent tone and military exercises on DPRK's doorstep", echoing North Korea's denunciation of joint US-South Korean military drills that Pyongyang frames as laying the groundwork for an invasion.
Just as China has aligned with North Korea in assailing the drills, it has also steadily assailed America's deployment of anti-missile technology in South Korea, arguing the Terminal High Altitude Area Defense (THAAD) system inflames tensions.
In talks with other key allies, Mr Trump has kept a military option on the table. On Tuesday Mr Trump discussed the North Korean situation with British Prime Minister Theresa May and Australian Prime Minister Malcolm Turnbull, affirming his willingness to use "all available diplomatic and military capabilities", according to a White House readout of the call.
During the call with Ms May, Mr Trump said that "now is not the time to talk to North Korea" and "made clear that all options remain open to defend the United States and its allies against North Korean aggression", the White House said.
Join our new commenting forum
Join thought-provoking conversations, follow other Independent readers and see their replies