North Korea: Trump says a military strike would be a 'sad day' for Kim Jong-un
The President also offers to personally mediate a dispute between Qatar and other Arab countries
Alexandra Wilts
Washington DC
Thursday 07 September 2017 21:56 Comments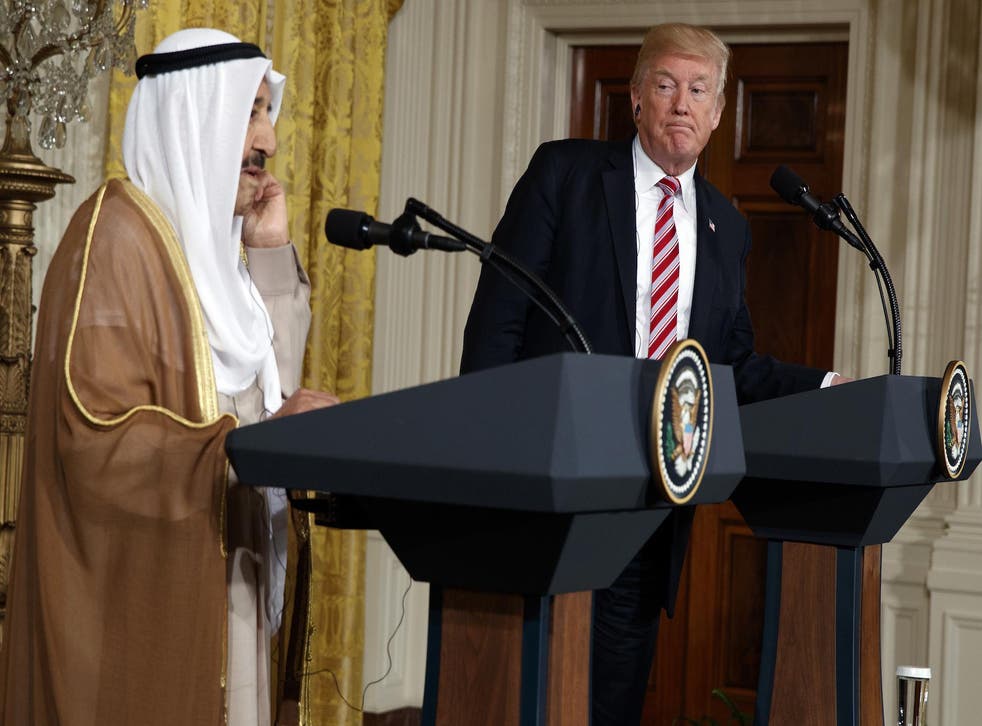 Donald Trump has said a US military strike against North Korea would "be a very sad day" for Kim Jong-un's regime, but said that such action was "not inevitable".
Tensions – and the strength of the rhetoric – between the two countries have flared over the past few months, with North Korea continuing to ramp up its nuclear and ballistic weapons programme despite international condemnation.
The isolated country conducted its sixth and largest nuclear test last weekend, demonstrating the regime is closer to achieving its goal of developing a powerful nuclear weapon that could reach the US mainland.
Washington continues to seek a way to rein in North Korea, but there is concern that the regime might not be able to be deterred.
"Military action would certainly be an option. Is it inevitable? Nothing's inevitable," Mr Trump said during a news conference with the Kuwaiti Emir Sheikh Sabah al-Ahmad al-Jaber al-Sabah, where he also said he would be willing to step in to mediate the dispute between US-allied Gulf Arab states and Qatar.
On North Korea Mr Trump said: "I would prefer not going the route of the military, but it's something certainly that could happen... Our military has never been stronger," boasting of the US's increase in military spending since he took office in January.
"Each day, new equipment is delivered, new and beautiful equipment, the best in the world, the best anywhere in the world by far," he told reporters. "Hopefully, we're not going to have to use it on North Korea. If we do use it on North Korea, it will be a very sad day for North Korea."
When asked if he would tolerate a nuclear armed – but contained and deterred – North Korea, the President refused to give a definitive answer.
"I don't put my negotiations on the table, unlike past administrations," Mr Trump said. "I don't talk about them. But I can tell you that North Korea's behaving badly, and it's got to stop."
A senior Trump administration official said that there was a grave risk that North Korea might "miscalculate" the US response to its behaviour and warned Pyongyang not to "underestimate American will to protect ourselves and our allies."
Before a meeting with the Moroccan Foreign Minister earlier on Thursday, US Secretary of State Rex Tillerson was asked if he had any response to North Korea's latest nuclear test. "Oh, we'll have one," Mr Tillerson responded, but offered little clarification.
Donald Trump's international Presidential trips

Show all 22
While Mr Trump talked tough on North Korea, China agreed on Thursday that the United Nations should take more action against Pyongyang – as the US has been urging – but also kept pushing for dialogue to help resolve the standoff.
"Any new actions taken by the international community against the DPRK should serve the purpose of curbing the DPRK's nuclear and missile programmes, while at the same time be conducive to restarting dialogue and consultation," Chinese Foreign Minister Wang Yi said, referring to North Korea by the initials of its official name, the Democratic People's Republic of Korea.
North Korea said it would respond to any new UN sanctions and US pressure with "powerful counter measures", accusing the US of aiming for war.
The United States wants the UN Security Council to impose an oil embargo on North Korea, ban its exports of textiles and the hiring of North Korean labourers abroad, and to subject Mr Kim Jong-Un to an asset freeze and travel ban, according to a draft resolution leaked ahead of a possible vote next Monday.
At his press conference with the Kuwaiti Emit, Mr Trump also offered to personally mediate a dispute between Qatar and other Arab countries.
In June, Saudi Arabia and its Gulf allies launched a coordinated diplomatic and economic campaign to isolate Qatar, which they accuse of backing extremist groups. Mr Trump later seemed to escalate the row, also claiming that Qatar supported terrorism and said "the time had come to call on Qatar to end its funding … and its extremist ideology in terms of funding."
Mr Trump had met Arab leaders in Saudi Arabia in May, during his first trip abroad as president, when they urged him to challenge Qatar.
"While I do appreciate and respect the mediation, I would be willing to be the mediator," Mr Trump said alongside Sheikh Sabah.
"I was telling the emir before that if I can help between UAE and Saudi Arabia … if I can help mediate between Qatar and, in particular, the UAE and Saudi Arabia, I would be willing to do so."
Mr Trump noted that he spoke to King Salman of Saudi Arabia by phone on Wednesday, describing their relationship as "very great" and calling him "a friend of mine."
"I think you'd have a deal worked out very quickly. I think it's something that's going to get solved fairly easily," Mr Trump said. "Kuwait has been really the leader of getting it solved, and we appreciate that very much. But I do believe that we'll solve it. If we don't solve it, I will be a mediator right here in the White House. We'll come together very quickly. I think we'll have something solved."
The Qatari government has denied it supports terrorist groups, and Saudi Arabia itself has been accused of underwriting extremists.
Register for free to continue reading
Registration is a free and easy way to support our truly independent journalism
By registering, you will also enjoy limited access to Premium articles, exclusive newsletters, commenting, and virtual events with our leading journalists
Already have an account? sign in
Join our new commenting forum
Join thought-provoking conversations, follow other Independent readers and see their replies