North Korea-US nuclear standoff is 'very, very, very serious', John McCain warns
'The great leaders I've seen don't threaten unless they're ready to act and I'm not sure that President Trump is ready to act,' Republican Senator says
Tom Batchelor
Wednesday 09 August 2017 13:40 Comments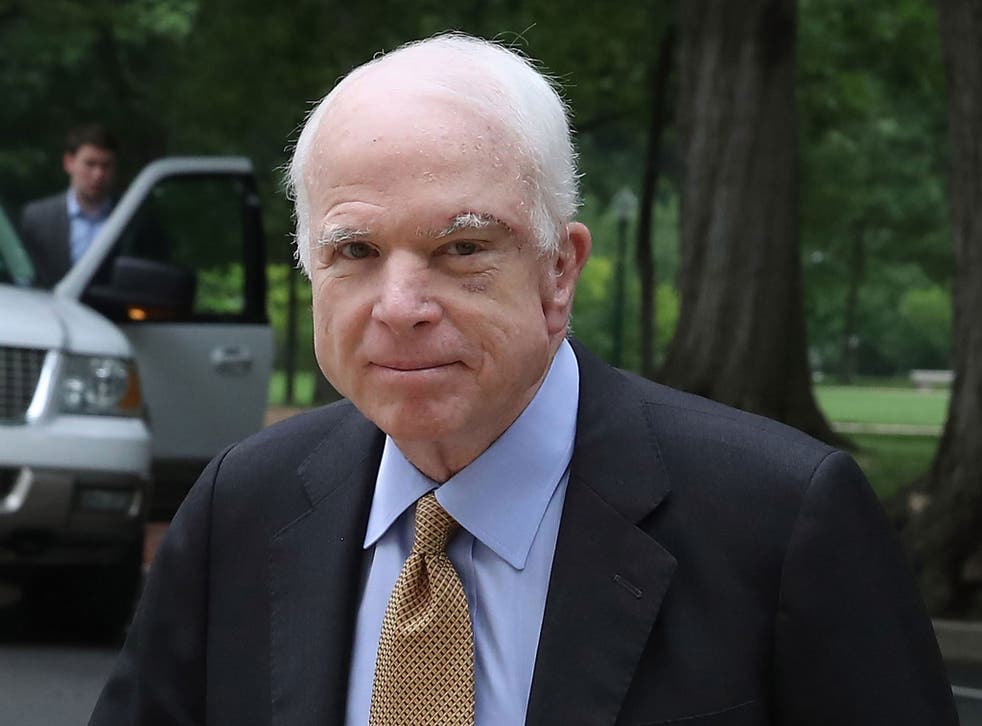 The escalating nuclear standoff between North Korea and Donald Trump is "very, very, very serious", John McCain has said, as he cautioned the US President against making empty threats that would be difficult to follow through with.
"You got to be sure you can do what you say you're going to do," the senior Republican Senator said.
Mr McCain's warning to tread carefully with the unpredictable regime came after the President told North Korea that any threat to American territory would be met with "fire and fury".
As tensions ratcheted up on Tuesday evening, Pyongyang responded that it was "carefully examining" a plan to strike the US Pacific island territory Guam.
Mr McCain, a vocal critic of the President, said: "That kind of rhetoric, I'm not sure it helps.
"The great leaders I've seen don't threaten unless they're ready to act and I'm not sure that President Trump is ready to act."
Mr McCain, who heads the Armed Services Committee, made the comments in an interview with local radio in Phoenix, Arizona.
North Korea has made no secret of its plans to develop a nuclear-tipped missile able to strike the United States and has ignored all calls to halt its weapons programmes.
North Korea threatens Guam attack plan after Trump's 'fire and fury' warning
On Tuesday, Mr Trump issued his strongest warning yet to the North.
"North Korea best not make any more threats to the United States," he said. "They will be met with fire and fury like the world has never seen."
But Mr McCain, who is undergoing treatment for brain cancer, said that language would likely push the historic foes to war, and urged Mr Trump to follow the foreign policy mantra adopted by former US President Theodore Roosevelt.
"In other words, the old walk softly but carry a big stick, Teddy Roosevelt's saying, which I think is something that should've applied because all it's going to do is bring us closer to a serious confrontation. I think this is very, very, very serious."
In March, Mr McCain provoked the ire of Pyongyang when he described Kim Jong-un as a "crazy fat kid".
"We're not dealing even with someone like Joseph Stalin, who had a certain rationality to his barbarity," he said.
State news agency KCNA released a statement from the North's Foreign Ministry, which said the remarks had "hurt the dignity of the supreme leadership" and called it a "grave provocation little short of declaration of war against it".
North Korea last threatened to strike Guam in 2013 – but the country's missile technology has advanced considerably since then.
The North is now said to be able to produce a miniaturised warhead that can fit inside the kind of missiles it has recently been testing, and which analysts believe could reach the US mainland.
Analysis completed by the US Defence Intelligence Agency said the intelligence community had recently concluded the East Asian nation had up to 60 nuclear weapons, The Washington Post reported.
Register for free to continue reading
Registration is a free and easy way to support our truly independent journalism
By registering, you will also enjoy limited access to Premium articles, exclusive newsletters, commenting, and virtual events with our leading journalists
Already have an account? sign in
Join our new commenting forum
Join thought-provoking conversations, follow other Independent readers and see their replies