UN launches major push for nuclear disarmament talks despite US objections
Talks are set to include cyber warfare as well and include US and Russian officials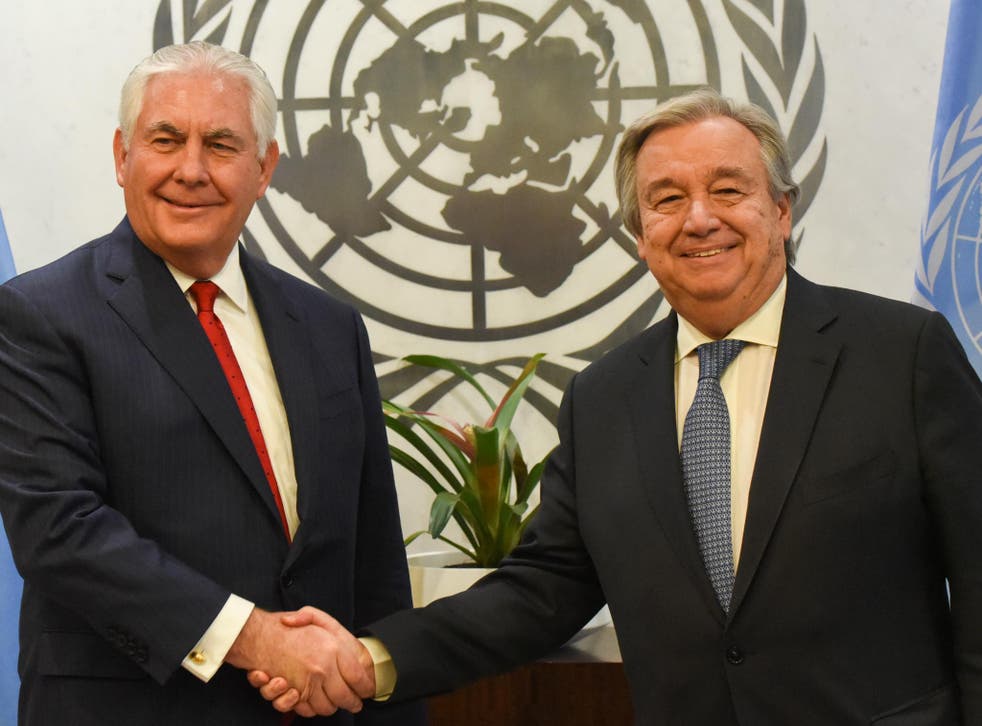 The United Nations is set to launch a major push for disarmament to include everything from nuclear weapons to cybersecurity, as it faces resistance from the US.
As tensions between Washington, the UN Security Council, and Pyongyang continue to increase, Secretary General Antonio Guterres has plans to get parties back into negotiations after 20 years of silence, a Geneva-based official told Reuters.
The talks will be led by the UN disarmament chief Izumi Nakamitsu later this month during a retreat near New York with leaders from the US, Russia, and other countries with veto power in the Security Council.
"The path to peace through disarmament does not lie waiting for the right security situation to materialise, while countries increase their military budgets and stockpiles year after year," she said last year in a speech.
Mr Guterres also reportedly wants to have the private sector brought into talks on cybersecurity and warfare after all the recent election hacking allegations levied against Russia in the US, France, Germany, and Mexico.
Specifically, the official said Mr Guterres said he wanted to end "state-led paralysis" on the matter and to discuss urban warfare where the chance of civilian injury and deaths is particularly high.
Nikki Haley says the United States expects respect from United Nations
Part of the conversation would be a matter of hot debate in the US: access to conventional weapons, also known as gun control.
US President Donald Trump and the Republican party have been silent on the subject of further limiting access to guns, even in light of the spate of mass shootings at schools and after the massacre in Las Vegas last October where 58 people were killed and nearly 500 were injured.
"We don't believe that it's time for bold initiatives, particularly in the area of nuclear weapons," said one US official about Mr Guterres' plans, speaking anonymously to the news service.
"I worry that the Secretary-General may be trying to treat the symptoms and not the root causes of why countries arm and rearm," the same official said.
World news in pictures

Show all 50
Another issue is US Ambassador to the UN Nikki Haley's publicly tenuous relationship with her colleagues in New York given Mr Trump's propensity to mark multilateral organisations as "unfair" to the US and his comment that the UN is a "good time club" without real use or power.
Ahead of a vote that ultimately declared the US decision to recognise Jerusalem as an Israeli capital "null and void" in December 2017, Ms Haley had warned that the US would would be "taking names" of the 128 countries who voted against the US.
Mr Trump and North Korean leader Kim Jong-un have been publicly trading barbs, causing concern for those in South Korea and within the administration favouring a diplomatic resolution.
Mr Trump himself has hinted at a military option to stemming North Korea's continued development of its nuclear weapons programme despite strict UN sanctions, threatening to rain down "fire and fury" on the hermit kingdom.
He also caused alarm bells when he declined to re-certify the historic Iran nuclear deal, which was struck by the previous administration of Barack Obama in exchange for more lenient sanctions on Tehran.
Join our new commenting forum
Join thought-provoking conversations, follow other Independent readers and see their replies