Right-wing Oath Keepers are being trained by police, leader claims
At least seven current or former police officers have been arrested for their involvement in the Capitol insurrection
Graig Graziosi
Monday 19 April 2021 19:27 Comments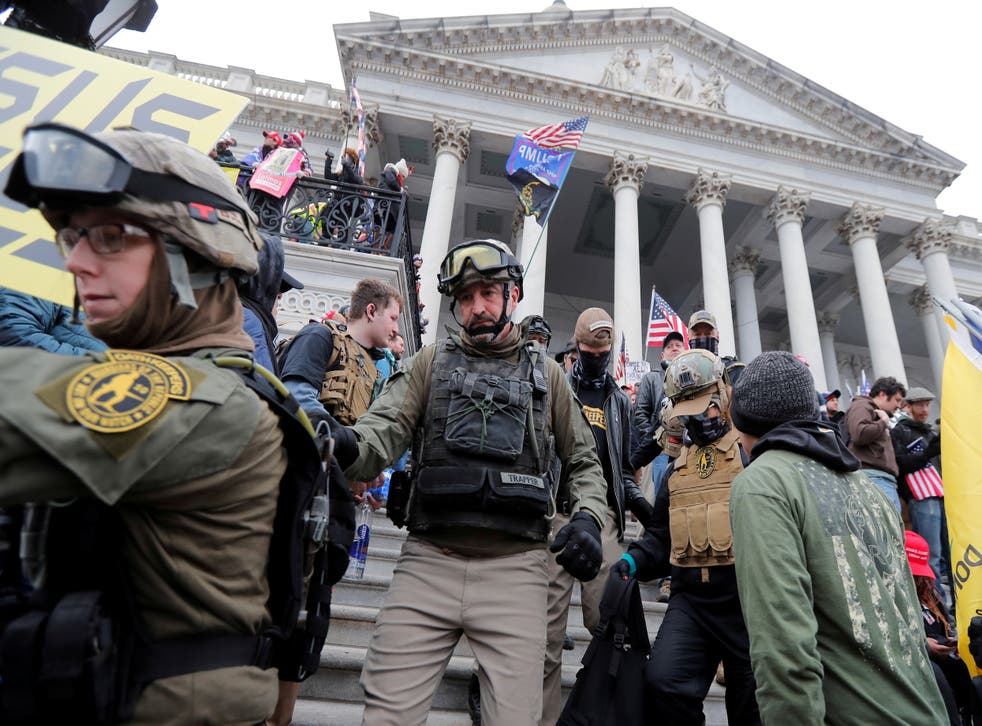 Members of the right-wing extremist "Oath Keepers" group claim that active duty US law enforcement personnel have been training and working alongside them.
The Oath Keepers — an anti-government gang consisting in part of former police, military, and first responders who present themselves as a militia bent on protecting the US Constitution — were among the throng of Trump-supporting conspiracy theorists and insurrectionists who attacked the US Capitol on 6 January.
Members of the group appeared on a recent episode of 60 Minutes, where one of the gang's leaders, Jim Arroyo, asserted that active duty law enforcement assist them in their training.
"Our guys are very experienced. We have active-duty law enforcement in our organisation that are helping to train us. We can blend in with our law enforcement," he said.
While there are a number of extremist right wing gangs currently operating – including the Proud Boys and other white supremacist and anti-government groups – Javed Ali, a domestic terrorism expert and Towsley Policymaker in Residence at the Gerald Ford School of Public Policy, said that the Oath Keepers' background made them "unique".
"Beyond the fact that they are a formal group, with chapters all over the country, is that a large percentage have tactical training and operational experience in either the military or law enforcement," he said. "That at least gives them a capability that a lot of other people in this far-right space don't have."
According to a report published last year by former FBI special agent Michael German, there has been an increase in the number of law enforcement officials with ties to extremist right-wing organisations since the year 2000.
He claimed that police in Alabama, California, Connecticut, Florida, Illinois, Louisiana, Michigan, Nebraska, Oklahoma, Oregon, Texas, Virginia, Washington and West Virginia have been found to have ties to white supremacist and far-right organisations.
The FBI noted this trend as early as 2016, but there has been little action to counter the influx of white supremacists joining police forces – and police joining white supremacist organisations – since then.
According to an analysis by USA Today, out of the 343 arrests tied to the 6 January Capitol riot, 43 are current or former first responders or military veterans, including at least four active duty police officers and three former police officers.
Democratic lawmakers have pointed to the ties between law enforcement, military veterans and far-right groups as cause for alarm and requiring investigation.
Register for free to continue reading
Registration is a free and easy way to support our truly independent journalism
By registering, you will also enjoy limited access to Premium articles, exclusive newsletters, commenting, and virtual events with our leading journalists
Already have an account? sign in
Join our new commenting forum
Join thought-provoking conversations, follow other Independent readers and see their replies