Republican plan to scrap Obamacare could leave 'millions' of Americans without health insurance
Planned changes to US healthcare system will see funding diverted 'from poor Americans to wealthier families'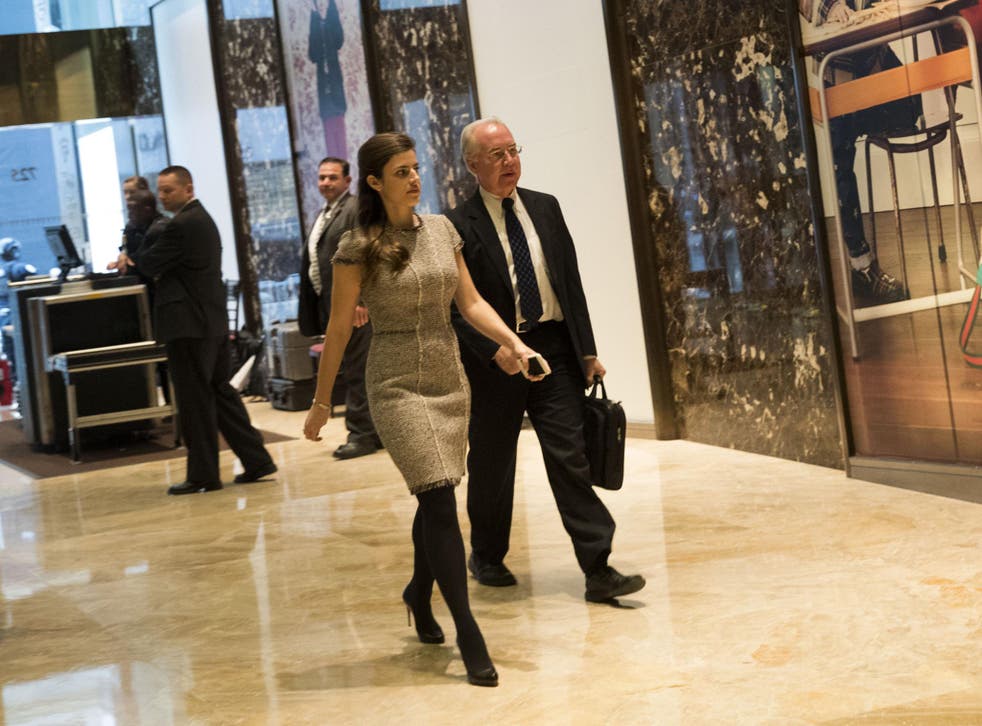 Republican plans to reform the US healthcare system will lead to a huge redistribution of funds from poor to rich Americans and could see millions of low-income people lose their health insurance, it has been claimed.
Donald Trump and other top Republicans have repeatedly vowed to abolish the Obamacare system introduced by Barack Obama to help more low-income Americans access health services.
They plan to achieve this by replacing large sections of Mr Obama's Affordable Care Act with a system that would, experts say, see more federal funds going to wealthier Americans at the expense of poorer members of society.
The Obamacare programme helped more Americans access the Medicaid programmes that provides health insurance to poorer families and gave middle-income people tax credits that allowed them to purchase their own insurance policies.
Critics, however, say the legislation places too many costs on businesses and is an excessive intrusion by the state into people's private lives. Opponents also claim it increased health insurance premiums for some Americans.
Under the Trump Administration's planned reforms, the funding for low- and middle-income Americans would be altered and see support shifted toward wealthier families.
"The Republican plan would alter both of those programs, changing the winners and losers", said Margot Sanger-Katz, a healthcare specialist at the New York Times.
"It would substantially cut funding for states in providing free insurance to low-income adults through Medicaid. And it would change how tax credits are distributed by giving all Americans not covered through work a flat credit by age, regardless of income."
The result is that even the wealthiest Americans would be entitled to the same financial assistance as anyone else of their age - regardless of their income.
The controversial orders Donald Trump has already issued

Show all 9
And the changes could mean millions of US citizens lose their health insurance policies altogether.
"The current system is set up to ensure that low and middle-income Americans can afford the cost of their premiums", Ms Sanger-Katz said.
"The Republican plan would not do that, and would result in many more low-income people losing out on coverage if they couldn't find the money to pay the gap between their fixed tax credit and the cost of a health plan."
Previous analysis of similar proposals had concluded that "millions" of Americans would lose their health coverage, she added.
During the presidential campaign Mr Trump repeatedly vowed to abolish Obamacare, calling it "a fraud" that "doesn't work".
Donald Trump shifts his position on Obamacare during CBS 60 minutes interview
After taking office he appointed as Health and Human Services Secretary an Atlanta congressman, Tom Price, who has spent years planning ways to scrap the programme.
Speaking shortly before Obamacare was introduced, Mr Price called it a "hyperpartisan piece of legislation that will have a disastrous effect on our nation's health care system".
Mr Trump tweeted early on Friday to say that repeal of the Affordable Care Act was "moving fast".
He wrote: "Despite the long delays by the Democrats in finally approving Dr. Tom Price, the repeal and replacement of ObamaCare is moving fast!"
Join our new commenting forum
Join thought-provoking conversations, follow other Independent readers and see their replies