Four cities sue Trump over Obamacare 'sabotage', claiming it violates constitution
'As Trump himself has declared on so many cases, he's worked to sabotage a law'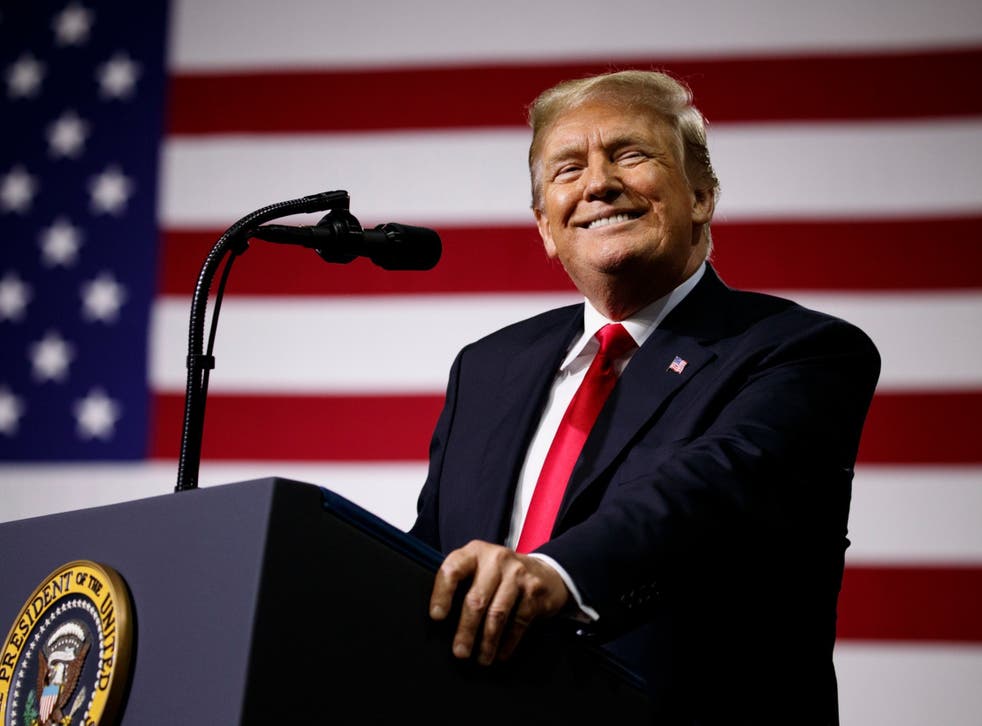 Four cities and two people have sued Donald Trump and other government agencies, alleging the US president's "sabotaging" of the Affordable Care Act (ACA) has violated the constitution.
A lawsuit filed by Baltimore, Columbus, Ohio, Cincinnati and Chicago stated Mr Trump and his administration have waged a "relentless campaign" to undermine and ultimately nullify Obamacare. The suit alleges Mr Trump has violated the constitution by two counts: a violation of the Administrative Procedure Act (APA) and violation of the "take care" clause.
The "take care" clause found in Article II of the US Constitution states that the president must ''take care that the laws be faithfully executed". Mr Trump's continual efforts to weaken the ACA – and particularly after the GOP's failed effort to repeal it in Congress – have been unlawful, the suit stated.
Mr Trump has been vocal about his disdain for Obamacare and his plans to repeal the act since his presidential campaign in 2016. After taking office, Mr Trump has continued to publicly spread the same rhetoric saying he wants Obamacare to "implode".
The lawsuit cited a range of actions done on behalf of the Trump administration it deemed unlawful. In one example, it cited the administration's efforts to deter Americans from enrolling for insurance through Obamacare, by undermining a "navigator" programme.
Trained individuals or organisations hired through the navigator programme help qualified people sign up for insurance through Obamacare. Last month, the Centres for Medicare and Medicaid Services announced it would cut funding for the program by more than 70 per cent.
The plaintiffs also asserted Mr Trump's administration's efforts to undermine the ACA had in turn increased premium costs for ACA-compliant insurers. The suit cited the administration's neglect of overseeing insurance rate increases and "sowing uncertainty in insurance markets", leading insurers to raise rates or exit the market, as examples of violations.
Democracy Forward, an organisation that challenges unlawful actions and scrutinises executive branch policies, is representing two plaintiffs, married couple Steve Vondra and Bonnie Morgan, who are named in the lawsuit.
Adam Grogg, Democracy Forward's lead litigator on the case, said Mr Trump's actions had "real world consequences".
"We also care about real world consequences, it's not only the rule of law that's an issue here," he told The Independent. "As Trump himself has declared on so many cases, he's worked to sabotage a law."
The lawsuit claimed Mr Vondra had not had health insurance since 2005 due to insurer discrimination against individuals with preexisting conditions. It was not until after ACA passed that Mr Vondra was able to purchase insurance on the individual exchange in 2016.
The suit alleged, however, that Mr Vondra and his wife Ms Morgan would now have to spend nearly $55,000 annually – combining premiums and annual deductibles – before receiving benefits thanks to Mr Trump's efforts to sabotage the ACA.
The suit also claimed Mr Trump and his administration had violated the APA, which governs the process in which federal agencies issue regulations. Earlier this spring, the Centres for Medicare and Medicaid Services issued a notice for payment parameters and benefits for next year, commonly referred to as the "2019 Rule". The lawsuit alleged that changes cited in the notice "lack adequate justification and, in some instances, violate the Affordable Care Act's text".
"One thing they can't do violate laws that Congress has passed," Mr Grogg said. "What they're supposed to do is implement laws."
Health and Human Services Secretary Alex Axar recently announced the administration's plans for "short-term" health insurance options, which can exclude preexisting conditions, among other coverages.
Faces of Obamacare: The health scheme at the centre of the shutdown

Show all 3
Dr Leana Wen, Baltimore's health commissioner, said short-term health insurance options neglect a "host of preexisting conditions", including diabetes, cancer, prescription drugs and in a majority of cases substance abuse addiction. Ms Wen said that destabilizing ACA could mean that nearly 10,000 residents of Baltimore could go uninsured.
"The health of individuals affects the health of a community," she said.
She added, "I've treated patients before and after the ACA, and I see what happens to people who had not had health care and got detected with cancer years later. People have life-threatening issues. These are [examples] of the human impact of lack of insurance."
Join our new commenting forum
Join thought-provoking conversations, follow other Independent readers and see their replies