Paul Manafort: Donald Trump's former campaign chairman 'faced blackmail attempts over Russia ties'
Mr Manafort has reportedly confirmed receiving text messages
Andrew Buncombe
New York
Thursday 23 February 2017 17:02 Comments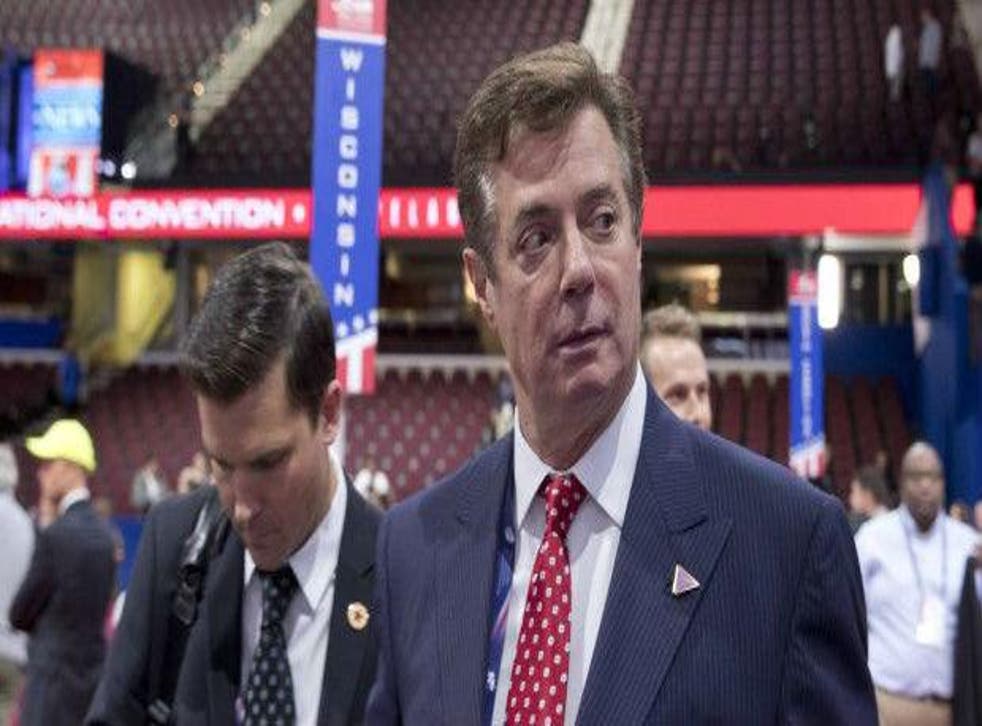 Donald Trump's former campaign manager was reportedly the subject of a blackmail attempt
An apparent hack of a phone of the daughter of political consultant Paul Manafort, suggests that he was the victim of a blackmail attempt while serving as Mr Trump's presidential campaign chairman last summer.
Politico said that the undated communications, which are allegedly from the iPhone of Mr Manafort's daughter, also include a text that appears to come from a Ukrainian parliamentarian named Serhiy Leshchenko, seeking to reach her father. The message says that he has politically damaging information about both Mr Manafort and Mr Trump.
"I need to get in touch with Paul i need to share some important information with him regarding ukraine investigation," the sender says in the text message.
"I actually have proofs that he received money...If i dont get any reply from you iam gonaa pass it on to the fbi and ukrainian authorities including media...As soon as he comes back to me i will pass you documents."
Trump appears to change stance on transgender rights
Politico did not say where the information came from, but both before and since the inauguration of Mr Trump, there have been repeated leaks that claim to suggest a link with Russia between either the New York tycoon or senior members of his team. To date, there has been no evidence to support the claims and Mr Trump has repeatedly denied the accusations.
"One of such meeting with Donadl Trump took place on 06.17.2012 with close Yanukovich affiliate - governor of Cherkassy - Mr. S. Tulub," the note attached to the text reads.
"Considering all the facts and evidence that are in my possession, and before possible decision whether to pass this to [the National Anti-Corruption Bureau of Ukraine] or FBI I would like to get your opinion on this and maybe your way to work things out that will persuade me to do otherwise."
Mr Leshchenko denied the correspondence, telling the news site: "I've never written any emails or messages to Manafort or his family. I don't know their contact details."
The website said Mr Manafort did confirm the authenticity of the texts hacked from his daughter's phone. He said that he had received similar texts to his own phone number from the same address appearing to be affiliated with Mr Leshchenko.
He said he did not respond directly to any of the texts, and instead passed them to his lawyer.
Register for free to continue reading
Registration is a free and easy way to support our truly independent journalism
By registering, you will also enjoy limited access to Premium articles, exclusive newsletters, commenting, and virtual events with our leading journalists
Already have an account? sign in
Join our new commenting forum
Join thought-provoking conversations, follow other Independent readers and see their replies