Paul Manafort's indictment: What does it mean, and what happens now?
The former Trump campaign manager and his deputy Rick Gates could face decades in prison if found guilty 
Mythili Sampathkumar
New York
Monday 30 October 2017 23:36 Comments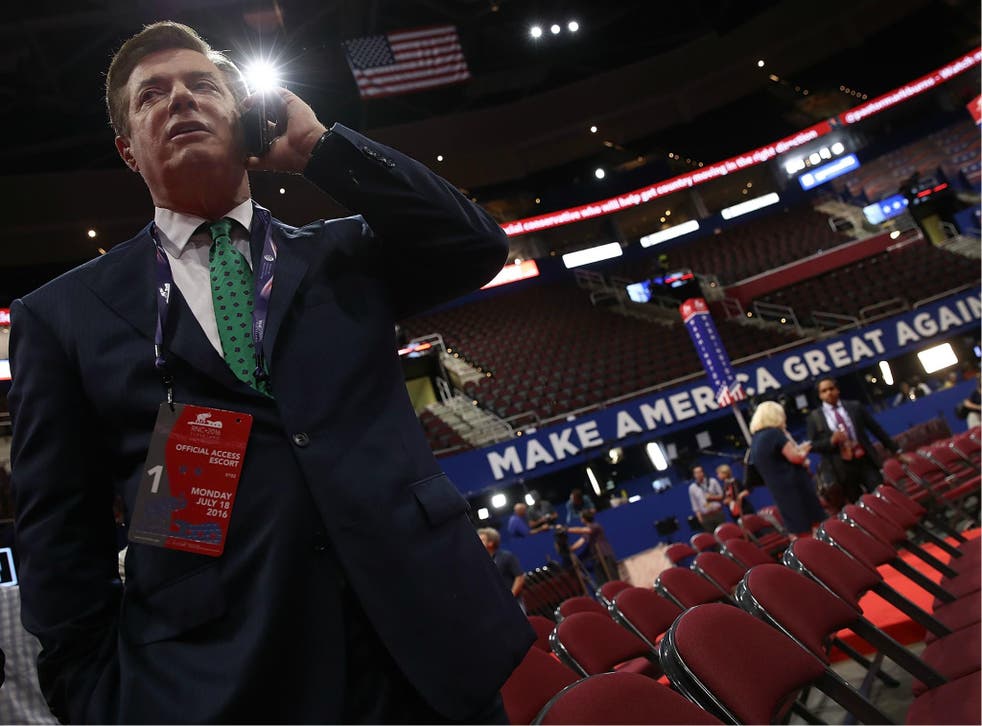 President Donald Trump's former campaign manager Paul Manafort has surrendered to the FBI in Special Prosecutor Robert Mueller's investigation into alleged collusion between Trump campaign team members and Russian officials.
Mr Manafort and his longtime, former business partner Rick Gates were indicted on 12 counts of conspiracy against the US, conspiracy to launder money, various charges regarding being a foreign agent for Ukraine without properly reporting their work to the US government, and seven counts of failing to report foreign bank and financial accounts.
The documented stated that $75m (£57m) went in and out of offshore accounts controlled by the pair. Both Mr Manafort and Mr Gates appeared in court in Washington DC to plead not guilty to the charges.
What is a grand jury?
A grand jury is a legal body, comprised of 16 to 23 people, that is authorised to investigate criminal conduct.
Federal, state and county prosecutors utilise grand juries to decide whether probable cause exists to support criminal charges.
Grand juries are separate from the courts and can ask for documents as well as compel witnesses to testify. No judge presides over its proceedings.
Normally they meet in a room in the same building as the prosecutor's office.
A regular jury - usually 12 people - only decides on the facts of a case and is only used for trials, where a unanimous vote is required.
Only a quorum is required for a grand jury indictment.
Grand juries and regular juries are chosen from the same pool of people.
So in this case, a grand jury heard evidence and concluded with a quorum that Mr Manafort and Mr Gates may have committed the crimes outlined in the indictment.
Donald Trump says he hopes Russia probe finding will be "truly honest"
Is it significant that both Mr Manafort and Mr Gates were charged together?
Both Mr Manafort and Mr Gates have pleaded not guilty to the charges. But, in theory the pair can avoid going to trial by making plea bargains - essentially coming forth with information on any alleged collusion in exchange for either a lighter sentence or dropping charges.
Being charged together does not preclude either from a plea deal, however it may make it more complicated.
Mr Manafort has done business with Mr Gates for several years and the pair have been connected through documents of companies Mr Manafort had established in Cyprus, St Vincent and the Grenadines, and the Seychelles in order to receive payments from his Eastern European business and political clients,
As Mieke Eoyang, Vice President for the National Security Program at DC-based think tank Third Way, told The Independent, "it means that Manafort isn't the ultimate big fish that they intend to get."
However "charging together suggests that Gates can't seek a better deal by flipping on Manafort," Ms Eoyang noted.
"Manafort can try to negotiate better terms by implicating someone higher -- Trump or Pence. But we're still at the beginning of this thing. This is like the capture of the burglars in Watergate -- it's the start of the unwinding," she explained.
More than 90 per cent of federal cases are settled through plea bargains.
What does Ukraine have to do with all this?
Both Mr Manafort and Mr Gates also being charged for not reporting their work in "direct[ing] a campaign to lobby US officials on behalf of the Government of Ukraine, the President of Ukraine, and Ukrainian political parties."
The pair have been accused in the indictment of operating as unregistered foreign agents for the Ukrainian government and Party of Regions - a pro-Russian political party in the country - leader Victor Yanukovych.
Mr Yanukovych served as President from 2010 to 2014 while being closely linked with Russian President Vladimir Putin.
What kinds of penalties could they face?
Mr Manafort and Mr Gates will likely lose assets if found guilty. The charges regarding Mr Manafort's "lavish lifestyle" - he allegedly used $18m to buy property in the US and household goods - will perhaps involve property forfeiture if proven.
The pair could also face up to 80 years in prison for Mr Manafort and 70 years for Mr Gates.
Conspiracy against the US, charges failure to report foreign agent work, and the charge of false statements under the Foreign Agent Registration Act (FARA) carry a maximum sentence of five years each.
Each count could carry fines of up to $10,000.
The biggest names involved in the Trump-Russia investigation

Show all 17
Money laundering carries the heaviest sentence. If convicted, it could result in up to 20 years in jail on that charge alone. This charge could also result in a "fine of either $500,000 or twice the monetary value of the property involved in the transaction, whichever is greater," as the Washington Post reported.
Mr Manafort is 68 years old and Mr Gates is 45.
How does this affect Mr Trump?
The President tweeted this morning that the grand jury charges against Mr Manafort occurred before he became Mr Trump's campaign manager.
He had served three months in the position, from June to August 2016 and was brought in mostly to oversee the July 2016 Republican National Convention.
He asked "why aren't Crooked Hillary and Dems the focus???" attempting to shift focus to a topic he had been tweeting about over the weekend - the investigation into a deal selling uranium to a Russian company brokered and approved during the Obama administration while Ms Clinton was Secretary of State.
White House Press Secretary Sarah Huckabee Sanders denied any association between the Trump campaign and the accusations against Mr Manafort and Mr Gates.
George Papadapoulos, a former campaign aide who Ms Sanders referred to as only a "volunteer" on the foreign policy team, pleaded guilty to lying to federal agents working for special counsel Mr Mueller as well.
He said he lied to FBI agents about the nature of his interactions with "foreign nationals" who allegedly close connections to senior Russian government officials, specifically a "niece" of Russian President Vladimir Putin, a Russian professor, and an associate of Donald Trump Jr's who claimed to have "dirt" on Ms Clinton.
He is the first person to face criminal charges that cite interactions between Trump campaign associates and Russian intermediaries during the 2016 presidential campaign.
Mr Gates continued to serve as deputy campaign manager long after Mr Manafort department in August 2016. He has also reportedly continued to work with Trump administration officials, visiting the White House on numerous occasions.
What happens now?
Mr Manafort and Mr Gates have been arraigned in the US District Court for the District of Columbia. They are due back in court on Thursday 2 November.
Neither have responded to the indictment as yet but put in a plea of "not guilty" on all counts.
Mr Mueller has asked that bond for Mr Manafort be set at $10m (£7.6m) and for Mr Gates at $5m (£3.8m). The Special Prosecutor also asked for home detention for both, saying Mr Manafort posed a flight risk.
A trial will not take place immediately.
Register for free to continue reading
Registration is a free and easy way to support our truly independent journalism
By registering, you will also enjoy limited access to Premium articles, exclusive newsletters, commenting, and virtual events with our leading journalists
Already have an account? sign in
Join our new commenting forum
Join thought-provoking conversations, follow other Independent readers and see their replies