Paul Manafort denies secret Wikileaks meetings months before hacked Democrat emails released
Manafort has denied any connection to the hacked emails, or the timing of their release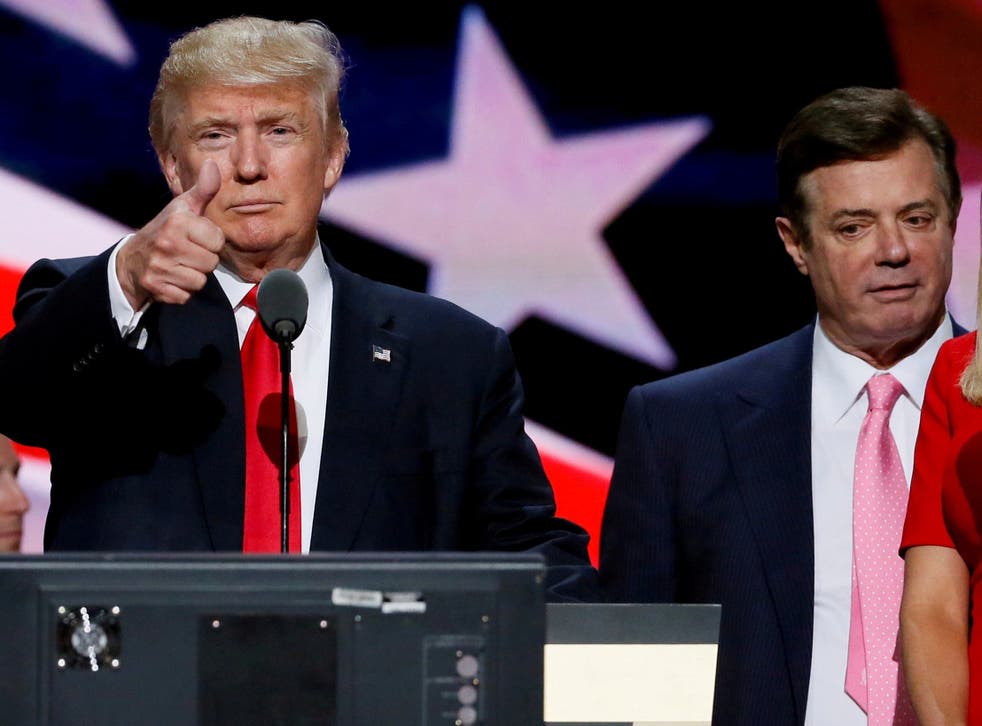 Donald Trump's former campaign chairman has vehemently denied reports that he held secret meetings with WikiLeaks founder Julian Assange, including one that took place in 2016 just months before a trove of hacked Democratic emails were released on the whistle blowing website.
Paul Manafort is said to have met with Mr Assange in the Ecuadorian embassy in London in 2013, 2015, and the spring of 2016. The third and final meeting is thought to have been around the time he was made a senior figure in the Trump presidential campaign.
Within months, WikiLeaks released thousands of Democratic National Committee emails that are believed to have be stolen by Russian intelligence officials, The Guardian reported.
Manafort denied any connection to the hacked emails or their release in a strongly worded statement.
"This story is totally false and deliberately libellous," he said. "I have never met Julian Assange or anyone connected to him. I have never been contacted by anyone connected to Wikileaks, either directly or indirectly."
He added: "I have never reached out to Assange or Wikileaks on any matter. We are considering all legal options against the Guardian who proceeded with this story even after being notified by my representatives that it was false."
The report about the meeting emerged comes, less than 24 hours after special counsel Robert Mueller's team alleged that Manafort had violated a plea agreement by lying to investigators looking into potential ties between the Trump campaign and Russian interference in the 2016 election.
Manafort has also denied this.
The biggest names involved in the Trump-Russia investigation

Show all 17
It is not clear what Manafort and Mr Assange discussed during their three secret meetings, but it is likely that the apparent meetings will be of interest to the Mueller probe.
In a series of tweets, Wikileaks said that Mr Assange and Manafort had not met. Mr Assange himself, called the story a hoax.
Manafort had already been convicted on eight felony financial crimes before he reached a plea agreement with federal investigators two months ago, but Mr Mueller's team say the new allegations of lying to investigators mean that deal is now off.
The visits to Mr Assange are said to have began a year after the WikiLeaks founder sought refuge in the embassy, but it did not appear as though regular protocol for logging visitors had been followed — though a document showed that he was a known visitor.
Sources told The Guardian that Manafort's 2016 visit was made alone and that it came just months before the tens of thousands of documents were released online about Mr Trump's Democratic rivals.
They were published at around the same time that Manafort would have been named in charge of key campaign activities.
While it is not clear what the men may have discussed, the reported meetings raise new questions about how much the Trump campaign knew about Russian attempts to influence the 2016 presidential campaign.
Support free-thinking journalism and attend Independent events
Manafort had previously worked as a political constant in Ukraine before joining Mr Trump's team in 2016.
Mr Trump openly praised WikiLeaks in 2016 on the campaign trail, and encouraged Russia to hack his political opponent during campaign events leading up to his victory over former Secretary of State Hillary Clinton.
Register for free to continue reading
Registration is a free and easy way to support our truly independent journalism
By registering, you will also enjoy limited access to Premium articles, exclusive newsletters, commenting, and virtual events with our leading journalists
Already have an account? sign in
Register for free to continue reading
Registration is a free and easy way to support our truly independent journalism
By registering, you will also enjoy limited access to Premium articles, exclusive newsletters, commenting, and virtual events with our leading journalists
Already have an account? sign in
Join our new commenting forum
Join thought-provoking conversations, follow other Independent readers and see their replies