Former Trump campaign manager offered to give Russian billionaire linked to Kremlin 'private briefings' on election campaign
Emily Shugerman
New York
Wednesday 20 September 2017 22:18 Comments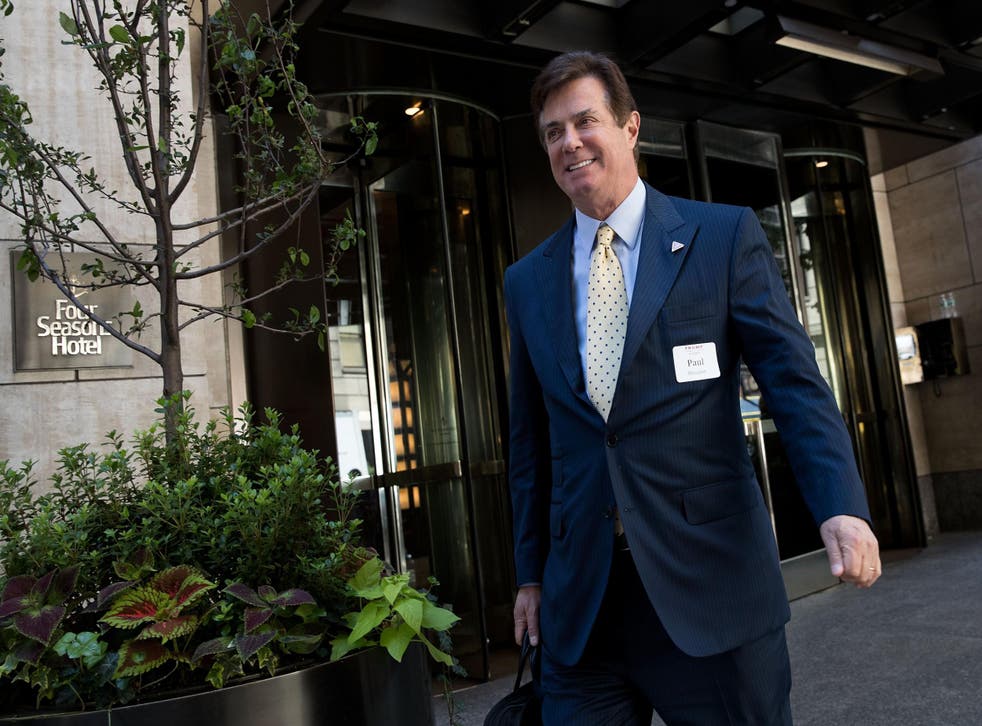 Donald Trump's former campaign chairman offered to give private briefings on the race to a Kremlin-linked Russian billionaire during the election, reports have claimed.
Former Trump campaign manager Paul Manafort reached out to an intermediary for Oleg Deripaska, a Russian aluminium magnate, two weeks before Mr Trump accepted the Republican nomination, sources with knowledge of the discussions told the Washington Post.
"If he needs private briefings we can accommodate," Mr Manafort wrote in the email to the intermediary.
There is no indication that the briefings occurred, or that Mr Deripaska even received the messages. But the emails will certainly be of interest in the multiple investigations into whether the Trump team colluded with the Russian government in the 2016 election.
According to the Post, investigators believe the emails created an opening for Russian interests at "the highest level of a US presidential campaign". Mr Deripaska is thought to be an important ally to Russian President Vladimir Putin, and has been referred to as "among the 2-3 oligarchs Putin turns to on a regular basis" in US diplomatic cables.
The biggest names involved in the Trump-Russia investigation

Show all 17
A spokesman for Mr Manafort, Jason Maloni, said the briefings never took place. The emails, he said, were an "innocuous" attempt to collect past debts.
Many of the emails do concern money that Mr Manafort believed he was owed by Eastern European clients, the Post reports. Before joining the Trump campaign, Mr Manafort consulted for a pro-Russia political party in Ukraine, and ultimately helped get Viktor Yanukovych elected president.
It was in Ukraine that Mr Manafort met and worked with Konstantin Kilimnik, his suspected intermediary to Mr Deripaska.
Several of Mr Manafort's business dealings in the region are now part of the federal investigation into the Trump campaign. Sources with knowledge of the Justice Department investigation say special counsel Robert Mueller is leaning on Mr Manafort in an attempt to get him to flip on his past Trump associates.
The emails in question never refer to Mr Deripaska – one of Russia's richest men – by name. Instead, Mr Manafort and Mr Kilimnik use the billionaire's initials: OVD.
In one email, the two men discuss the person "who gave you the biggest black caviar jar several years ago" – a phrase investigators believe is code for Mr Deripaska. The men agree to meet in New York to discuss the "long caviar story".
Mr Manafort has previously admitted to the meeting, which occurred at a cigar bar in August. He said the two discussed said the two discussed "unpaid bills" and "current news."
A spokeswoman for Mr Deripaska, meanwhile, said the emails were merely scheming by "consultants in the notorious 'beltway bandit' industry."
Register for free to continue reading
Registration is a free and easy way to support our truly independent journalism
By registering, you will also enjoy limited access to Premium articles, exclusive newsletters, commenting, and virtual events with our leading journalists
Already have an account? sign in
Join our new commenting forum
Join thought-provoking conversations, follow other Independent readers and see their replies