Pennsylvania special election: President Trump and Donald Jr make final push to win over voters
Mr Trump easily won the district in 2016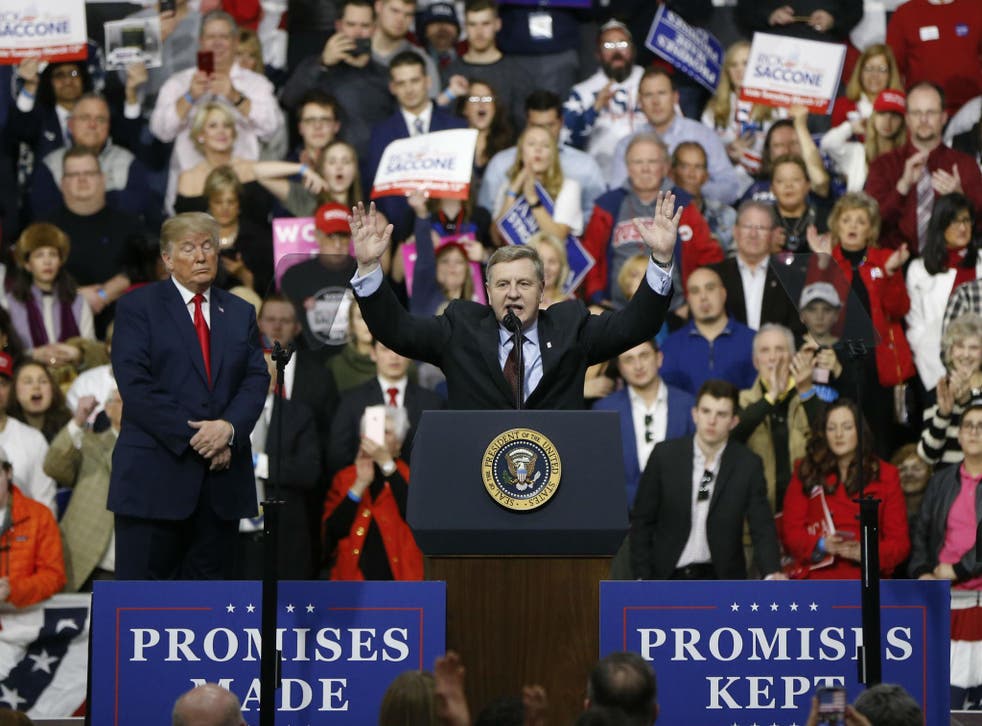 Donald Trump and his eldest son are making a final push to sway voters in a Pennsylvania special election, a close race which is being seen as a marker for the chances of both Republicans and Democrats in the midterms in November.
In a tweet, Mr Trump declared that state legislator and Republican candidate Rick Saccone would be "much better" for the steel industry, as Republicans battle Democrats for control of Pennsylvania's 18th congressional district seat located in the heart of steel country.
The election is being held to fill the congressional district seat left vacant by former Republican Representative Tim Murphy, who resigned in October.
"The Pittsburgh Post Gazette just endorsed Rick Saccone for Congress," the President tweeted. "He will be much better for steel and business. Very strong on experience and what our Country needs. Lamb will always vote for Pelosi and Dems ...Will raise taxes, weak on Crime and Border."
Donald Trump Jr, eating ice cream with Mr Saccone at Sarris Candies in front of dozens of cameras, said Trump supporters "gotta stay in the game, they gotta stay motivated".
"Our guys just can't take winning for granted," Mr Trump Jr. said. "They have to get out there, they have to continue this fight, now, for the rest of '18, in '20 and in eight years we can make a big difference. They just can't be lazy. They've gotta get out and vote, and if they get out and vote, we win easily."
Republicans are working hard to fend off an unexpected threat from Democratic candidate Conor Lamb, a Marine veteran and former federal prosecutor. Mr Lamb mostly stayed away from the cameras on Monday, spending his final day knocking on doors in suburbs and small towns outside Pittsburgh.
Several senior administration officials, including the President himself over the weekend, have appeared with Mr Saccone in the district that Mr Trump easily won in the 2016 presidential election.
While Mr Trump is a divisive figure, the jury is still out on whether the Mr Lamb, 33, can win over traditionally Democratic voters and overcome Republican Party loyalty in the GOP-leaning district.
World news in pictures

Show all 50
When endorsing Mr Saccone, the Pittsburgh Post-Gazette's conservative editorial board complimented Mr Lamb as "an impressive young man". However, it warned that he could become part of a Democratic majority that would try to impeach Mr Trump.
While on the campaign trail, the 60-year-old Mr Saccone has tried at times to make the race about experience, the Associated Press reported, boasting about his four decades in the public and private sector, from his career in the Air Force and stint in North Korea to his current job as a college professor.
He sometimes mocked Mr Lamb as having "no record at all".
Even though he is a political novice, Mr Lamb has far outpaced Mr Saccone in fundraising.
The two candidates are also essentially tied in the average of the polls, FiveThirtyEight reports.
According to FiveThirtyEight's weighted average of presidential results, Pennsylvania's 18th congressional district is 21 percentage points more Republican-leaning than the nation as a whole.
While this is high, many of the other areas where there have been recent special elections were also heavily Republican-leaning. And Democrats in the vast majority of those races have consistently done better than expected.
Democrats are on a mission to recapture a majority in the House of Representatives later this year. Democrats must flip 24 Republican-held seats to take control of the lower chamber, and an upset in Pennsylvania on Tuesday will encourage them as they look to win in places where the party has lost ground in recent decades.
Register for free to continue reading
Registration is a free and easy way to support our truly independent journalism
By registering, you will also enjoy limited access to Premium articles, exclusive newsletters, commenting, and virtual events with our leading journalists
Already have an account? sign in
Register for free to continue reading
Registration is a free and easy way to support our truly independent journalism
By registering, you will also enjoy limited access to Premium articles, exclusive newsletters, commenting, and virtual events with our leading journalists
Already have an account? sign in
Join our new commenting forum
Join thought-provoking conversations, follow other Independent readers and see their replies