Planned Parenthood supporters donate money in Mike Pence's name
Pence has previously said the law permitting abortion should be 'consigned to the ash heap of history'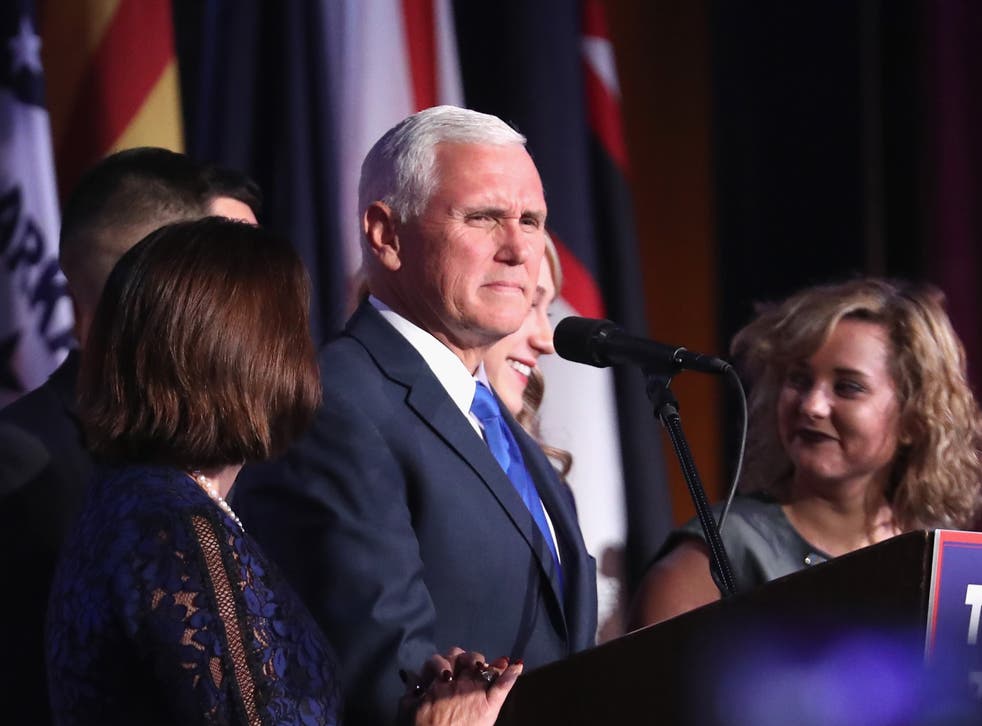 Donations to abortion provider Planned Parenthood have surged as people make contributions in the name of the pro-life vice president-elect Mike Pence.
In the wake of Donald Trump's remarkable election result, the sexual health organisation reported a surge in support of almost 80,000 donations.
Donald Trump's running mate is known as an outspoken opponent of abortion rights and during the presidential campaign vowed he would consign US law permitting abortion, Roe v Wade, to the "ash heap of history, where it belongs".
Mr Pence signed a bill in March that would have forced women to have funerals for their aborted or miscarried foetuses — legislation that was later blocked by a federal judge.
The evangelical Christian has also made numerous attempts to end government funding for sexual health clinics, and as governor of Indiana he passed restrictive laws on abortion in the state.
Users on Instagram shared a post encouraging others to make the donation to Planned Parenthood, while on Twitter people posted images of a donation form filled out with Mr Pence's name and office address.
Musician Bethany Cosentino from shared an Instagram post and said: "You should donate no matter what but omg this is genius."
A Facebook page called "Donate $5 to Planned Parenthood in Honor of Mike Pence," was already in existence, which seeks to "flood" the Indiana governor's office with thank you cards from the pro-choice organisation.
Mr Trump ran an anti-choice campaign and at one point suggested women who had abortions should be "punished".
Supreme Court strikes down abortion restrictions

Show all 23
He later retracted the statement and said he thought abortions should be available in cases of rape, incest or where the health of the mother was in danger.
Such statements, alongside Mr Trump's plans to scrap the Affordable Care Act, known as Obamacare, have fuelled concerns that the Trump administration would work to limit access to birth control and contraception.
Access to abortion is already recorded to be falling in the US and American women are reported increasingly be turning to mail order pills to terminate pregnancies.
But the Planned Parenthood Federation of America was defiant in the wake of Mr Trump's election victory.
Cecile Richards president of the group said in a statement: "We will never back down and we will never stop fighting to ensure that patients have access to the care they need, people who come from communities that need our continued support in this new reality – immigrants, people of color, the LGBTQ community, people of faith, and more."
She continued: "Health care should not be political.
There have been reports of women stocking up on contraceptive devices, such as IUDs, since the election result. Multiple women on Twitter have declared that they will make sure they have long-term contraception in place before Mr Trump enters the White House.
Pro-life advocates fear Trump's appointment of judges to the Supreme Court. In an interview with CBS on Sunday he said he would appoint pro-life judges and said that if Roe v Wade were overturned, women would have to "go to another state".
In addition to financial donations, Planned Parenthood has received an increase in the number of volunteers signing up and the hashtag StandWithPP has gained momentum.
"Since the election, we have seen an uptick in questions about access to health care, birth control, and the Affordable Care Act," said Dr. Raegan McDonald-Mosley, the chief medical officer of Planned Parenthood.
Barack Obama moves to protect funding for abortion clinics from attack by Donald Trump's Republicans
"While we truly hope that birth control methods will be available, accessible and affordable to all women under the Trump administration, we understand people's real concerns about losing access to birth control, which is basic health care for women."
High profile figures such as Katy Perry have made large donations to the pro-choice organisation, prompting others to make contributions.
Since Mr Trump's election, Barack Obama has moved to protect abortion funding by prosing a rule meaning funding for sexual health service could only be witheld if the services are not delivered "in an effective manner".
Join our new commenting forum
Join thought-provoking conversations, follow other Independent readers and see their replies