Pompeo took part in Trump's phone call with Zelensky, report says
Revelation comes as Demoecrats pursue impeachment against Mr Trump over that very call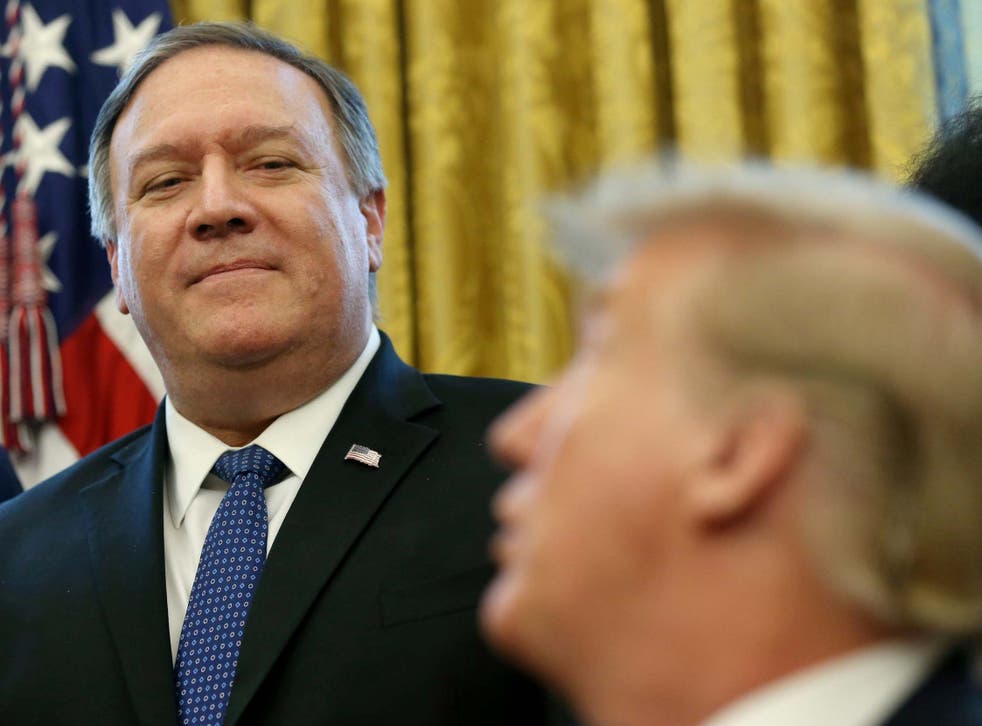 US Secretary of State Mike Pompeo took part in a phone call between Donald Trump and Ukraine President Volodymyr Zelensky, the Wall Street Journal has reported.
The disclosure brings the State Department closer to the burgeoning impeachment inquiry that was started by Democrats in the House just last week, and has already sparked a political firestorm in Washington.
According to a senior State Department official who spoke with the Journal, Mr Pompeo was among the handful of officials who participated in the 25 July phone call between Mr Trump and Mr Zelensky.
During that call, Mr Trump appears to have used American aide to Ukraine in an effort to pressure Mr Zelensky to to start an investigation into a political rival, Joe Biden.
The phone call has now led Democrats in the House to begin an impeachment inquiry into the president, as they seek to determine whether Mr Trump had used the power of his political office for personal gain. That inquiry follows after a whistleblower complaint was made public claiming that over half a dozen individuals knowledgeable about the call between Mr Trump and Mr Zelensky had expressed concerns.
Everyone Trump has fired or forced out

Show all 13
Just before the news that Mr Pompeo had participated in the 25 July phone call, House Democrats issued a subpoena to the president's personal attorney, Rudy Giuliani, seeking documents related to his work on behalf of the president in Ukraine. Mr Giuliani had sat down for numerous cable news interviews over the weekend, and had openly discussed the case before on live television — including at least one instance in which he confirmed that he had pushed for an investigation into Mr Biden on the president's behalf.
It was also reported on Monday afternoon by the New York Times that the president had pressed the prime minister of Australia in a recent phone call to help attorney general William Barr — who was named by Mr Trump in the 25 July phone call as well — to gather information that he hopes will help him to discredit the Mueller investigation into Russian meddling in the 2016 election and potential obstruction by the president in the ensuing investigation.
As things stand, House Democrats have more than enough members saying they support an impeachment inquiry to pass the measure there, once articles are introduced to the full House, and assuming the 223 members who say they support an inquiry also support actual impeachment. That is a big jump in support in the House since just two weeks ago, and falls in line with public support for the issue, which has been shown in numerous polls to be increasing.
Support free-thinking journalism and attend Independent events
Should the House vote to impeach the president, the measure would then be taken to the Senate, where 69 senators would need to approve the measure in order to remove the president from his office. As things stand, that appears to be an unlikely scenario, as it would require more than 20 Republicans for it to pass.
But, the measure would at least be given a vote, according to Senate majority leader Mitch McConnell, the Republican leader in the Senate who generally has control of what measures go up for a vote.
During an interview with CNBC, Mr McConnell said he would be forced to bring the measure up for a vote: "I would have no choice but to take it up. How long you are on it is a different matter, but I would have no choice but to take it up based on a Senate rule on impeachment."
Register for free to continue reading
Registration is a free and easy way to support our truly independent journalism
By registering, you will also enjoy limited access to Premium articles, exclusive newsletters, commenting, and virtual events with our leading journalists
Already have an account? sign in
Register for free to continue reading
Registration is a free and easy way to support our truly independent journalism
By registering, you will also enjoy limited access to Premium articles, exclusive newsletters, commenting, and virtual events with our leading journalists
Already have an account? sign in
Join our new commenting forum
Join thought-provoking conversations, follow other Independent readers and see their replies